UPDATE: 6/16/16: Business Insider thinks that the buyout of LinkedIn (NYSE:LNKD) by Microsoft (NASDAQ:MSFT) is bullish for a Pandora buyout - story linked here.
UPDATE 6/15/16: Amazon is getting ready to launch a standalone music streaming subscription service. The service will be offered at $9.99 per month, in line with major rivals, and it will offer a competitive catalog of songs.
Corvex Management is an activist hedge fund ran by ex-Carl Icahn right hand man Keith Meister. The fund gets a lot of flack for pushing ConAgra (NYSE:CAG) to purchase Ralcorp, which happened in 2013. And it proved to be a poor purchase.
ConAgra sold off that business this year at a loss. But he's still easily one of the best activist investors around when it comes to the performance of his activist targets.
In the past, Corvex has taken on names like TW Telecom and Corrections Crop. Its more recent targets include Yum! Brands (NYSE:YUM) and Vereit (NYSE:VER), with its latest activist campaign being waged at Pandora (NYSE:P).
Corvex revealed a 9.95% activist stake in Pandora back in May, and is pushing for a sale of the company. Corvex initially had talks with Pandora management and was pushing for a board seat. However, after discussions, it withdrew its board nominees and the company put Anthony Vinciquerra on the board (who is not a Corvex nominee or representative) but he was on the board of Motorola with Keith Meister.
Nonetheless, Corvex's only play right now is to have Pandora bought. Yet, the buyout thesis is nothing new for Pandora. How many times have we seen the Pandora buyout rumor? The list is long.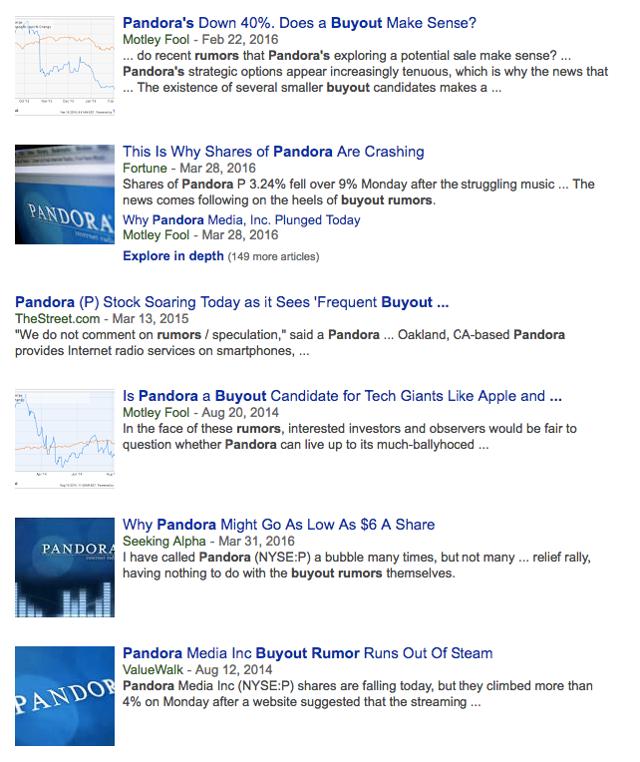 Click to enlarge
Something needs to happen - fast
Pandora is an example of a company whose product I've used (not so much anymore thanks to Spotify), but whose stock I'd never own. Now, Corvex is likely in the opposite scenario - never using the service, but owning the stock.
Pandora's premium service, dubbed Pandora One only runs $4.99month; yet, I opt to pay $9.99 for Spotify. I'd rather chose the exact music I want listen to, save playlists and browse others' playlists - plus even being able to use a Pandora like function within Spotify, called Radio.
The two music companies, Spotify and Pandora, are very different, however. One relies on advertising revenue (Pandora), while the other (Spotify) generates most of its revenues from recurring sources; Pandora gets over 80% of its revenues from ads, and just 20% from subscriptions.
Now, Pandora is clearly bringing in some money - generating nearly $1.2 billion in revenues last year. But the issue is that paying for content and sourcing advertisers isn't cheap. Last year, Pandora spent more than 50% of its revenue on content acquisition and lost money for the year.
How a buyout works
A buyout could theoretically work thought, because Pandora has virtually no debt and with a roughly $2.5 billion enterprise value, it would be an easy purchase for a larger player. Note that per Spotify's capital raise last year put its valuation at nearly $9 billion.
Corvex, and I'm sure many shareholders, want the Pandora buyout, but the question keeps coming up - who would buy it?
Pandora is not big enough to move the needle for a company like Apple (NASDAQ:AAPL), Google (NASDAQ:GOOG) (NASDAQ:GOOGL), Verizon (NYSE:VZ), Microsoft - virtually all rumored buyers. Nonetheless, music streaming is a hot industry right now. It could pair well alongside another offering (i.e. Amazon (NASDAQ:AMZN) Prime) or a buyer could use Pandora's ad sales and customer list to up sell more ads for other services. Even Liberty Media is said to have a use for Pandora - which it's no stranger to the ad market.
But Pandora has said it has a strong balance sheet and strong core business, which it plans to leverage to grow the company independently. The stock has rebounded nicely - roughly 60% - from its 52-week low on renewed hopes of a buyout and a new product revamp. Of note, the company is adding responsive mobile display ads to help capture some of the mobile ad market. These ads will offer muted video ads instead of pop ups.
It really sounds like, even though they virtually settled by adding Vinciquerra to the board, that Corvex and Pandora are at odds. This is bad news for Corvex, as it relinquished its ability to push for a board seat this year.
What's more is that at the JPMorgan Global Tech Conference the other week, Pandora commented on Corvex and the buyout rumors, saying," We have a really solid core business, it's profitable, we're well positioned for that to grow and to take on these new opportunities, and we think there' s a chance to build a much larger business, and that' s the right decision for the company."
Bottom line
Corvex is already in the black on its position, up 12% on the cost basis, but it's handcuffed. Right now, the only Corvex thesis is to get Pandora to hire a bank to explore a sale. It's hard to imagine they haven't already explored all options for this. And since Corvex has already settled with the company, agreeing not to wage a proxy battle to get board representation, the fund has little options until the 2017 shareholder meeting.
Disclosure: I/we have no positions in any stocks mentioned, and no plans to initiate any positions within the next 72 hours.
I wrote this article myself, and it expresses my own opinions. I am not receiving compensation for it (other than from Seeking Alpha). I have no business relationship with any company whose stock is mentioned in this article.