A new Brexit poll came out and the probability of Britain exiting the EU has increased. The cascading effects of this would be pretty significant to the global economy. As a result, oil prices completely ignored additional outages in Nigeria and proceeded to plunge below $50.

Click to enlarge
The market is ever more concerned about the potential impacts of Brexit. The likelihood of another EU member wanting out would greatly increase those concerns, thus putting the entire EU system in jeopardy.
Oil, as a function of global economic strength, responds just as much to global economic outlook as supply. However, let's say that if some crazy disturbance happened in the Middle East that put 10 million b/d of production on hold for a month, that would likely make prices go through the roof and completely ignore economic activity.
On the currency market front, the dollar considerably strengthened while the euro materially weakened.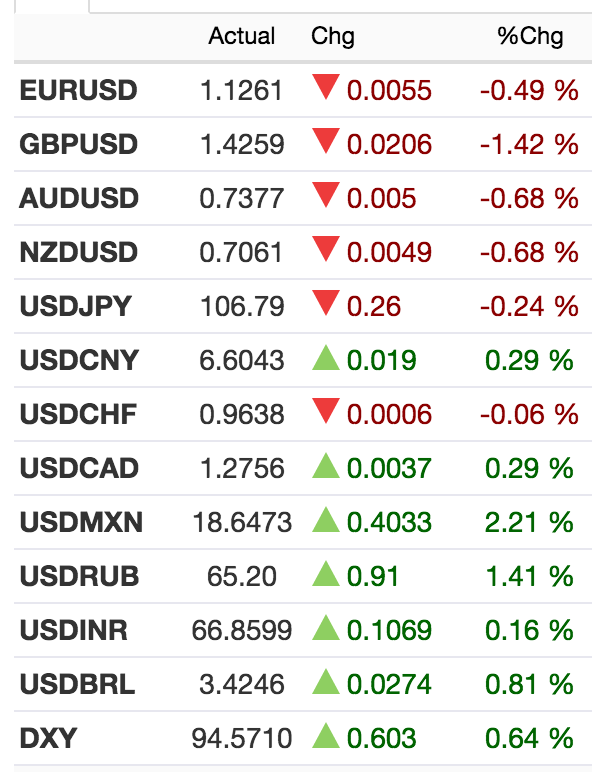 For market participants who don't actually think "a Brexit" is in the mix, this will likely be a good chance to add to positions and increase exposures. We haven't done anything with the HFI portfolio yet, but we remain intent on adding to our favorite positions in the event that opportunities arise.
Niger Delta Avengers
The Niger Delta Avengers (NDA) are at it again. After shutting down the government with regard to any negotiations, the NDA blew up another pipeline.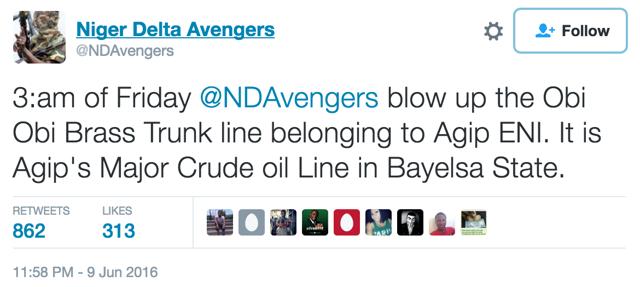 Click to enlarge
This has likely impacted supply by 100k b/d. We can't confirm the magnitude of this attack as yet, but from what others have reported, it seems pretty severe. The NDA's attacks have been consistent. Every week, it has successfully launched an attack on pipelines or terminals. These attacks have dramatically decreased Nigeria's oil production, and will likely be more structural than people think.
Every time the oil companies attempt to repair the pipelines, another one gets blown up. It's like a game of never-ending repair costs. We just can't see how this situation doesn't damage Nigeria structurally. Eventually, the oil companies won't stand for this any longer and will want to pull out of Nigeria. We will continue to monitor the situation, but it doesn't look good for Nigeria.
Rig Count
Oil rigs rose by three again this week. We expected the rigs to stabilize, and we believe they will likely increase over the next several months. But this won't result in any immediate production responses.
We hope you have enjoyed our oil (NYSEARCA:USO) markets daily. Please click on the "Follow" button above and read our other energy write-ups. In addition, we also have a premium subscription platform that's tailored to long-term, value-oriented investors. We provide recommendations of stock ideas and portfolio composition. Our HFI portfolio has now outperformed the SPY by 14.07% since inception and returned 24.86%. We look forward to you joining the HFI platform.
Disclosure: I/we have no positions in any stocks mentioned, and no plans to initiate any positions within the next 72 hours.
I wrote this article myself, and it expresses my own opinions. I am not receiving compensation for it (other than from Seeking Alpha). I have no business relationship with any company whose stock is mentioned in this article.