"Is the AECO basis differential widening structural?"
We get the above question a lot because of our investment in Bellatrix Exploration (NYSE:BXE) and other Canadian natural gas producers. Our answer is an emphatic "no."
Canadian natural gas producers receive pricing from the AECO (Alberta Energy Company)/Nova benchmark. The benchmark correlates with the Henry Hub index closely, but sometimes the spread between the two can widen given the circumstances.
Here's a recent Reuters article highlighting what we've been talking about. The current AECO basis differential is substantially greater than the historical average of $0.75/Mcf.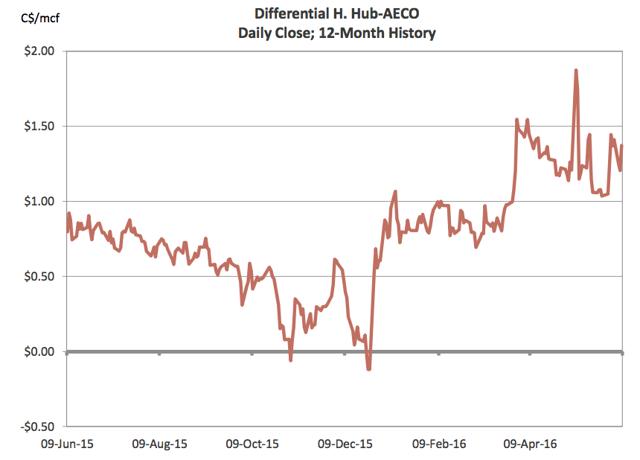 Click to enlarge
There is one very important reason why this is the case. The AECO hub is based on the west coast of Canada - storage levels there are 89.1% full, and overall Canadian gas storage is 77.7% full.
Because there's an approximate $0.75/Mcf cost to transport gas, there has always been an AECO basis differential. Thus, understanding the actual physical economics of the gas can explain why Canadian gas imports this year has increased despite the popular belief that Marcellus gas will replace Canadian gas.
We have spoken to many investors who think this phenomenon is structural, while we think it's just economics 101. As the basis differential widens to greater than $0.75/Mcf, the import levels increase as the cost of Canadian gas is greatly cheaper than U.S. gas. But as the basis differential narrows, the level of imports would drop. This situation is quite self-explanatory but most people don't know the cost of importing Canadian gas, which explains the confusion.
Peyto's CEO, Darren Gee, recently wrote a wonderful memo about the current Canadian gas situation. Everyone expects this to be temporary, and once we exit the injection period, we will see AECO prices respond fairly quickly. Remember, in comparison, Canadian gas storage is a fraction of the size of U.S. storage. This also means that the so-called "surplus" is significantly smaller. Any additional step-up in Canadian gas import could greatly reduce the surplus. The current surplus is around 200 bcf greater than the average. Imports rising by 1.5 bcf/d would eliminate the surplus in 133 days, assuming no additional demand increases in Canada.
We remain very bullish on natural gas (NYSEARCA:UNG) prices and especially AECO prices. As a result of our forecast, we have positioned a large percentage of the HFI portfolio in Canadian natural gas producers that will outperform significantly if AECO prices recover. We think the fundamentals are pointing in the right direction. As storage surplus decreases over the next several months, market participants will begin to reevaluate AECO prices.
Since its launch, the HFI portfolio has outperformed the S&P 500 by 14.07% and returned 24.86% on a gross basis. For investors interested in how we are managing the portfolio, please consider signing up for our premium service. We look forward to you joining the HFI community. And as always, if you liked our natural gas daily write-up, please be sure to click follow and read our other articles as well.
Disclosure: I am/we are long BXE.
I wrote this article myself, and it expresses my own opinions. I am not receiving compensation for it (other than from Seeking Alpha). I have no business relationship with any company whose stock is mentioned in this article.