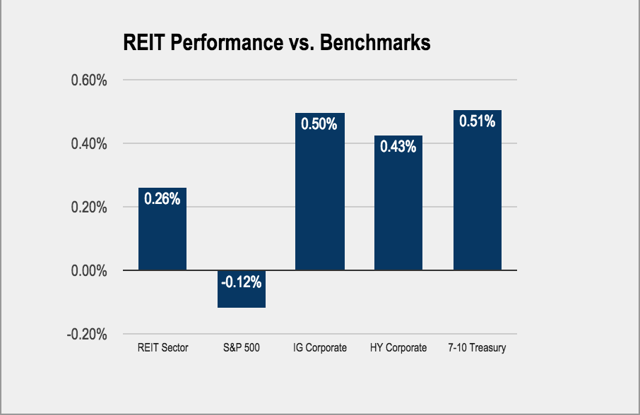 Weekly Real Estate Performance Review
The REIT sector, like broader equity index, finished the week little changed. REITs (NYSEARCA:VNQ) finished the week up 0.26%, compared to the -0.12% return on the S&P 500. (NYSEARCA:SPY) Over the prior quarter, REITs are now up almost 6%, compared to the S&P 500 return of 4.5%.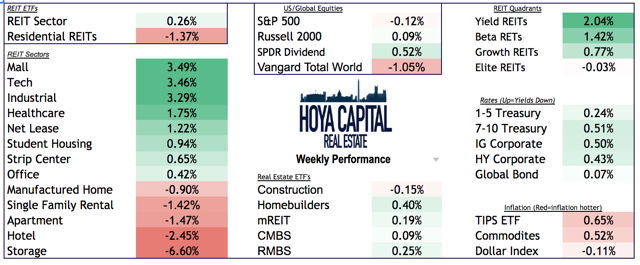 Click to enlarge
Yield REITs, a proprietary index of the most yield-sensitive REIT names, were the leaders on the week, while Elite REITs, those REITs included in the S&P 500 index, underperformed for the week. Growth REITs, an index of high growth and low payout names, and Beta REITs, an index of the most highly leveraged REITs, both gained on the week.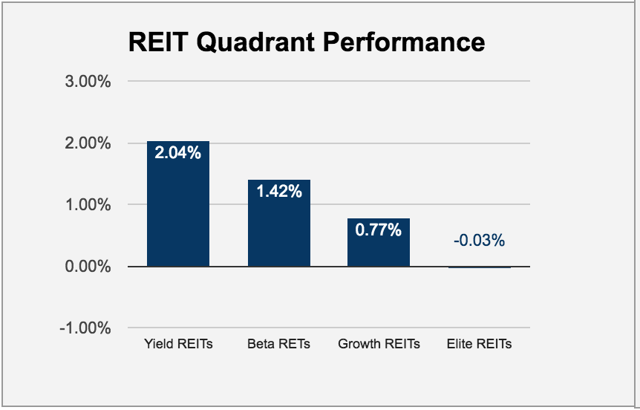 Click to enlarge
The mall, industrial, and tech sectors led the way. Our tech index is up over 25% over the quarter, with the industrial index coming in just shy of 18% over the period.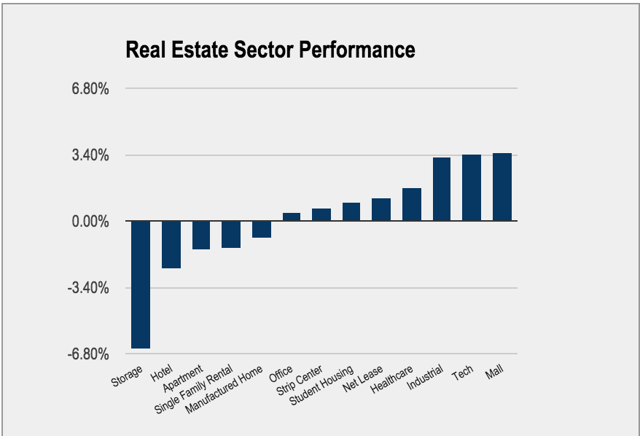 Click to enlarge
The apartment, hotel, and storage sector lagged. Our index of apartments, hotels, and storage are the only REIT sectors down over the prior quarter. The index of hotels is down over 12% over the period.
Mortgage REITs (NYSEARCA:REM) finished the week little changed, and remains up around 8.5% over the past quarter.
Homebuilders (NYSEARCA:ITB) and the construction sector (NYSEARCA:PKB) were also little changed on the week, with homebuilders rising 0.4%.
Over the past quarter, Homebuilders are up just under 8%, while Construction is up 11%.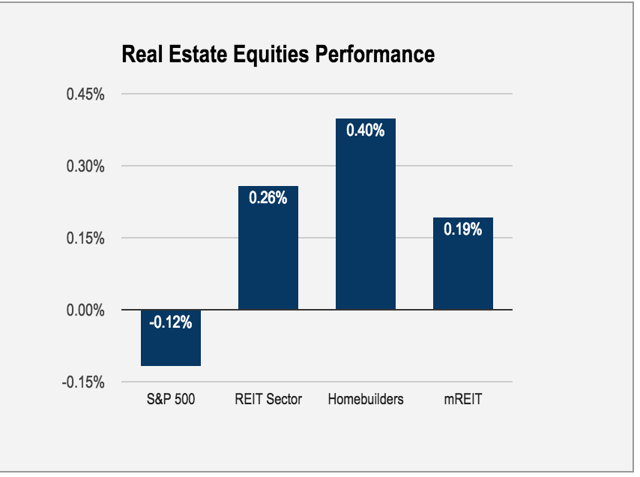 Click to enlarge
Economic Data
The economy continues to chug along in a "not-too-hot, not-too cold" state, which we view as ideal for commercial real estate ownership. Hints of supply concerns continue to come and go, as they have since 2013, but the relentless rise in the cost of construction labor, combined with ever-strengthening regulations on real estate development (and on the banks that provide the capital necessary for construction) put an effective cap on supply growth.
Coming off the weaker than expected jobs report last Friday, 10-Year Treasury yields continued fall, finishing the week down 4 basis points to 1.66%. Initial jobless claims for the week, though, slightly improved to 264,000 from 268,000 the prior week. Overall, we view the jobs outlook as steady, and poised to accelerate should oil rise enough to induce recently shut-off production to resume.
Consumer spending was a bright spot for the week, as May retail sales ex-autos advanced 0.5% month over month, coming off a strong April report. Mall REITs benefited from this optimism, advancing nearly 4% for the week, and are now up 2% over the prior quarter.
Global bond yields and inflation expectations continue to make record lows, which reintroduced deflationary fears, a contrast to last week's data pointing towards early hints of inflation. The "search for Yield" trade resumed as investors piled into Yield REITs and dividend ETFs. (NYSEARCA:SDY)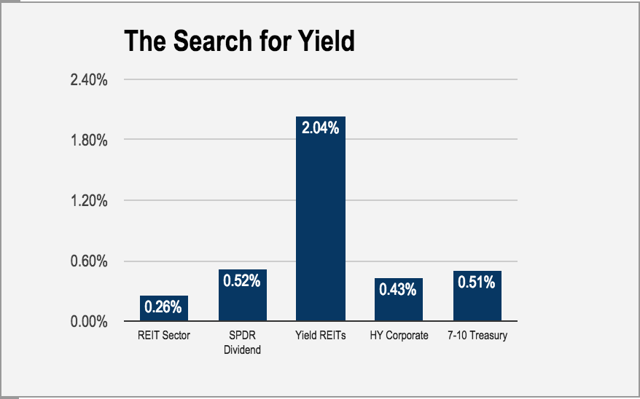 Click to enlargeAmid relatively weaker economic data, The Federal Reserve is now expected to hold steady in June, providing a headwind for the more yield-sensitive real estate securities.
Diving Deeper into the Data
The past quarter has seen a significant exodus out of the perennial favorite REIT sectors, the apartment and storage REITs. The residential focused REIT ETF (NYSEARCA:REZ) is now down over 20% over the quarter amid fears of oversupply, which were sparked by a warning issued by Equity Residential (NYSE:EQR) last week.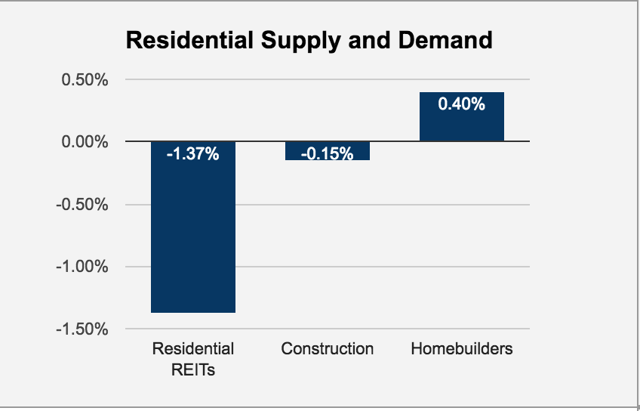 Click to enlarge
Over this time, Homebuilders and Construction companies have been roaring, reminding REIT-focused investors that diversification through the entire real estate supply chain is critical.
Looking Ahead
We remain optimistic on the supply-demand dynamics of commercial real estate, but continue to monitor supply growth in the residential sector, which has been hit hard amid these fears. We believe much of these fears have been priced in, and the storage and apartment sectors are beginning to screen as good values relative to AFFO growth after several quarters of appearing pricey.
Tech remains the golden goose of the REIT sector over the prior 12 months with data centers and tower REITs powering ahead amid an ever-increasing demand for network connectivity, data storage, and broadband access. We expect this trend to continue, but acknowledge that the names have begun to screen as quite rich after another strong week.
We continue to monitor the single family housing sector as an interesting play on housing affordability, (or more specifically, housing unaffordability) as marginal home buyers are pushed into renting as national home prices continue to march higher.
Going forward, we plan to issue weekly updates to the REIT and real estate equities sectors every Friday, while offering more specific insights into names and sectors we are analyzing throughout the week.
Disclosure: I am/we are long EQR, EXR, DLR, SHO, CPT, PPS, AMT, EQY, TCO, EDR, OHI.
I wrote this article myself, and it expresses my own opinions. I am not receiving compensation for it (other than from Seeking Alpha). I have no business relationship with any company whose stock is mentioned in this article.