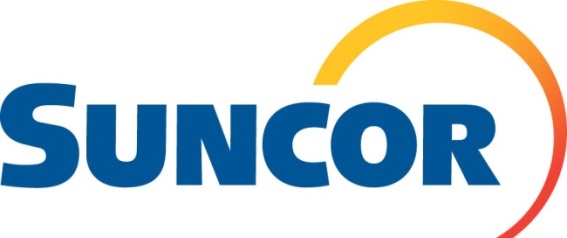 Suncor Energy company logo.
Suncor reports in CAD and all prices quoted are in that currency, except where noted.
A Suncor Update
It has been an eventful last few months for Suncor (NYSE:SU). In February and March, it acquired full control of Canadian Oil Sands (OTCQX:COSWF) at a cost of about $6.9 billion, including $2.6 billion of Canadian Oil's debt, giving it a 48.73% interest in Syncrude. As of April 1, it acquired a further 5% stake from Murphy Oil (NYSE:MUR) for a further $937 million, which meant it had acquired a majority position.
Within a week or so of that announcement, wildfires in northern Alberta forced a curtailment of its oil sands operation, and a total shutdown of its own Base Mine and the adjacent Syncrude operation in mid-May. While the wildfires probably curtailed about 1 million bbl/d of total oil sands production, over 600,000 bbl/d of this was Suncor output. As of June 1, Suncor production was ramping up, but this was of necessity a very gradual process.
Then, on June 7, Suncor surprised the market with what was for it an unusual $2.5 billion bought deal share offering that could result in the issue of 82.2 million new shares.
Wildfires Affect Suncor Production
Given the curtailment of production in its oil sands operations from the Alberta wildfires, Suncor on June 6 issued revised production guidance for this year. It had restarted its operations in a staged manner from May 26, and announced that production should achieve normal rates by the end of June. As a result of the wildfires, production had been shut down for various periods at Suncor's Base Mine and Firebag operations and its steam plant at McKay River. Also affected, of course, was the Syncrude operation in which Suncor now has a 54% interest. Because of complications there, Syncrude was expected to return to full production only by late June.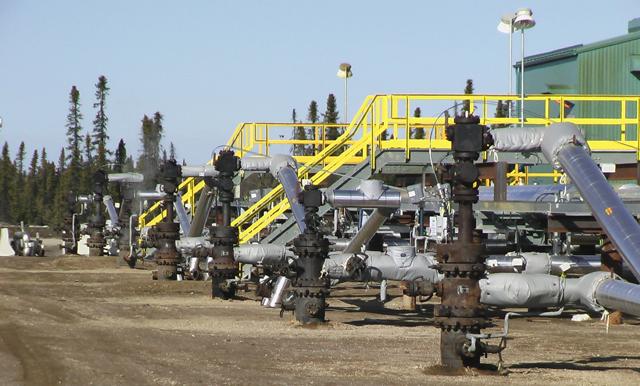 Click to enlarge
Firebag SAGD well pad 2 (Suncor photo)
Suncor now estimates that its own annual oil sands production would come to 375,000 to 395,000 bbl/d (mid-point: 385,000 bbl/d) as contrasted with its earlier guidance of 400,000 to 425,000 bbl/d (mid-point: 412,500), a difference of 27,500 bbl/d. This did not reflect Suncor's share of the Syncrude production, which given its earlier figures would have resulted in about 130,000 bbl/d for a 49% stake, and is now estimated at 105,000 to 115,000 bbl/d (mid-point: 110,000 bbl/d), a 20,000 bbl/d difference. Moreover, neither the new guidance nor the old guidance accounts for the additional 5% working interest it acquired from Murphy Oil, effective April 1. This probably represents about 8,000 bbl/d.
With a new estimate that included a 10,000 boe/d increase in its exploration and production (offshore) figures, Suncor now estimates that its total production for 2016 will run between 585,000 and 620,000 boe/d (mid-point: 602,500 boe/d). This compares with its previous guidance of 525,000 to 565,000 boe/d (mid-point 545,000 boe/d), so that along with the added production from the Canadian Oil stake and the better E&P figures, its total production will likely still be higher than earlier announced. Suncor has not revised its refinery throughput figures for the year, although it has acknowledged that the wildfire disruption and an unplanned Edmonton refinery outage will have some effect on these figures as well.
Various estimates have been given as to the effect of the wildfires and the production cuts on Suncor's annual cash flow which are likely to be significant. RBC has put the figure at $928 million, and CIBC has now raised its previous calculation from about $760 million to a new estimate of about $900 million. While Suncor has business insurance, the extent of its coverage when its facilities are not directly damaged is unclear.
In the Suncor announcement, the good news was that, despite the disruptions, the company did not expect its overall operating costs per barrel to exceed its previously guided $27-30 range. But it did announce that it was now estimating Syncrude operating costs for the year at $41-44 per barrel, which suggests room for improvement.
The June 6 announcement also noted that as of that date, construction at its Fort Hills operation, which was expected to produce its first oil in Q4/17, had returned to pre-fire levels. It did not indicate whether or not the disruption would delay the start of production there.
Bought Deal Share Issue
To the general surprise of the market, on June 7, Suncor, which had not raised equity in this way for more than nine years, announced a major $2.5 billion bought deal common share issue which would involve the issue of about 71.5 million shares at $35 each. If an oversubscription provision were to be exercised, the gross proceeds could rise to $2.9 billion, and an additional 10.7 million shares would be issued.
The Toronto Globe and Mail has since indicated that the issue is two times oversubscribed, with a huge interest on the part of institutional investors, both North American and foreign. (About 10% were allocated to international financial institutions.) It can be assumed safely that the oversubscription provision will be triggered. The total new shares issued would result in an additional annualized cost to Suncor of about $95 million in terms of additional dividends.
The Suncor release commented:
The net proceeds of the Offering will be used for the previously announced acquisition of an additional five percent interest in the Syncrude joint venture and to reduce certain outstanding indebtedness in order to provide ongoing balance sheet flexibility, including for opportunistic growth transactions that Suncor may identify in the future.
With net proceeds of perhaps $2.7 billion and the Murphy Oil transaction costing about $937 million, this might leave about $1.85 billion for debt repayment and "opportunistic growth transactions." The big question is what might these be?
There has been some speculation on this subject, with the consensus seeming to be that Suncor's priority would be to increase its working interest where it is already involved. At the right price, it is almost certainly in Suncor's interest to increase its present ownership of Syncrude or Fort Hills, rather than making some entirely diverse acquisition elsewhere. In this scenario, its acquisition of a further holding in Syncrude is far from a remote possibility. Apart from Imperial Oil's (NYSEMKT:IMO) 25%, there are three smaller current stakes in Syncrude, all with Asian ownership: Mocal Energy (5%), Nexen (CNOOC (NYSE:CEO); 7.23%), and Sinopec (NYSE:SHI) (9.03%).
There is also the possibility that, having acquired another 10% of Total's (NYSE:TOT) working interest in Fort Hills earlier this year, it could purchase a further stake from either Total or Teck Resources (TCK), despite the clear statement of the latter that it did not intend to sell. One analyst has even speculated that it might wish to buy out both partners for a 100% ownership.
The Globe and Mail also noted that there was the possibility that Suncor might wish to increase its ownership in its working interests off Canada's East Coast, where its Hebron project is also coming on stream in late 2017.
Still, there also has been speculation that Suncor might want to extend its reach in the oil sands beyond its current projects. A possibility that has been raised by several analysts is the purchase of MEG Energy (OTCPK:MEGEF), which has debt issues but low production costs at its Christina Lake operation. Even the larger oil sands player Cenovus (NYSE:CVE), which still must fund any future expansion, has been mentioned as a potential Suncor takeover target. Speculation aside, the one thing that seems clear is that Suncor is still on an acquisition track.
To finance any new acquisitions, there is also the possibility of divestitures. Earlier this year, Suncor CEO Steve Williams noted that the company was actively considering the sale of some of its non-core assets. In the latest company conference call, he reaffirmed this intention and more specifically indicated that Suncor wanted to sell between $1 billion and $1.5 billion in non-core assets (perhaps wind farms, pipelines and terminals) over the next 12 to 15 months. Combined with the proceeds of the bought deal, this would give Suncor a significant amount of liquidity for future purchases.
Although the wildfires did have some negative effect on Suncor's share price, the market seems to have reacted positively to the bought deal issue. After the announcement, the share price was maintained at about the issue levels, and fell back slightly only when WTI dropped below the $50 level.
Analyst Ratings
The following table presents recent ratings since March 1. Target prices are in CAD figures for the TSE listing. As of the June 10 close, SU was trading on the TSE at $34.38 (NYSE: US$26.94), and its current dividend yield is about 3.3%.
| | | | |
| --- | --- | --- | --- |
| Date | Company | Rating | Target Price |
| | | | |
| June 8 | Raymond James | Outperform | $42.00 |
| June 6 | CIBC | Sector Outperformer | $45.00 |
| May 27 | RBC Capital | Outperform | $40.00 |
| May 1 | TD Securities | Hold | $39.00 |
| April 29 | National Bank Financial | Market Perform | $37.00 |
| April 28 | BMO Capital Markets | Outperform | $42.00 |
| April 27 | Goldman Sachs | Buy | $34.00 |
| April 22 | Desjardins | | $37.00 |
| April 20 | Citigroup | Neutral | $40.00 |
| April 8 | Barclays | | $43.00 |
| March 28 | Nomura | Buy | $45.00 |
| March 22 | J.P. Morgan Chase | Neutral | $34.00 |
| | | | |
Risks
Obviously, the greatest risk to Suncor would come from a further major decline in oil prices or sustained low prices at current levels.
Since investors value Suncor for its steady dividends, there would be a shock to the share price in the unlikely event that the dividend is reduced.
There are particular risks to a company like Suncor from some major incident in its physical operations at its various oil sands projects or at its east coast or North Sea platforms that could cause a major shutdown in production or environmental damage. This includes the risk of continued wildfires.
For U.S. investors, there is a risk in terms of share price and dividend from any further decline in the Canadian dollar. At the same time, the current slide in the CAD is a double-edged sword. A high U.S. dollar is actually beneficial to SU in terms of oil pricing, but detrimental in terms of its U.S. dollar denominated interest payments. At the same time, an increase in crude pricing would likely strengthen the Canadian currency and could benefit USD shareholders.
Investment Thesis
Suncor is committed to the Canadian oil sands, and the vast majority of its production comes from there. Production costs, when capital is included, are clearly higher there than conventional production or shale. The bitumen produced is valued at a considerable discount to WTI, but can be upgraded to a relatively equivalent product by a conversion process. For real profitability, oil sands projects are justified by higher crude pricing over a multi-decade time span, which is often their reserve life. Investors in Suncor should have a long-term outlook: for sustained oil demand, for higher oil pricing, and for the lack of major environmental concerns that will negatively affect oil sands production.
At present, Suncor estimates that it needs about $40 Brent pricing as a breakeven price to cover both a modest amount of sustaining capital ($2.7 billion) and its dividend. To pay down its debt, for greater profitability and for still further growth, it clearly needs a higher figure, given the oil sands' higher costs. As costs are reduced, that figure becomes less. But Roger Jenkins, Murphy Oil's CEO, recently suggested, for example, that Syncrude "returned free cash flow when oil was $100, but not so much when it's below $80."
While a long-term outlook is clearly involved, Suncor is the largest Canadian energy company and a favorite among Canadian energy stocks on the part of conservative institutional investors. Within the energy sector, it is often regarded as a "comfort" stock, the kind of investment especially attractive to pension and endowment funds and those seeking retirement income. The institutional reaction to the bought deal supports this image of a "safe" investment.
At the same time, given that Suncor has been considered a "safe haven", its share price may not increase as quickly as other companies that are basically sound, but whose share price has been detrimentally affected to a greater extent. To some extent, in an improved pricing environment, there could be outflows from Suncor to other producers whose share price might be seen to generate faster short-term returns.
The impact of the Alberta wildfires on Suncor is significant. While any losses are short-term ones that Suncor can endure, the wildfires and the bought deal together may represent a buying opportunity at or near issue price for the longer term. Institutional investors seem to think so.
DISCLAIMER: The information provided above is not a recommendation to buy or sell a stock. It intends to increase investor awareness and to assist investors in making smarter decisions. Prospective investors should always do their own further research, and take into account their own current financial holdings, their risk levels and their shorter or longer-term outlooks.
Disclosure: I/we have no positions in any stocks mentioned, and no plans to initiate any positions within the next 72 hours.
I wrote this article myself, and it expresses my own opinions. I am not receiving compensation for it (other than from Seeking Alpha). I have no business relationship with any company whose stock is mentioned in this article.
Editor's Note: This article discusses one or more securities that do not trade on a major U.S. exchange. Please be aware of the risks associated with these stocks.