Previously, I had concluded that the short specs (managed money) group had been most instrumental in driving crude oil prices higher since mid-February, reducing their short positions to relatively low levels. I also noted that hedge sellers (producers) had increased their positions to their highest levels in five years as prices approached $50 per barrel.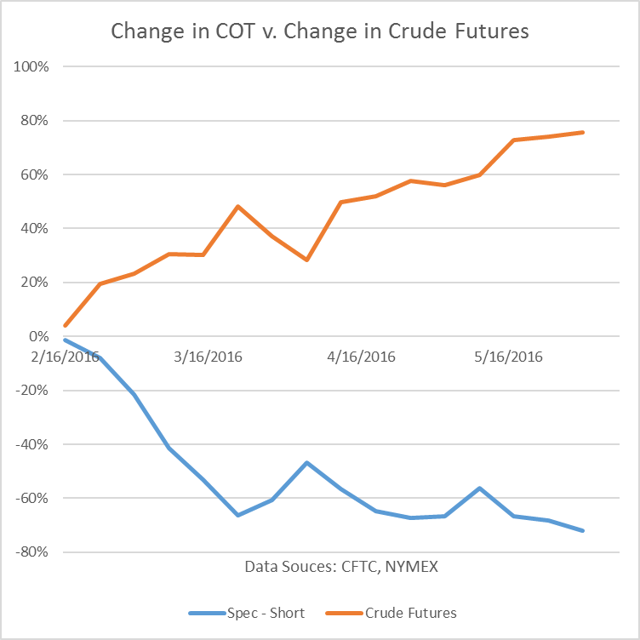 Click to enlarge
But as the Spec - Shorts reduced their short holdings to relatively low levels, I wrote that they could be at a tipping point, ready to jump back in on the short side, pressuring prices lower. With the Baker-Hughes Rig Count rising today for the second straight week in a row, crude futures prices dropped 2.9%. We won't know if it was the Spec - Shorts until next week's report, but I strongly suspect it was.
The data below cover the week ending June 7. For that week, crude futures prices were up $1.26, closing over $50, the highest weekly close since July 17, 2015.
How were the hedgers and speculators positioning themselves?
The Commodity Futures Trading Commission's (CFTC) Commitment of Traders (COT) report provides some insight into how each of the four groups I follow are thinking: Hedgers (Producer/Processor/User) Longs and Shorts, and Speculators (Managed Money) Longs and Shorts. These groups are defined below.
Producer/Merchant/Processor/User
A "producer/merchant/processor/user" is an entity that predominantly engages in the production, processing, packing or handling of a physical commodity and uses the futures markets to manage or hedge risks associated with those activities.
Money Manager
A "money manager," for the purpose of this report, is a registered commodity trading advisor (CTA), a registered commodity pool operator (CPO) or an unregistered fund identified by CFTC. These traders are engaged in managing and conducting organized futures trading on behalf of clients.
Findings
The largest position change was by the Spec - Sellers, who sold 24.3 million barrels. This was offset by an almost equal amount of buying by Spec - Buyers, and by Hedge Buyers and Sellers, totaling 23.5 million barrels.
In the week ending May 31, Spec - Sellers had decreased their position sizes to their lowest in over a year. But after topping $50, the price rebound slowed to a standstill, even with the outages in Canada and Nigeria. In other words, they had been discounted by the market. Under such circumstances, the more likely development would be that the market would begin to anticipate the return of supply to the market. And so the Spec - Shorts began to raise their short bets once again.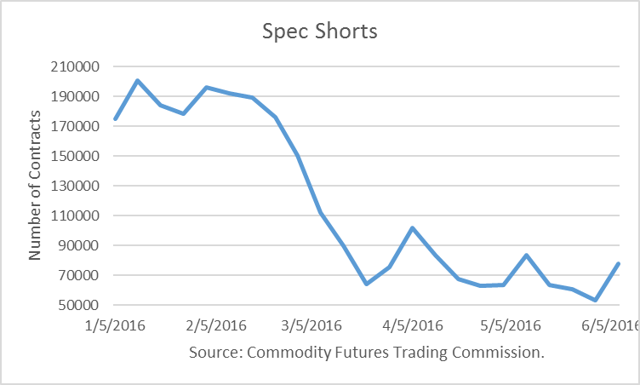 Click to enlarge
The Spec - Longs increased their bets by 17.1 million barrels, encouraged by the close above the psychologically-important $50 mark. More favorable U.S. crude supply-demand stats supported crude stock draws. Numerous predictions for $60 appeared in SA comments, reflecting the bullish sentiment. Long bets closed at 311.2 million barrels, around the highest they have been this year.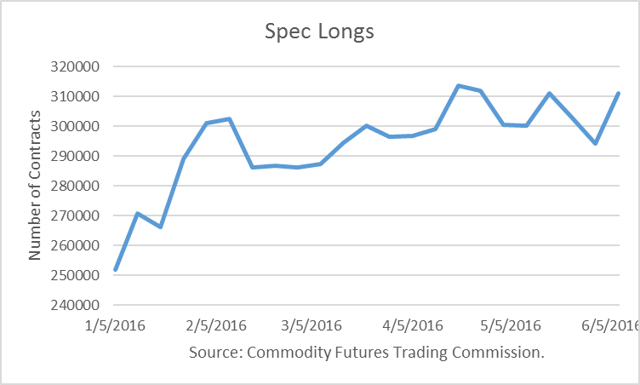 Click to enlarge
Hedge - Shorts surprisingly reduced their short hedges a bit, buying back 4.3 million barrels. Just as the long specs were eyeing $60, I'm sure there were some arguments about being hedged at $50 "when prices are going to $60." Short hedges have been reduced by almost 30 million barrels over the past 4 weeks as prices advanced about $6 per barrel. With drilling rigs beginning to rebound, hedges should be increasing.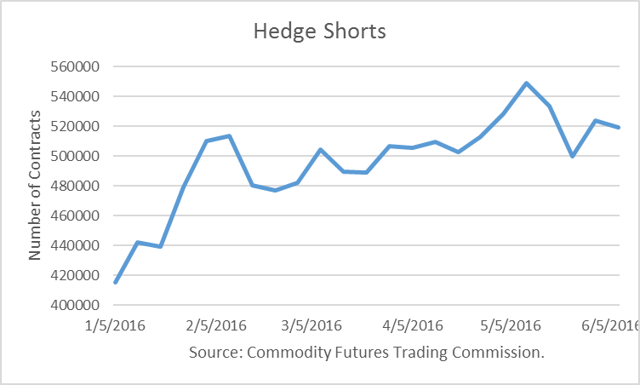 Click to enlarge
Hedge - Longs increased their positions by 4.3 million barrels. This was another case of buying into a rising market, expecting it go continue going higher. Total Hedge - Longs increased their bets by almost 25 million barrels over the past two weeks to stand at just below 250 million barrels.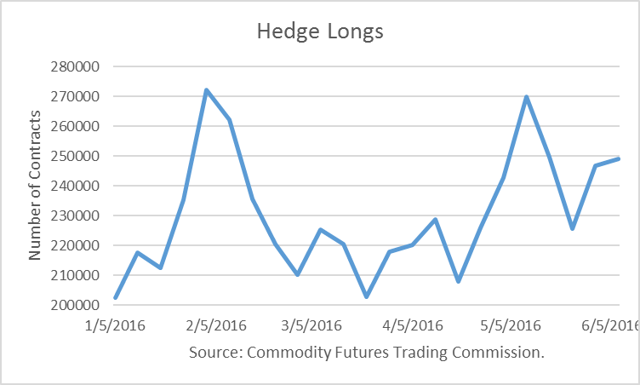 Click to enlarge
Conclusions
With prices dropping below $50 today, I think the Spec - Shorts will be emboldened to add to their positions. Perhaps the Hedge - Shorts will also begin to fear that the current hedging opportunities may slip away and sell more next week.
Disclosure: I/we have no positions in any stocks mentioned, and no plans to initiate any positions within the next 72 hours.
I wrote this article myself, and it expresses my own opinions. I am not receiving compensation for it (other than from Seeking Alpha). I have no business relationship with any company whose stock is mentioned in this article.