Johnson & Johnson (NYSE:JNJ) is at all-time highs, once again. And given the strong year-to-date performance, I want to examine this consumer behemoth more closely to try and determine the pros and cons of investing in JNJ.
Although I'm familiar with the company at a high level, I'm curious to dig deeper into the financial trends that have driven its strong price performance. The 7,723% return since 1978 (before dividends) is downright amazing. But is it worth paying 18 times cash flow?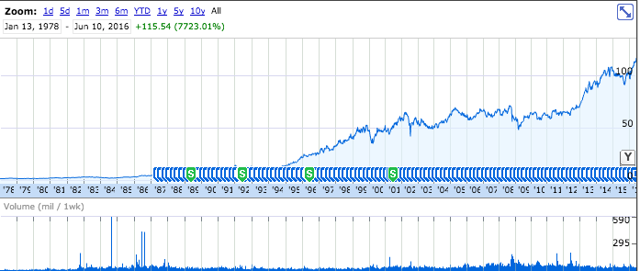 Click to enlarge
And what exactly is driving this long-term growth? It's a good question. In short, JNJ has three segments that sell to consumers all over the world. The segments are: Consumer, pharmaceutical and medical device.
Here's how they break down by revenue over the last few years (source):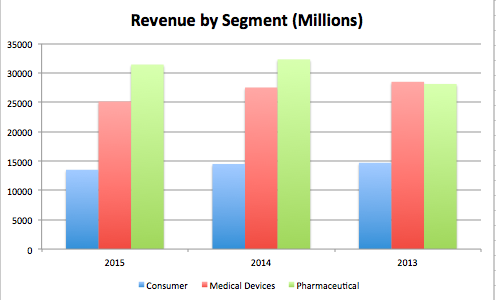 As you can see, medical devices and pharmaceuticals drive significantly more sales than the consumer segment. The next table illustrates how JNJ's sales break down by geography as of the 1st quarter of 2016. The company truly has a global footprint, with almost half of sales happening internationally.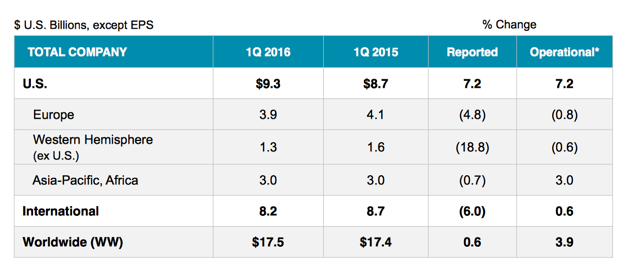 Click to enlarge
With this revenue mix in mind, I'm curious to see to what extent JNJ can continue to grow going forward. Structurally, I can't see a reason why demand for its products wouldn't persist. But let's look at the historical financials to confirm the recent price increase is warranted, starting with the top line.
Johnson and Johnson: A Decade in Review
The following data from Morningstar shows how JNJ has performed over the last 10 years, and trailing twelve months. I always like to start with sales when looking at financial trends. So here's the graph of revenue.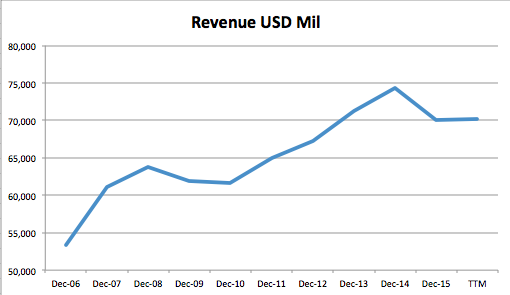 While declining revenue isn't what any investor wants, so far the recent retreat is only a minor dip. Overall, historical revenue growth is quite strong during the period. And if we look deeper at the nature of the 2015 decline, it seems currency is the main culprit (source):

Click to enlarge
So although revenue is down, it's encouraging to know the underlying business is still growing, albeit slowly. Given the long historical track record of slow and steady growth, JNJ seems likely to continue trucking along.
And it's not just the top-line that's seen persistent growth over the last 10 years. Earnings per share and book value per share have also grown consistently. The results are a little bumpy, but up and to the right. Truthfully, this is what I'd expect from a company with a 23.35% 10-year average ROE (21.89% TTM).
First, let's take a look at earnings per share.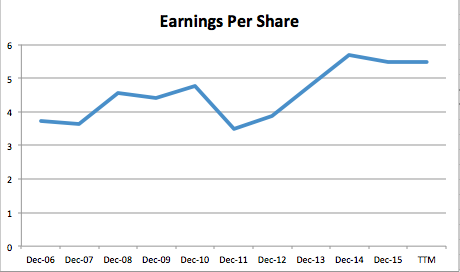 Not perfect, but I'll take it. Now let's look at how shareholders' equity has grown. Personally, this is one of my favorite long-term indicators.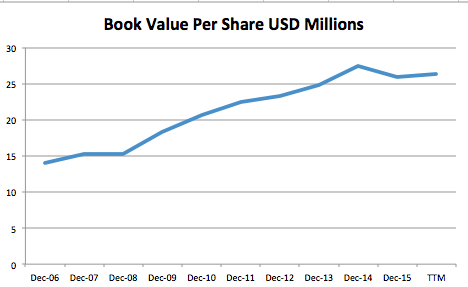 Now that's a trend I can get behind. The recent dip notwithstanding, book value growth has been impressive. Over the same period, shares outstanding declined by just over 160 million.
But the bulk of shareholder returns have come from dividends. In fact, JNJ is actually a dividend aristocrat, having increased its dividend for over 25 consecutive years (source). Take a look at the 10-year growth profile.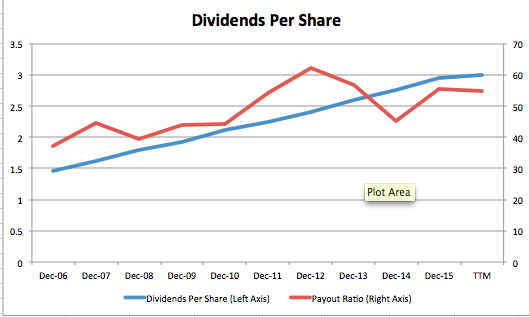 As you can see, dividends have doubled in the last 10 years by growing at a faster rate than the payout ratio. For now, future dividend growth looks likely. JNJ has done a compelling job of consistently growing profits and returning them to shareholders.
And as I mentioned before, it's hard to imagine its earnings stream being meaningfully disrupted any time soon. I guess that's why the market is only offering it at a 4.95% free cash flow yield. But in a world of negative interest rates, maybe 18 times cash flow is reasonable?
And while this high quality company is a bit expensive compared to the 5-year historical average, the forward P/E looks a little more reasonable.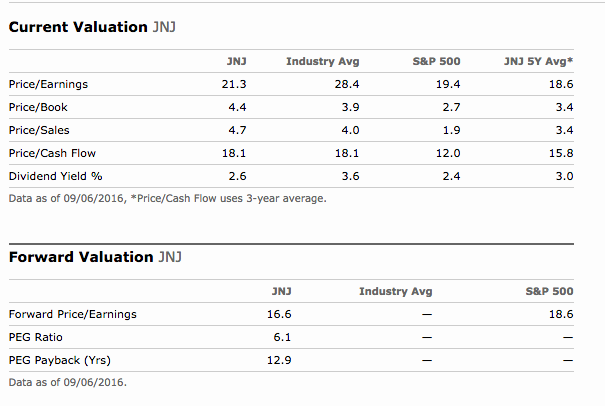 Finally, JNJ has a modest debt-to-equity ratio of 0.28, and over $32 billion in working capital. Suffice it to say, it's highly unlikely JNJ will run into any liquidity or solvency issues. So what do we make all of this? And what's the downside?
I believe the biggest risk is valuation related so if there is meaningful deceleration in growth, shares of JNJ could head south quickly. On the other hand, in times of economic uncertainty or a global slowdown, maybe this relatively stable stock will outperform. At the end of the day, nobody knows what will happen in the future but overpaying to find out doesn't help.
Conclusion: I Couldn't Help But Pull The Trigger
I recently purchased a small position in JNJ; in part, because I couldn't stand to be on the sidelines any longer. I know I didn't buy it on sale. But I had some new money to put to work and I'm comfortable allocating a little capital here for the long term.
I'm happy with the 2.7% current dividend yield. I believe there is room for modest growth in both distributions to shareholders and share price. Although this is by no means my most exciting investment, I'm content calling myself a shareholder and will continue to monitor the trends in financial statements. So what do you think? Is JNJ worth the price?
Disclosure: I am/we are long JNJ.
I wrote this article myself, and it expresses my own opinions. I am not receiving compensation for it (other than from Seeking Alpha). I have no business relationship with any company whose stock is mentioned in this article.