The latest news continues to confirm that investors remain too bullish on a turnaround at Chipotle Mexican Grill (NYSE:CMG). Not only are reports suggesting that the Mexican restaurant concept is no longer the top brand in the sector, but analysts continue drastically cutting estimates for the stock.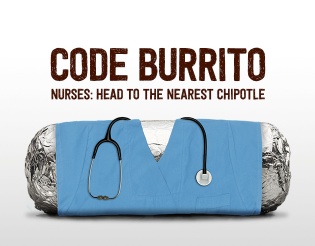 Chipotle ended the week trading near $400. The stock hit a 52-week low of $399.14 on January 12, but closed above $404 that day. With the stock only closing one day below $411 back in January, is the current move suggesting Chipotle finally trades below $400?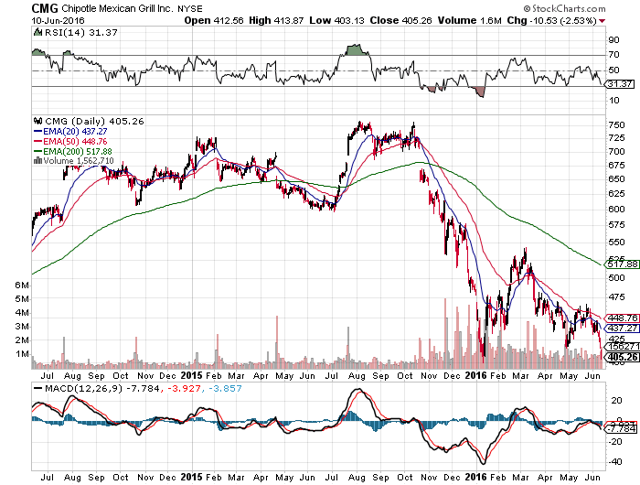 Click to enlarge
Tainted Brand
Maybe the most disturbing news is the Harris Poll naming Moe's Southwest Grill as the Brand of the Year for the fast casual Mexican restaurant space. In fact, Chipotle fell so hard that Taco Bell owned by Yum! Brands (NYSE:YUM) actually topped the leader of the prior three years. To be leapfrogged by a fast food option shows how far Chipotle has fallen and how damaged the brand is now.

Click to enlarge
Source: Harris Poll
Declining Analyst Estimates
The poll is yet another sign that sales aren't going to rebound as quickly as expected. Only a week ago Nomura analyst Mark Kalinowski highlighted the magnitude of the over optimism on the earnings expectations. As Q2 winds down, he cut $0.90 out of the estimates with a big reduction to Q2.

Source: StreetInsider.com
These quarterly cuts for the rest of 2016 are sizable, but the numbers only bring his numbers more in line with the market. Kalinowski forecasts the restaurant chain making $11.75 in 2017 that is now mostly in line with forecasts.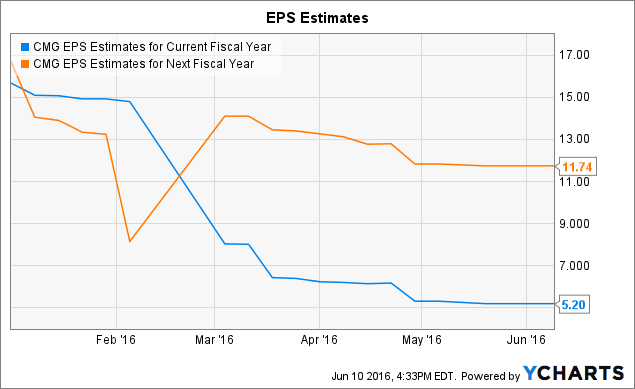 CMG EPS Estimates for Current Fiscal Year data by YCharts
Other sites, including StreetInsider.com, suggest the average 2016 EPS estimate is down to around the $4.70 range, down from $5.20 listed by YCharts and highs around $15.00 when the year started. This downward trend is not supportive of higher stock prices, especially with the stock above $400.
The big problem facing Chipotle is that food safety costs are skyrocketing while the company doesn't have the traffic levels to support the higher cost levels.
Takeaway
Even 30x the rapidly declining 2017 EPS estimates places Chipotle's worth at $352.50. One has to wonder how investors can continue paying over $400 for this stock. Until the numbers finally touch bottom and all the bullish optimism is gone in the numbers, Chipotle Mexican Grill will finally get interesting.
Stay away for now or even short the stock on a break below $400.
Disclosure: I/we have no positions in any stocks mentioned, and no plans to initiate any positions within the next 72 hours.
I wrote this article myself, and it expresses my own opinions. I am not receiving compensation for it (other than from Seeking Alpha). I have no business relationship with any company whose stock is mentioned in this article.
Additional disclosure: The information contained herein is for informational purposes only. Nothing in this article should be taken as a solicitation to purchase or sell securities. Before buying or selling any stock you should do your own research and reach your own conclusion or consult a financial advisor. Investing includes risks, including loss of principal.