The price of copper lost 58% from its high in 2011 till early 2016 and has a YtD-performance of -5% (see the long-term and short-term chart for copper below). Copper is about to reach its 5-year-low and has massively underperformed the broad range of commodities, represented by the iShares S&P GSCI Commodity-Indexed Trust ETF(GSG). Recent news mentioning copper stockpiles to rise most since 2004 doesn't indicate an end to a decline in price.
Following, I want to evaluate supply and demand figures for copper and its main drivers as a guidance for the future development of copper. Supply and demand data are from Thomson Reuters.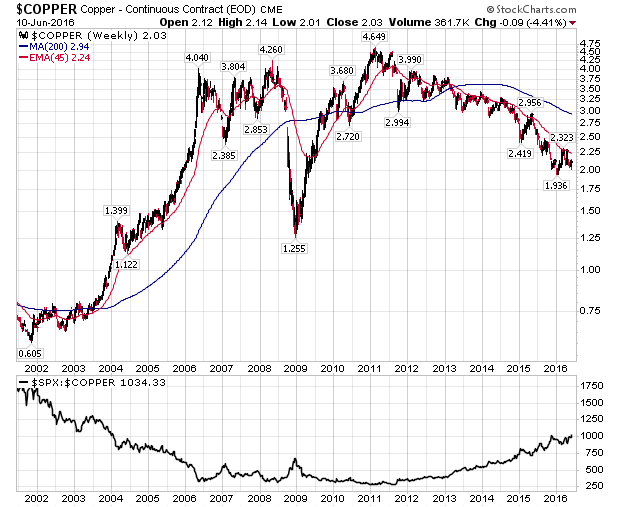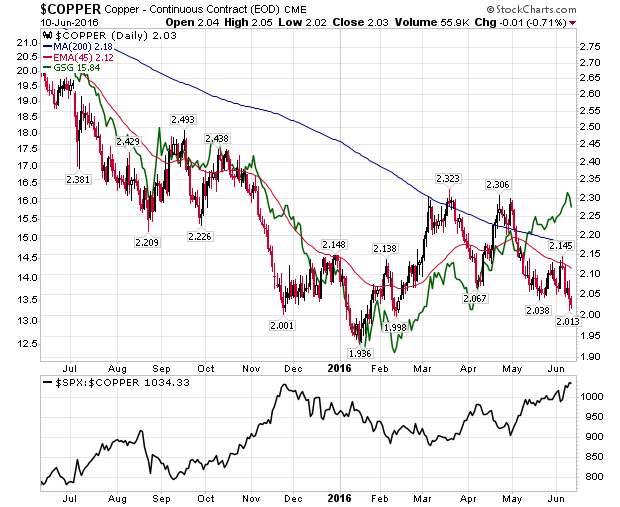 Supply
Along with the decline in prices, we had a copper production surplus since 2012, increasing every year. World mine production was up 3.5% in 2015 vs 2.1% 2014. While demand growth goes back, supply can't adjust that quickly: Higher output is expected to continue till 2018, as there are still the effects of projects which were initiated in the boom a few years ago. In addition to that, producers are reluctant to close mines: There is the cost of mine closures and several governments provide subsidies to keep up production. Lower input costs are supportive for mine companies as well: In 2015, cash costs were 4% lower while total costs were down 2% year-on-year. These changes can be attributed to weak oil prices, a strong dollar and weak inflation expectations - trends which are not expected to turn.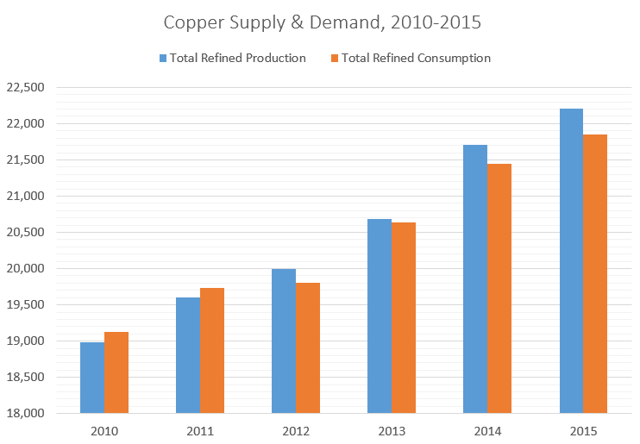 Click to enlarge
Demand
Global copper consumption growth shrank to 1.9% last year vs 3.9% in 2014. Global copper demand won't increase substantially unless the global manufacturing industry rebounds - for which we have no indication. The J.P. Morgan Global Manufacturing PMI signals a broad stagnation of the manufacturing industry and has been steadily coming down toward the 50.0 mark through May.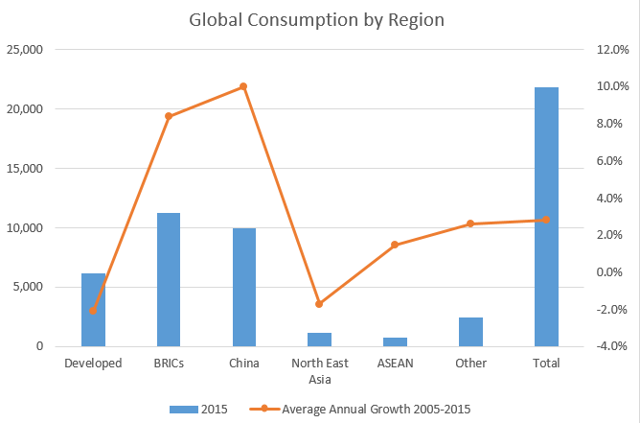 Click to enlarge
As China makes up 46% of global copper consumption, its economy is worth watching. It indicates a lack in demand in the coming years: China is transitioning to a more consumer-based economy. The Chinese manufacturing PMI has been in contraction territory for more than a year now - albeit only slightly. The housing sector in China plays a very important part in copper demand: Many other industries are linked to real estate and drive the demand for basic materials like copper. Since 2014, the Chinese real estate industry has been in a downturn and the situation deteriorated further in 2015.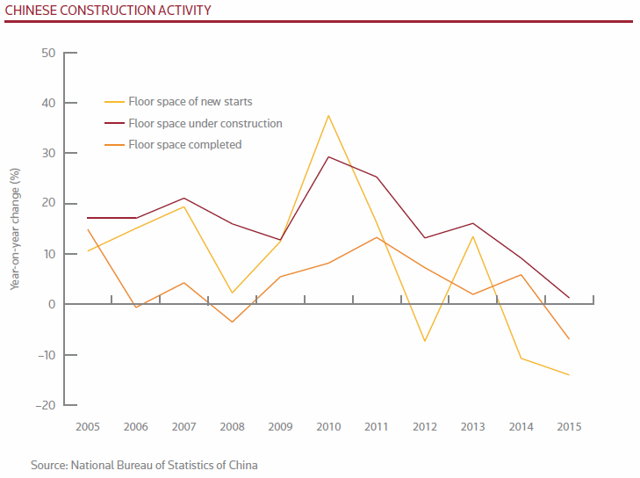 Click to enlarge
Conclusion
Insufficient production cutbacks, higher output from the delayed effects of the last mine supply boom and lower Chinese demand growth as it transitions to a more consumer-based economy are very likely to lead to another consecutive year of price decline in 2016 and beyond. However, that doesn't mean we won't see a supply shortfall a few years ahead. The inelasticity of supply of copper presents excellent investing opportunities in advance of a market deficit in copper. While remaining short on copper I am paying attention to a pickup in demand, especially demand from China.
Copper ETFs: iPath DJ-UBS Copper Total Return Sub-Index ETN (NYSEARCA:JJC), United States Copper Index ETF (CPER) and iPath Pure Beta Copper ETN (CUPM)
Disclosure: I/we have no positions in any stocks mentioned, and no plans to initiate any positions within the next 72 hours.
I wrote this article myself, and it expresses my own opinions. I am not receiving compensation for it (other than from Seeking Alpha). I have no business relationship with any company whose stock is mentioned in this article.