I think it's time to buy more Intel (NASDAQ:INTC) shares. Bloomberg again fortified the persistent rumors that Intel will really provide the LTE modems on some new iPhone models. Apple (NASDAQ:AAPL) will allegedly use Intel's LTE modems for new iPhones heading to GSM telcos like AT&T (NYSE:T). Qualcomm (NASDAQ:QCOM) will still supply the modems for CDMA telcos like Verizon (NYSE:VZ).
Supplying the modems for AT&T iPhones is already a big deal for Intel. AT&T could sell 20-23 million iPhones every year. At $15 (my own guesstimate) per modem/baseband processor, Intel can receive at least $300 million from AT&T iPhones.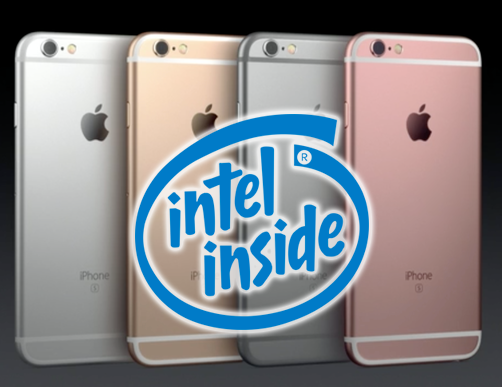 (Source: Apple/Intel/Motek Moyen)
I do not exactly know why Apple is dual-sourcing its LTE modems. I only care that Intel could sure use the money from Apple. Supplying the modems for the next iPhones could be bigger than Intel's old deal of supplying smartphone processors to Asustek (OTC:ASUUY) Android smartphones and tablets. I still expect Apple to sell more than 200 million iPhones/year.
Intel possibly supplying LTE modems inside 100 million iPhones can lead to a tidy $1.5 billion ($15 per modem multiplied by 100 million phones) check from Tim Cook. A $1.5 billion/year check from iPhone modems can sooth the protracted pain caused by the nine-figure losses that Intel incurred on phone/tablet processors.
Getting the iPhone modem business is already enough incentive for Intel to cancel its LTE SoFIA smartphone processors. Going forward, I expect Apple to also use Intel modems inside iPhones intended for countries where GSM is popular. Most of the world's networks are now compatible with GSM.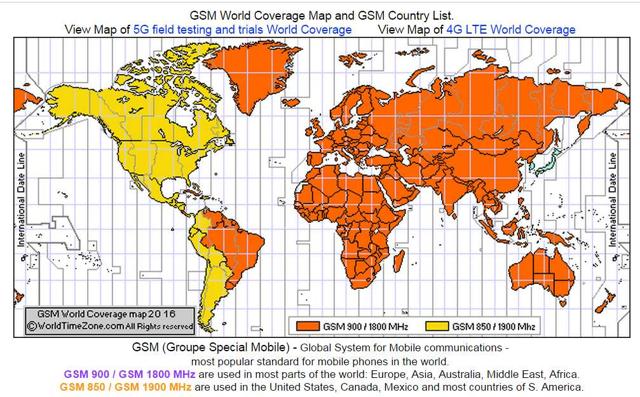 Click to enlarge
(Source: WorldTimeZone.com)
Intel Has CDMA Modem Assets
Qualcomm investors may want to take note that Intel bought the CDMA modem assets of Via Technologies last October. Terms were not disclosed but Intel now owns Via's CDMA modem technology. The timing of the Via Telecom CDMA modem deal also coincided with the October 2015 announcement that Intel had 1,000 employees working on the LTE modem for the iPhone.
I speculate that Intel only bought the CDMA assets after Apple already showed interest in Intel's GSM LTE modem. I do not know if Via's CDMA modems are as good as Qualcomm's. I only look forward to Intel eventually convincing Tim Cook that its upcoming CDMA 4G or 5G modems are also good for the iPhone.
I suspect that Intel is already working hard to come up with a CDMA modem to complement its GSM XSM LTE modems. All those 1,000 employees' work is done after the iPhone 7's release. Their next task will likely include improving the Via CDMA modem.
Supplying the modems for GSM and CDMA iPhones is the ultimate objective of Intel. Unless Qualcomm offers better pricing, Apple could eventually give Intel an exclusive modem supply contract. Getting Intel to supply GSM and CDMA LTE modems means Apple won't have to bother with building its own modems.
Yes, there were rumors last year that Apple was allegedly trying to build its own modem. It's now very logical to believe that Intel could become Apple's go-to supplier for its future modem needs. If Apple still has any intention left about building its own modem, it would have bought the Icera assets that Nvidia (NASDAQ:NVDA) has been trying to dump since last year.
Conclusion
We should bet on Intel now before Apple makes official announcement that Intel is really supplying modems for the new iPhone. I am pretty confident that Wall Street traders will pump INTC's price after Apple makes an official confirmation. Like I said earlier, the annual modem needs of the iPhone could give Intel around $1.5 billion/year in new revenue.
Apple's high margins on iPhones also means it did not have to force Intel to give too big a discount on XMM LTE 7360 modems. Yes, I think the GSM iPhones will use the 28-nm XMM 7360 modem. This Intel LTE modem is good enough to match the specs of Qualcomm's Gobi 4G modems.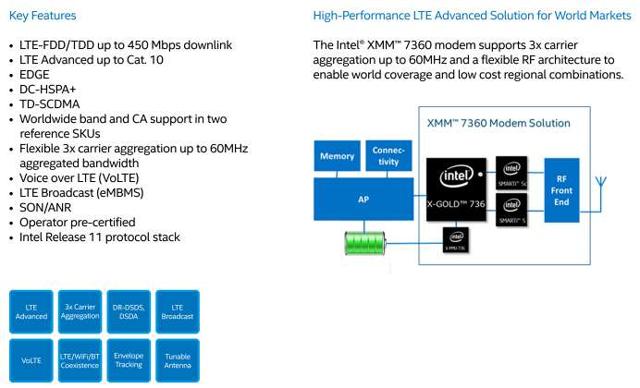 Click to enlarge
(Source: Intel)
Disclosure: I am/we are long INTC, AAPL, NVDA, QCOM.
I wrote this article myself, and it expresses my own opinions. I am not receiving compensation for it (other than from Seeking Alpha). I have no business relationship with any company whose stock is mentioned in this article.