In December 2015, I posted an article on KeyBank (NYSE:KEY) and stated that the bank was "attractively valued" at that point in time. What has happened since this article was posted? A lot, but the most important thing is the fact that today's stock price is significantly lower than it was in December.
On a YTD basis, KEY shares are down ~7% while the SPDR S&P Regional Banking ETF (NYSEARCA:KRE) is down only ~3% over the same period of time.
(click to enlarge)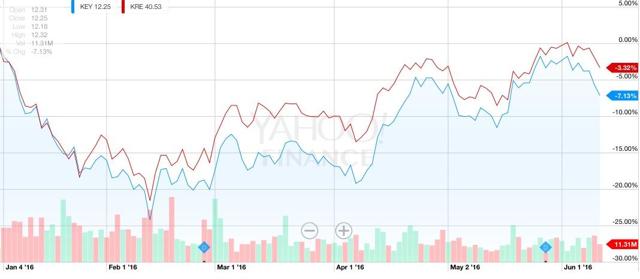 Click to enlarge(Source: Yahoo! Finance)
The poor stock performance for KeyBank, and many other financial institutions, is largely related to a change in investor sentiment due to the uncertainty of the economy and expectations of a more challenging operating environment for banks in the quarters ahead. I described these concerns in greater detail in a recent article written about Bank of America (NYSE:BAC), but, in my opinion, these concerns are nothing more than short-term noise when you look out a year or two from now.
KeyBank is still a great long-term investment and I believe that the recent sell-off created an opportunity to start a position in this strong regional bank at a very reasonable price. Moreover, KeyBank recently increased its quarterly dividend (more on this later in article) so long-term shareholders are being paid to be patient.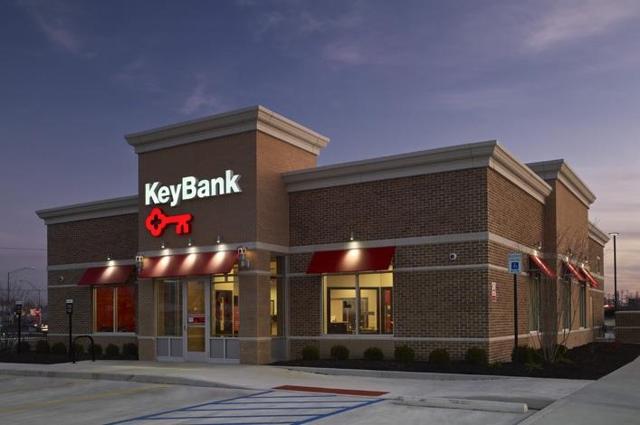 Click to enlarge
(Source)
A Higher Dividend, More Of The Same
KeyBank has been committed to returning capital to shareholders over the last few years, and 2016 is starting out to be more of the same. In May 2016, KeyBank increased its quarterly dividend from $0.075 to $0.085 (~13% increase), which brings the annual dividend yield to a healthy 2.80% based on today's stock price.
More importantly, KeyBank has a track record for consistently increasing the dividend, as the bank has an ~23% 5-year dividend growth rate.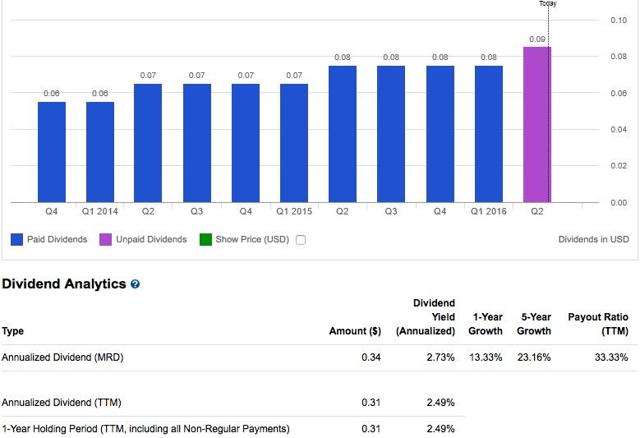 Click to enlarge
(Source: Fidelity)
KeyBank has more going for it than just a rising dividend, as there were actually some good takeaways from an overall lackluster Q1 2016 earnings report.
Q1 2016 Earnings, Not Great But Not Terrible Either
On April 21, 2016, KeyBank reported Q1 2016 adjusted EPS of $0.22 on revenue of $1.043b. The adjusted EPS missed the consensus estimate of $0.25 by $0.03, or ~12%. For comparison purposes, the bank reported Q1 2015 adjusted EPS of $0.26 on revenue of $1.095b.
Banks are operating in a challenging environment, so the YoY declines should have come as no surprise. I believe that management is doing everything in their power to further strengthen the bank now so it is able to prosper once the environment improves. Ms. Beth Elaine Mooney, CEO, highlighted this very topic during the Q1 2016 conference call:
"Our first quarter results reflect momentum in our core businesses and continued progress on our strategic initiatives, despite a more challenging operating environment. Excluding merger-related expense, we generated positive operating leverage relative to the year-ago quarter, and grew pre-provision net revenue by 6%. We also lowered our cash efficiency ratio for the first quarter to 64%. Revenue was up 3% from last year, driven by a 6% growth in net interest income."
The Q1 2016 results were not great, but they were also not terrible either. KeyBank's total loans and leases were up 5% and the cash efficiency ratio (ex merger-related expenses) was an impressive ~64%. Additionally, the bank's book value at Q1 2016 was $12.79, which is a significant jump from the book value of $12.12 reported at Q1 2015.
The downturn in the oil and gas industry has caused major concern for banking investors, but KeyBank shareholders should not be concerned based on a review of the information that was provided by management. In the earnings presentation, management spent the time to highlight the fact that KeyBank does not have a large amount of exposure to the oil and gas industry.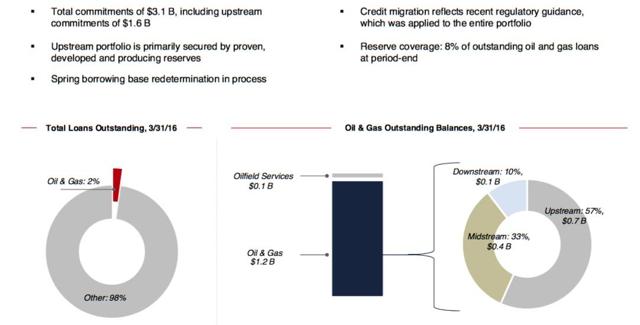 Click to enlarge
(Source: Q1 2016 Earnings Presentation)
The oil and gas exposure to KeyBank's total loans balance is only 2%, and the current reserves cover ~8% of the outstanding oil and gas loans.
Overall, the Q1 2016 earnings were nothing to brag about but the results also should not cause investors to be concerned about the bank's long-term business prospects, as management is anticipating for full-year 2016 to be relatively stable even in this current environment --see management's outlook and expectations below.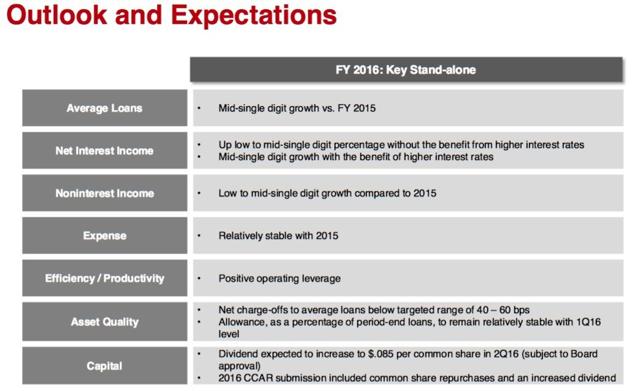 Click to enlarge
(Source: Q1 2016 Earnings Presentation)
Bottom Line
The Q1 2016 earnings left investors wanting more, but, in my opinion, the lackluster results should have been expected. KeyBank increased the quarterly dividend and management is fully committed to streamlining operations and cutting costs, so, at the end of the day, investors with a long-term perspective will be rewarded once the operating environment begins to improve. Plus, investors are paid an above-average dividend to wait for the turn to come to fruition.
I described the long-term benefits of the proposed First Niagara (NASDAQ:FNFG) acquisition in the article linked above so I will not bore you with the facts again in this article. However, I do want to stress the fact that this proposed acquisition has the potential to create a tremendous amount of shareholder value in the years ahead so it is somewhat concerning that there is still a great deal of uncertainty related to whether or not the acquisition will actually get approved. Therefore, I will continue to monitor management's commentary on the acquisition and will keep the SA community informed (please consider following me to get real-time updates).
KeyBank is currently a small position in my R.I.P. portfolio, but it is a position that I highly value. I am currently overweight financials in the portfolio, but I may consider adding to the position later this year if the KeyBank-First Niagara merger is approved.
If you found this article to be informative and would like to hear more about this company, or any other company that I analyze, please consider hitting the "Follow" button above.
Disclaimer: This article is not a recommendation to buy or sell any stock mentioned. These are only my personal opinions. Every investor must do his/her own due diligence before making any investment decision.
Disclosure: I am/we are long KEY, FNFG.
I wrote this article myself, and it expresses my own opinions. I am not receiving compensation for it (other than from Seeking Alpha). I have no business relationship with any company whose stock is mentioned in this article.