In my previous article on the auto industry bubble, I gave trade advice on benefiting from the decline in automakers that will result from the decline of vehicle prices, which itself will result from an increasing number of defaults, which - again - is the result of subprime loans being standard in the auto industry. Long story short: You should probably short Credit Acceptance Corporation (NASDAQ:CACC) or Ford Motor Company (NYSE:F). Today, I want to add to that investment thesis.
Recently, several automakers have attempted to invest in or acquire ride-sharing companies. Examples follow.
Side note: Apple (NASDAQ:AAPL) has invested Didi Chuxing, China's largest ride-sharing company that is the equivalent of the Mandarin version of Uber. This could be the only ride-sharing investment that has made any sense. Apple might leverage Didi Chuxing to test the theorized "Apple Car" and "Project Titan," which stem from Steve Jobs's time at the company, perhaps creating the first driverless taxi service. Whether this becomes true is less important than the fact that only Apple has made an investment that doesn't hurt its own business's competitiveness or bottom line.
None of These Investments Make Any Sense
To many investors, these four investments seemed obvious. After all, automakers investing in companies that employ vehicles make sense: They are not only gaining influence with companies that can help sell vehicles but are also gaining a share of an industry that is eating into the auto industry's profits. But the investment of ride-hailing companies by automakers actually is counter-intuitively harmful to the investors.
The likely mindset on the ROI for these investments follows:
Via driver:
Ride-hailing companies need their drivers to purchase cars
We have cars
An investment can help us lock down car sales through these companies
Via rider:
Ride-hailing companies represent competition to car sales
An investment in these companies gives us exposure to this competitive industry
Our investment acts as a hedge for market share lost to these competitors
Unfortunately, these investments make little sense. Ride-hailing companies offer cheap rides to consumers, many without cars. These rides have never been cheaper, having priced out most areas' taxi companies. The reduction in cost per mile via unowned cars makes the purchase of a new or used car more expensive, relatively and subjectively.
That is, ride-hailing brings down the cost of buy-to-own and lease-to-own cars by an increase in supply. This is a catalyst to the auto industry bubble that is already underway. Recall that the main problem is a supply glut caused by and causing reduced vehicle prices.
The Subprime Loan Problem
Subprime auto loans, another catalyst, have already entered the ride-hailing industry. Uber, for instance, owns XChange Leasing, which offers subprime loans to would-be drivers. Automakers investing in ride-hailing are entangling themselves deeper in a bursting bubble.
Another take on this investment is that it is an attempt to prevent balance sheets from taking a hit via the writing of amortized vehicles at their market values. Lease defaults, which are on the rise at worrisome speeds, can be written as new leases acquired through ride-hailing companies. This is creative accounting and adds nothing of value to the company, but investors shouldn't put such actions past big companies.
With ride-hailing companies lowering prices - and therefore margins - it hurts both the investing company and the drivers, who are supposed to be buying vehicles and paying off leases. Supporting a competitor who drives down your company's margins also hurts the investor. These investments simply do not make sense.
The Investment Strategy
So this brings us back to the beginning: the auto industry bubble will drag down the deals between Toyota and Uber; between GM and Lyft - because these companies are competing. It is a race to the bottom in prices for cars and for rides.
So what's the trade? Well, it's not much different than the trades I mentioned in my previous article. However, the comments section in the previous article quickly became an informative discussion on which vehicle stocks are the best short opportunities.
Reader Tyler Carey demonstrated their expertise on the automaker industry, pointing out that Honda (NYSE:HMC) is particularly insulated from the auto bubble. Toyota, too, is less susceptible because of its customers preferring to buy instead of lease.
I wish, therefore, to assist Tyler in narrowing down the best automakers to short by pointing out those companies that are engaging in the self-cannibalizing act of investing in ride-hailing. Thus, my short recommendation for the auto industry is to short GM. GM is already on the decline, and its investment in Lyft (which is not even the market share leader in ride-hailing) should hasten this decline.
Another interesting fact to bolster your confidence that GM is a good short opportunity on the way down: GM is already in the process of shrinking. It has seen a 13% decline in revenue and an 18% decline in sales. While five decades ago, GM owned half the US auto industry, its market share has been slowly sliding downward (now near 15%), with no sign of stopping: GM's market share has fallen the fastest of all the major companies in 2016.
Spending cash on cannibalizing tangential investments instead of shifting gears (pardon the pun) within its own industry puts GM at risk for being the first automaker dropped by investors when the auto industry blows up. GM seems to have given up on changing battle plans for winning the battle in its market, instead opting to help a friend in a competitive market beat a competitor (i.e., Lyft beat Uber). GM is not planning on changing anytime soon, so expect to see the continued depreciation of this company's value.
With the summer season - GM's worst season - beginning, now is a great entry point to a GM short: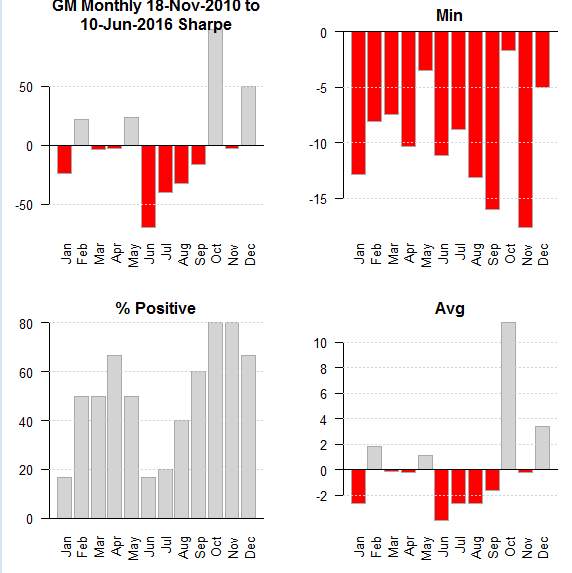 For a specific trade, consider buying the GM Dec. 32 puts and selling monthly OTM puts on the way down for hedging theta (time decay). Roll the long puts over for another six months if the auto industry hasn't popped by December. Happy trading.
Learn More about Earnings
My Exploiting Earnings premium subscription is now live, here on Seeking Alpha. In this newsletter, we employ both fundamental and pattern analyses to predict price movements of specific companies after specific earnings. I offer specific strategies for playing those earnings reports. To date, we are 90% accurate on earnings report predictions.
Disclosure: I/we have no positions in any stocks mentioned, and no plans to initiate any positions within the next 72 hours.
I wrote this article myself, and it expresses my own opinions. I am not receiving compensation for it (other than from Seeking Alpha). I have no business relationship with any company whose stock is mentioned in this article.
Editor's Note: This article discusses one or more securities that do not trade on a major U.S. exchange. Please be aware of the risks associated with these stocks.