The arena of biotech investing is littered with the corpses of once-promising companies that met their demise for a number of reasons - inability to make it past regulatory hurdles, undesirable side effects, competition, inability to raise cash or convince investors to continue footing the bill... the list goes on. Today I'm going to introduce investors to a mid-cap life sciences company that may have fallen off the Street's radar, but is poised to become a Wall Street darling and reward shareholders in the process.
Background
Novocure is an oncology company headquartered in the northeast US, but with operations also in Switzerland, Germany, Japan, and Israel. The company went public in late 2015, selling investors on the promise of their treatment for cancer known as TT Fields (Tumor Treating Fields). Its approved treatment for brain cancer, Optune, is very intriguing, with its potential applications to multiple cancers and ability to be added to standard of care. The treatment is generally safe, with a low side effect profile and no known toxicity. In fact, it's been called a potential "unicorn investment" in the treatment of cancer and the most significant advancement in the treatment of brain cancer in the past 10 years. Management seems experienced and committed to the company's future, with the CEO, COO, and Chief Science Officer having been at work since 2002, with relevant experience commercializing treatments with Baxter (NYSE:BAX) in the case of the COO.
Basic Information
Currently, Novocure (NASDAQ:NVCR) is trading with a $1.1 billion market cap, $235 million in cash and trading at 27 times sales. After its IPO was revised downward and the stock debuted at around $20 per share, it dropped rather quickly until it found its bottom around $10 per share. Aside from a few mini rallies, it's basically stayed near this level. In the past week, the stock has made a move above the 13 EMA, which could signal a new trend change or simply be another in the line of pops based on positive news. The IBB biotech index is down over 20% to date, which reflects the current environment we find ourselves in, as the market is pricing in concerns of sustainability of drug pricing and the reality that investors are finding out the majority of these companies don't pan out in the end.
More on Optune and Its Potential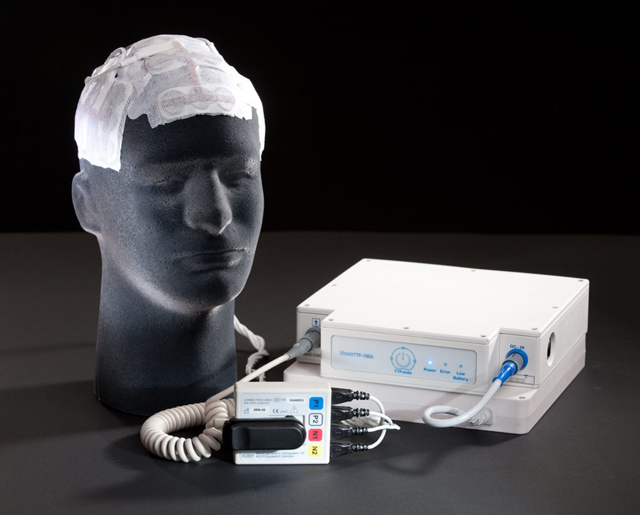 Click to enlarge
As you can see, Optune is precisely placed on the patient's bare scalp. It generates an electromagnetic field that stops or slows down the growth of rapidly dividing tumor cells. The main complaint with the first-generation device was its weight and being onerous, while the second-generation 2-pound device is arguably more convenient. The device depends heavily on patient compliance, as it must be worn at least 18 hours per day (with more being better). Looking at product review videos by patients (even though company-sponsored), it seems that most adapt well to using the device and appreciate the gift of a better quality of life and more time with loved ones.
A unique advantage is the company's direct-to-patient distribution model, where prescriptions are sent to Novocure, Optune is delivered to the patient, patient and family or caretaker are trained on proper use, a third-party payer is billed, and regular checkups by the patient's oncologist ensure continued compliance. Reimbursement, which can be a particularly sticky issue for costly cancer treatments, does not seem to be a problem, with 19 US payers, including most of the big players, covering over 112 million lives. Some terms of reimbursement are still being defined in Germany, Switzerland, and other countries.
The scientists behind the company have been studying tumor treating fields for over 15 years, meaning they understand its mode of action relatively well. Initially, it was approved in 2011 for recurrent glioblastoma, where 120 patients using the device alongside chemotherapy showed a 6.6-month overall survival compared to 6 months with 117 patients on chemo alone. While I would be skeptical about such a small clinical benefit, a subgroup analysis showed a 7.8-month overall survival for patients who wore the device more than 18 hours a day versus 4.5-month overall survival for those who wore it less. To put this in perspective, the Genentech (OTCQX:RHHBY)-sponsored BRAIN study utilizing blockbuster drug Avastin with or without irinotecan showed a median overall survival of 8.7 months. However, reported rates of grade 3 or higher adverse events with Avastin in patients with recurrent GBM are between 18% and 66%, including rates of 1.6-12.5% of thromboembolism, i.e., deep vein thrombosis and pulmonary embolism, which are relatively high. So, we are able to get a comparable benefit without the added side effect profile when using Optune.
In a newly diagnosed glioblastoma trial with 695 patients randomized 2:1 Optune with TMZ (temozolomide) versus TMZ alone, a median overall survival of 20.5 months versus 15.6 months was observed respectively, with a highly statistical significance of p=.004. The two-year survival rate of 48% versus 32% was also impressive, with a p value of .0058. Once-promising breakthrough therapy Rintega from Celldex (NASDAQ:CLDX) failed to improve overall survival, as did Avastin.
The company projects a total addressable market in glioblastoma (GBM) of $2.5 billion in the United States, Europe, and Japan. It also believes it can achieve $1 billion of annual sales within 3 years, with $700 million coming from the US. Being a skeptical investor ever wary of overly exuberant management, if you cut those numbers in half you are still looking at a company with an approved product trading at 1x potential sales. Marketing in the states is scheduled to begin in the third quarter this year.
As for markets beyond GBM, there is a strong rationale for expanding the treatment in solid cancers, especially non-small cell lung cancer, pancreatic, breast, and mesothelioma (for which there is already inhuman evidence). In an earlier trial of NSCLC, there was 5-month progression-free survival versus 2.9-month historical control, 13.8-month overall survival versus 8.3-month historical control, and a 57% 1-year survival rate versus 29.7% historical control. In the first cohort of its PANOVA trial with Optune in combination with gemcitabine in front-line pancreatic cancer, there was an overall survival advantage of 4.6 months in progression-free survival and 8.2 months in overall survival over historical control, with 55% patients alive versus 22%. When one looks at the size of just these two potential markets, the story for Novocure starts to get very interesting. To put things in perspective, Roche's Tarceva generated over $1 billion of sales in 2015 in NSCLC and advanced pancreatic cancer.
Other Relevant Information
In the most recent quarter, the company reported Optune prescriptions up 73% over the same quarter last year, with that growth accelerating 36% over the previous quarter. Management commented on the PANOVA trial results pointing toward a safe and effective treatment for front-line pancreatic cancer. Additionally, the treatment population has changed to include over 50% of newly diagnosed patients versus those with recurrent GBM, meaning they will be on treatment longer, resulting in a longer-duration average revenue stream per patient for the company. With $235 million in cash, Novocure has enough cash to last 12 months as it continues to commercialize Optune in the march to break even. Optune received recognition in the American Society of Clinical Oncology's Clinical Cancer Advances 2016: Annual Report on Progress against Cancer. In the conference call, management pointed out that the monthly charge for Optune is $21,000 in the USA and €21,000 in Europe. The average cash payment was $14,000 or €14,000, depending on financial assistance, charitable care, disputed underpayments, and other factors.
There are a number of mutual and hedge funds in the company, though none that really stick out for me. Of 85 million shares outstanding, FMR has around 5 million, with other large positions held by Price, Morgan Stanley, and Highland Capital Management. Since the last update, there have been over 2 million shares of new positions bought by institutions, while only around 100,000 of positions sold out. 36 holders increased their positions to the tune of almost 3 million shares, while 22 holders decreased their positions by around 600,000 shares. With only around 16% of shares held by institutional investors, there is plenty of room for the big players to push the share price up as this potential gem gets discovered and catalysts play out. Additionally, I would be remiss if I didn't point out that a director and officer recently bought 20,000 and 10,000 shares respectively.
Upcoming catalysts to add to the positive momentum include the first patients being recruited for METIS and LUNAR clinical trials as the company seeks to expand to other cancers, as well as finishing recruitment for the ongoing pancreatic and ovarian cancer clinical trials. Additionally, we should be seeing continued positive decisions for the covering of the Optune treatment by insurers, and results from the second cohort in the pancreatic cancer trial PANOVA.
Risks to the company include competition, slow adoption of the product, disappointing clinical results in ongoing trials, and burning through its cash reserves in the absence of lining up financing. As the treatment is additive or synergistic, I don't see competition being much of an issue. It appears the product is being adopted at a fast clip; however, I still see the biggest risk to the company as being the need to raise another year of cash reserves via a secondary offering in the next six months. Hopefully, this would happen at a higher share price as positive news continues to flow; however, if the recent history of good news followed by short-lived pops continues, we could see the money raised at a disadvantageous price. At the current share price of around $13 per share, I could see downside of around 40% versus an optimistic multibagger upside if investors stick around for a few years to reap the results of label expansion and clinical trials in multiple indications.
Thesis and Plan
Simply put, I believe Novocure has a treatment for cancer that will result in blockbuster sales, and investors are able to get in on the ground floor. I prefer to initiate a starter position in the company now, maybe one-third to one half of the total position an investor plans on. Then, revisit the company at year end to see how management is doing in terms of achieving its stated goals of label expansion, increased patient adoption and sales, and increased coverage for reimbursement. I would cut losses in the event that future clinical trials don't pan out, management behaves in a manner that shows disregard for shareholders, or sales slow down and point to a less-than-stellar future.
Even if you love growth stocks like I do, biotech companies are always going to be a risky proposition. Still, with enough due diligence, I think every growth portfolio should include a few, as long as the downside appears sufficiently limited and the potential reward justifies the risk. Investing in one-trick ponies can lead to epic blow-ups, but in the case of Novocure, I believe we have a stock that's at the cusp of proving to Wall Street its treatment is the real deal - a broadly applicable treatment that will be quickly adopted due to its ease in being added to current standard of care treatments. The question is, by when can the company be counted on, and how we will take advantage of a stagnant share price in the meantime.
Disclosure: I/we have no positions in any stocks mentioned, but may initiate a long position in NVCR over the next 72 hours.
I wrote this article myself, and it expresses my own opinions. I am not receiving compensation for it (other than from Seeking Alpha). I have no business relationship with any company whose stock is mentioned in this article.