Two months ago I published a bullish article on Luxottica (NYSE:LUX) (OTC:LUXGF), affirming it was a good stock for long-term oriented investors but still pricey. I tried to give an overview of Luxottica's strengths, which have built a wide moat around the company.
The main factors that built Luxottica's competitive advantage are:
Its strong portfolio of eyewear brands. The company is the owner of brands like Ray-Ban, the most famous brand in the eyewear industry, Oakley and Persol. It has also a lot of licensed brands, such as Giorgio Armani, Chanel, Bulgari, Prada, Michael Kors, Dolce & Gabbana.
The highly efficient vertically integrated structure. The company manages all the stages that go from production of glasses to retail sales. The strong retail network comprises Sunglass Hut International, Sears Optical, Target Optical, Lens Crafters and many other retail brands.
As I pointed out in my previous article, Luxottica has many opportunities to grow in both developed markets and emerging economies, and it's also trying to strengthen its position in developed markets through partnerships with retailers, such as Macy's (NYSE:M).
Please read my previous article for a more complete understanding of my bullish view.
I have tried to reassess the situation after the recent developments, which comprise Q1 2016 results, the announcement of stock buybacks and rising concerns in Europe related to potential effects of Brexit.
Recent results and buybacks
European companies are not obligated to make Q1 and Q3 results public anymore. But many companies, including Luxottica, continue to publish sales data anyway. Therefore, we only know the company's performance in terms of revenue, with details about regional and channel performance. The company reported revenue at €2,265.8 million (USD 2,583.01 million), a 0.8% increase QoQ, +1.80% in constant currency terms.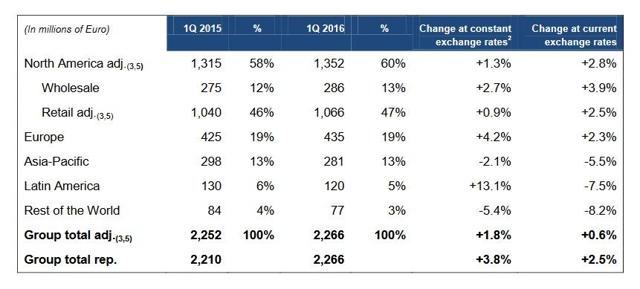 Click to enlarge
In North America, sales were up 2.8% over Q1 2015, that becomes +1.3% on a constant currency basis. Rising sales in North America is good news. Many retail and fashion stocks were beaten down by falling sales, as an effect of lower consumer spending from tourists and a slight general shift of consumer spending from fashion-related products to other products and services in sectors such as leisure and entertainment. North America is still the most important region for Luxottica, accounting for 60% of sales. The company's position in the region is incredibly strong, with an estimated market share between 60% and 80%.
Europe, which accounts for 19% of Luxottica's sales, has delivered a 2.3% growth, that in constant currency terms becomes +4.2%. Europe has been in a slow growth environment for several years. A 2.3% growth is not bad considering the non-favorable consumer spending environment and the fact that countries like Spain and Italy, which a few years ago where in deep recession, delivered double-digit growth QoQ.
In Asia-Pacific, Latin America and Rest of the world, sales were significantly down. Asia-Pacific, even if the company has reported strong growth in mainland China, has seen a 5.5% contraction QoQ. On a constant currency basis, revenue in the APA region fell by 2.1%. Sales growth was negative in Korea as an effect of the implementation of SAP in the first part of 2015 that impacted shipment timing and weighed on the first-quarter performance, but the company said that April sales were back on track.
Latin America delivered a 7.5% decrease in sales as an effect of currency weakness. On a constant currency basis, sales in the region actually grew by 13.1%. The company said that Mexico and Brazil were driving the growth in the region.
In the Rest of the world, sales were down 8.2%, or 5.4% on a constant currency basis. Recessions in some oil exporting countries like Russia and tensions in Middle East and North Africa have created a bad environment for growth in the short to medium term.
Sales through the wholesale channel were down 0.6%, but up 2.1% on a constant currency basis, while the retail channel performed well. Comparable store sales increased by 1.5% (+1.6% in constant currency), driving a good performance in the developed markets. In North America, Lenscrafters' comparable store sales were up 2% QoQ, while licensed brands were up 1.8%. Comps in Australia/New Zealand were up 4.2% and Sunglass Hut worldwide was up 1.1%.

Click to enlarge
Sales from Q1 are not exciting but not alarming either. On one side, the company is improving its position in the developed markets, with sales slightly up both in North America and Europe. On the other side, the weakness in emerging markets such as Russia, the China slowdown and social and political tensions in the Middle East created an unfavorable environment for international growth. We should expect significantly better growth in revenue once the environment in the emerging markets starts to improve.
After the completion of a 1 million share buyback in May, the company recently announced a new 4 million share buyback with the aim of creating a reserve for stock-based compensation programs. 4 million shares is not a significant number, considering that the current number of shares outstanding is around 480 million. The buyback would reduce shares outstanding by 0.8%, not an amount that can make some difference, but just a buyback that is coherent with the stock-based compensation plan for the period 2013-2017 and for other potential plans to be approved for the future.
Brexit selloff?
There are some concerns about potential results of Brexit in the first years of the process. Factors such as regulatory divergences that may arise, the general environment of uncertainty that may take place in the first years, the general shift of European policies towards less liberal ones, the political contagion where other countries decide to exit the EU are some of the main reasons why the market is concerned about Brexit. My goal here is not to analyze the effects of Brexit on the economy or on Luxottica. I just want to underline that in the last few days, European markets have started to drop as a consequence of such concerns. We shouldn't underestimate the potential selloff that could take place in the following weeks, as we go closer to the referendum and also after the vote. Concerns about a Eurozone break-up have demonstrated their potential as short catalysts in 2011, and I expect similar (even if not of the same magnitude) market reactions for Brexit. If not because of the short-term economic uncertainty that it could trigger, surely for the political one. The possibility of a political contagion exists and the market's reaction to a vote that is favorable to Brexit is highly probable.
Therefore, my view is that investors considering buying the stock or adding to their position should wait for the market's reaction to Brexit and avoid a potential selloff that could take place in the next few weeks.
Conclusion
In my opinion, Luxottica remains a good stock for long-term oriented investors, based on its strong performance and wide moat given by factors like its portfolio of brands, the extremely efficient vertically integrated structure and the strong retail network. Results in Q1 were overall good, with sales increases in North America, Europe and Latin America, against a weaker performance in Asia-Pacific and rest of the world. Sales data didn't affect my view of Luxottica as a strong company and a good stock for long-term capital appreciation. By the way, concerns about the effects of Brexit could impact the stock and trigger a selloff in the European markets. I believe that waiting to see markets' reaction to the Brexit vote could save us from short-term pain and could offer a more interesting entry point.
Disclosure: I/we have no positions in any stocks mentioned, but may initiate a long position in LUXGF, LUX over the next 72 hours.
I wrote this article myself, and it expresses my own opinions. I am not receiving compensation for it (other than from Seeking Alpha). I have no business relationship with any company whose stock is mentioned in this article.
Editor's Note: This article discusses one or more securities that do not trade on a major U.S. exchange. Please be aware of the risks associated with these stocks.