Triumph Group Inc. (NYSE:TGI) is a rollup that offers products and services to the aerospace industry. It consists of 47 operating companies in 73 locations. Their activities include designing, engineering, manufacturing, repairing, and overhauling of aerospace components, subassemblies, and systems. Industry coverage is very broad and consists of both commercial and regional airlines, air cargo carriers, and OEMs of commercial, regional, business, and military aircraft and components. Despite the breadth, exactly half of Triumph's business comes from just two customers: Boeing (NYSE:BA) and Gulfstream Aerospace Systems accounted for 38% and 12% of net sales, respectively, in fiscal 2016.
The company was founded in July 1993 by a group of 19 employees who bid for the aircraft businesses of a conglomerate named Alco Standard. The following fiscal year (ended March 1995), the business reported net sales of ~$71M. Under Founder and CEO Richard C. III's tutelage, Triumph expanded through acquisitions, and by the end of fiscal 2012 (March 2012), total revenue was at $3.4B. The stock also performed admirably: from IPO in 1996 at $9.5 per share (split adjusted) through March 2012, the stock returned over 6 times and was trading at ~$63 per share. In July 2012, Richard C. III retired as CEO (still was Chairman) and was replaced by Jeffry D. Frisby. Frisby came to Triumph from their acquisition of Frisby Aerospace in 1998. The stock price peaked the following March at ~$80 per share. Frisby's tenure ended abruptly in April 2015 as he was replaced by Richard C. III as interim CEO. As seen below, operational issues that resulted in a drop in the company's profitability were partly to blame: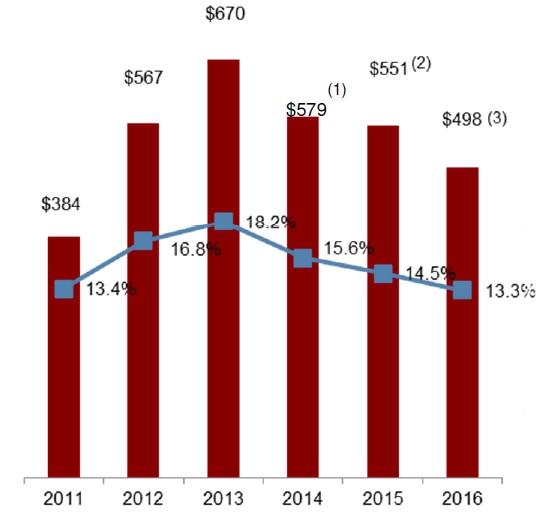 It was a classic case of empire building that got out of hand. Rather than focusing on operations, expansion accelerated during Frisby's tenure; several large acquisitions in wing structures, composites, and hydraulics occurred during the period. Operational issues started becoming apparent when Triumph took a $152M charge in early 2015 (forward loss in 747-8 program). Then, in September 2015, Boeing announced that they were bringing work done by Triumph on the 747 platform in-house. That was followed by a huge ~$1B in charges last quarter.
The need of the hour was a management team with a strong operational background in the aerospace industry with a commitment to improving efficiency. That is exactly what Triumph got with the appointment of Daniel J. Crowley as CEO in December 2015 - he was the president of Raytheon Integrated Defense Systems and prior to that was COO at Lockheed Martin's aeronautics unit. The operational focus became clear as Triumph released their turnaround plan in an investor presentation last month. The key elements of the plan are as follows:
Consolidation: This include reducing the number of business units from 6 to 4, consolidating operating companies from 47 to 22, and reducing locations from 72 to 60.
Cost Reduction: The initiative shoots to bring costs down by $300M by fiscal 2019. The savings are to come from workforce reductions, facilities consolidations, supply chain management, and operational efficiency improvements.
Transformation: While this is the most intangible portion of the plan, it, however, holds the most promise. Through a company-wide implementation of the 'One Triumph' initiative, the company plans to transform to a unified enterprise rather than a convoluted collection of disparate businesses. The 'One Triumph' implementation responsibility is with a new Transformation Delivery Office (TDO) team and they are to use a business management system termed Triumph Operating System (TOS).
If management can execute this plan successfully, what should come about in three years will be a business that should conservatively generate ~$600M in EBITDA with prospects for decent growth. Using a ~10x EBITDA multiple will then result in a stock price of ~3x current price.
A successful transformation is obviously not a given, but the early signs are encouraging. Below is a screen shot that shows the restructuring status, taken from their May investor presentation:

Click to enlarge
The proactive front-loaded nature of the restructuring shows a management that means business - they took charge only in January this year.
Conclusion:
A long overdue transformation of Triumph Group into a unified business entity is solidly underway under new CEO Daniel J. Crowley. Although the stock price has gone up from the February lows, there is plenty of upside for long-term investors.
Note: There is significant super-investor presence in Triumph Group. They got into the game in early 2014 led by activist Alex Roepers (Atlantic Investment Management) and David Tepper (Appaloosa) at a cost-basis in the $60s. Roepers also pitched TGI in the Value Investor Conference in September that year and put a price target of $100 based on a valuation of 11x FY 2016 EBITDA. That did not pan out but Roepers is still holding, having increased the stake by around one-third in Q1 2016. He currently controls ~8% of the business and the overall cost-basis is around $50 per share. David Tepper (Appaloosa) also has a similar trading pattern with this position. Apparently, they both saw a good business with a clear moat (FAA regulations make it hard for new entrants) that had run into temporary problems that could be fixed with a strong operational focus. In hindsight, they were too early, although they managed to reduce their cost-basis by averaging down. For investors considering a position, super-investor presence at much higher prices and recent trading activity that indicates continued bullishness are good signs.
Disclosure: I/we have no positions in any stocks mentioned, but may initiate a long position in TGI over the next 72 hours.
I wrote this article myself, and it expresses my own opinions. I am not receiving compensation for it (other than from Seeking Alpha). I have no business relationship with any company whose stock is mentioned in this article.