Some time in early 2015, I sat down and made a list of domestic crude oil producers which I didn't think were going to make it. The list was based largely on debt, cost of production and hedges. I kept the "list" to myself, as I feared adding to panic here and in other places, but as of today, most of those companies have already filed for Chapter 11 bankruptcy protection. The list included Linn Energy (NASDAQ:LINEQ), Paragon Offshore (OTCPK:PGNPQ), Breitburn Energy Partners (OTCPK:BBEPQ), SandRidge Energy (NYSE:SD), Goodrich Petroleum and a couple others which haven't filed for bankruptcy protection. As these companies have filed for bankruptcy, crude oil has risen from the mid-high $20s all the way to about $50.
For some companies, that's too late, but for many stronger ones, $50 crude oil is quite a bailout.
Will crude oil hold around $50? I've heard some say it will go lower, and some say it will go higher. I'm not sure where crude will go, but I can tell you for certain that this move from the low $20s to $50 per barrel is a game changer for a good number of producers. Therefore, I believe investors should start taking a look at beaten-up producers that would do well in a recovery in crude oil prices.
One very strong recovery play is ConocoPhillips (NYSE: COP). As we will see, the company still has some trouble being cash flow-neutral at $50 crude, and that is increasingly so in the long term. Even so, it has some tremendous shale assets in the Eagle Ford, which can be "ramped up" sooner than most other shale drillers can. It also helps that Conoco has a lot of big projects around the world, which generate plenty of cash flow even at these prices.
Back of the envelope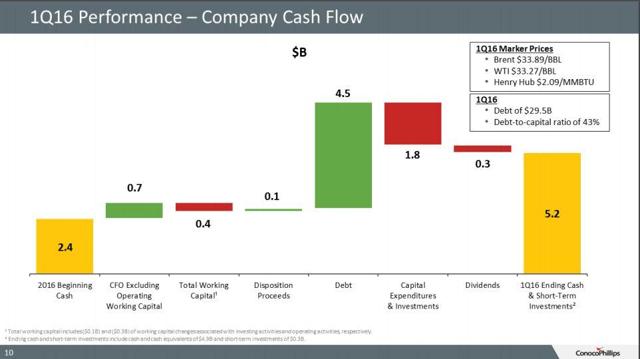 Click to enlarge
Courtesy of ConocoPhillips Investor Relations
This chart here shows the company's cash flow in the first quarter. As you can see, independent of debt, Conoco has burned through $1.4 billion in cash, but that was with WTI averaging $33 per barrel, Brent at $34 per barrel, and Henry Hub at $2.09 per mcfe of dry gas.
We somewhat know where cash flow would be at $50 per barrel: for each $1 of Brent Crude, net income rises on average by $110 million, $35 million for each $1 of WTI, and $40 million from Canadian Crude. Also, for every 25 cents of Henry Hub, net income rises $75 million.
In the following calculations, I'm going to make the assumption that net income converts to operating cash flow at a 1:1 ratio. I will also round the price per barrel to the nearest whole number, so this estimate will be a blunt one.
With that in mind, with a $17 gain in Brent Crude, that comes out to $1.87 billion in additional annualized net income. A $17 gain in WTI adds about $600 million in net income. A $17 gain in Canadian crude adds another $700 million or so. Finally, a 50 cent gain in Henry Hub, which is about what we've witnessed since the low, adds another $150 million. The grand total comes out to $3.3 billion in additional net income, or about $830 million per quarter. Add that to the $700 million per quarter in Q1, and that comes out to about $1.5 billion in OCF, which is roughly what I expect OCF to be in Q2.
Compare that to expected capex needs of $7 billion, or $1.75 billion per quarter, and another $300 million in quarterly dividends. This means a "deficit" of about $500 million per quarter even still. That funding gap adds up to $2 billion per year, which is not insignificant. It could be reduced to just $800 million if Conoco eliminated its dividend.
Adjustments required
Over the past couple of years, Conoco has reduced capex from $14 billion per year to just $7 billion in 2016, all with production remaining flat or even growing slightly. This is because major projects have been nearing completion, and positive momentum from that has kept production flat despite drastically lower capex.
As the Surmont expansion in Canada finishes and a APLNG ramps up in Australia, that upward momentum will taper, and I predict that Conoco will need to either spend more capex or face declining production in 2017 and perhaps beyond that. For example, the company currently has just 3 rigs operating in the lower 48 states. At that level, it's just a matter of time before production starts declining there.
Therefore, while Conoco has really benefited from higher crude prices, it either needs $5-10 higher crude prices or must make more adjustments. In the short term, the company took out enough debt last quarter to make it through another year or two like this.
Even still, in this "lower for longer" environment, crude oil producers really shouldn't assume a price recovery over a fixed time. That's how Conoco's balance sheet took on so much water in the first place.
Given the lingering uncertainty, I still find it difficult to recommend COP, because the company still doesn't have control of its own destiny. If Conoco eliminates its $1.2 billion annual dividend, it will come a long way closer to being cash flow-neutral in the short term. There's no sign of that happening, however.
Conclusion
I think Conoco would do alright with crude at $55 or $60 per barrel, but that's still not where we are. Therefore, the company might have to take further steps to become cash flow-neutral, including elimination of the dividend.
Management said it would sell more assets in 2016, low crude prices appear to be complicating that effort, and Moody's outlook for the company remains negative for that reason. Management also said it would use the balance sheet to make up for cash flow deficits until 2017, when the company expects to be cash flow-neutral, assuming $60 crude. Whether the credit agencies go along with that plan without additional downgrades depends upon by how much cash Conoco burns through over the course of the year.
If you're interested in ConocoPhillips, feel free to follow me on Seeking Alpha. I have been writing periodically about the company for a while, and I will continue to write update articles when they are material and relevant.
Disclosure: I/we have no positions in any stocks mentioned, and no plans to initiate any positions within the next 72 hours.
I wrote this article myself, and it expresses my own opinions. I am not receiving compensation for it (other than from Seeking Alpha). I have no business relationship with any company whose stock is mentioned in this article.