No statement is truer and better applicable to Wall Street than the famous warning of the Spanish philosopher George Santayana.
"Those who do not remember the past are condemned to repeat it."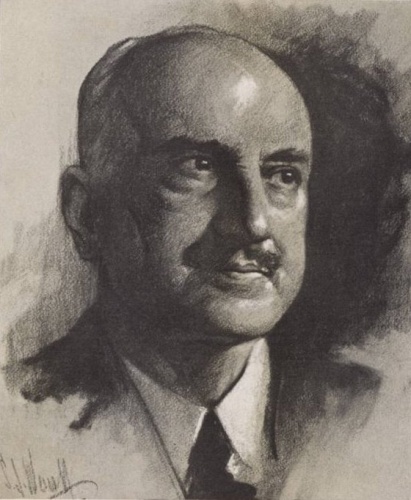 (Source: Wikiquote)
As the market makes yet another attempt at breaking out of this tiring consolidation, investors have again become excited about the prospects of hefty gains in their stock investments. The market, although crawling on its way up, has brutally tested the patience of the conservative investors who have been waiting for several years now to put their money to work.
Most investors have become dangerously complacent that the central banks will do everything they can to avert a market crash, most preferably the U.S. Fed. This thinking, or better yet, this belief in itself is highly dangerous. When you put too much faith in an organization to protect your investments, rather than the fundamentals of the underlying businesses, you are bound to eventually lose money. Agreed that the U.S. Fed has calmed the nerves whenever the markets have roiled, there is no denying that the U.S. economy is still on shaky ground. And investments must be made considering primarily the business and not according to the whims and fancies of any central bank. The world's best investor, Warren Buffett, once put this in the simplest possible language.
If Fed Chairman Alan Greenspan were to whisper to me what his monetary policy was going to be over the next two years, it wouldn't change one thing I do.
There is bound to be uncertainty regarding the future, and central banks have to assert their influence every now and then. This has been the case in history, and will be so in the years to come. Good businesses have rewarded the investors in the past, and they will continue to do so in the future years as well.
Will The S&P 500 Reach A New Peak This Year?
This question has taken hold of even the brightest and the most talented market persons. But, shouldn't the questions doing the rounds be:
Even if the market reaches a new high, will it sustain at those dizzying levels?
What must I do when this baseless buying frenzy eventually dies?
Should I stop following this (bullish) herd now?
The fact that we aren't asking these questions enough is a cause of concern. It is when the investors are most content that things take a turn for the worse. Media channels and analysts with vested interests will feed you that "this drop should be bought", and "buy on dips" when the market begins to go cheap. But if you keep buying with impatience, you will bleed through your nose and will be stuck with your expensive purchases for years longer than you had earlier hoped for. Nasdaq took 15 years just to reclaim its 2000 peak.
Getting back to S&P 500 (NYSEARCA: SPY), I have a simple P/E chart spanning decades which states that investors have a very limited chance of amassing good returns on their stock investments going forward.
Nine decades of stock market history suggest that the S&P 500 has proved to be overbought when the P/E has gone above 20, fairly valued at a P/E of 15, and undervalued at a P/E of 10. As of June 10, 2016, the index was trading at a price-to-earnings ratio of 24.29.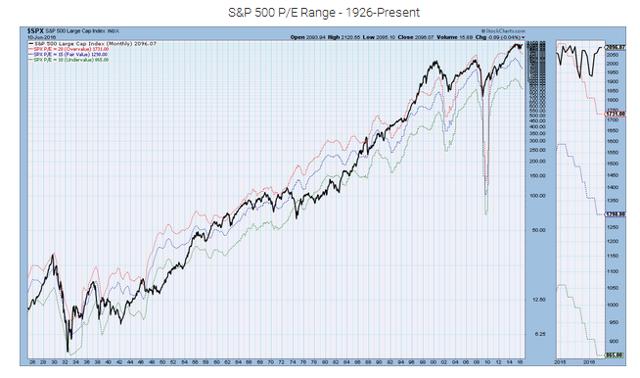 Click to enlarge
(Source: StockCharts)
Considering this historical data, the S&P 500 is significantly higher above its upper bound of 1731 (at a P/E of 20), while it needs to witness a massive crash down to 1300 in order to become fairly valued. Scary!
Conclusion
While bulls (or price-insensitive speculators) may reject this analysis, one must never forget history, as Santayana said. Psychologically, a majority of the investors are bullish, and when everybody is greedy, we should be fearful - a little at least.
I advise the readers to think through this carefully and cut down on their stock purchases. It would be wise to wait for lower levels to add quality stocks for the long term rather than buying stocks in haste now in the anticipation of a bullish breakout which may or may not sustain. Let stocks become cheap!
As of now, even I am not so pessimistic to see the S&P 500 at 1300, but who knows!
Disclosure: I/we have no positions in any stocks mentioned, and no plans to initiate any positions within the next 72 hours.
I wrote this article myself, and it expresses my own opinions. I am not receiving compensation for it (other than from Seeking Alpha). I have no business relationship with any company whose stock is mentioned in this article.