Welcome to the energy sector's fifth edition of "Buy on Weakness?", a series of articles that sifts through the underperformers of the week to find potential investment opportunities in the large-cap energy world.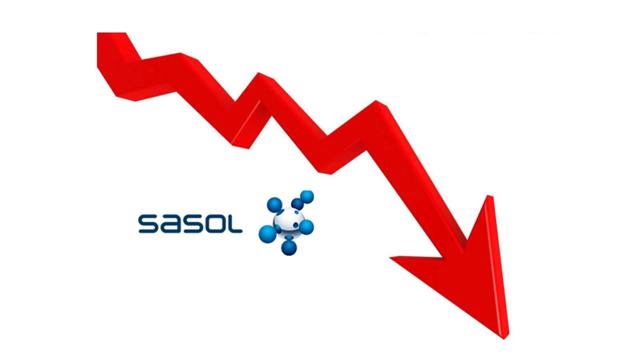 Click to enlarge
Credit: DM Martins Research montage using company logos
The idea is to help investors, particularly those focused on value plays, unearth ideas for the coming week. Check out the fourth and third editions of "Buy on Weakness?" for a look into prior weeks' "energy losers".
The table below highlights the top 20 energy companies - worth $10 billion or more in total equity value - that have performed the poorest in the previous five trading days.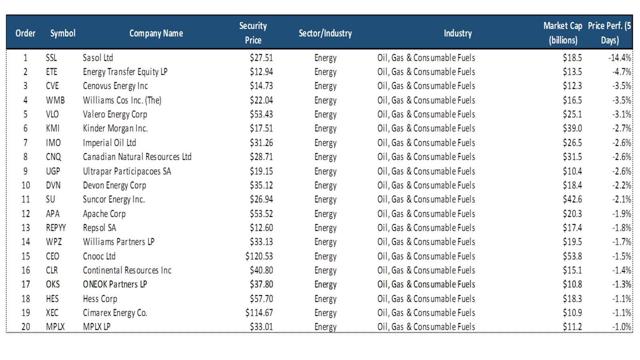 Click to enlarge
Source: DM Martins Research, using market data compiled from Fidelity
Energy sector names show positive returns
The stock market gains registered in the beginning of the week were erased on the heels of a two day selloff. On Friday, both the S&P 500 and the Dow closed with minimal weekly change, following an eventful trading week. The week of June 6th saw the large-cap energy group gain 1.5% or almost $43 billion in market value, more than fully reversing the previous week's loss of $4 billion.
Oil, Gas & Consumable Fuels subsector gains were driven by Royal Dutch Shell PLC's (RDS-A) 3.7% weekly gain following an update on Tuesday regarding the company's ongoing restructuring initiatives. Other notable outperformers in the subsector included Petrobras (NYSE:PBR) up by 6.2% and Noble Energy (NYSE:NBL) up by 5.4%. The Energy Equipment & Services subsector was led higher by National Oilwell Varco Inc (NYSE:NOV) and Tenaris SA (NYSE:TS) gains of 9.2% and 8.1%, respectively.
Weekly performance for the WTI Crude was flat, closing at $48.88. Notably, midweek oil prices hit 2016 highs, settling above $50 a barrel before retreating. Natural gas futures gained 5% closing at $2.58.
Let's take a closer look at some metrics focusing on the weeks' top 20 underperformers in the energy space.
Diving deeper into the data
The top 20 energy losers of the week have a median 2017 forward P/E of 22.2x, compared to the S&P 500's trailing P/E of 24.2x. This week's top 20 group is expected to grow EPS in 2017 by 25.9%, and the companies generate decent median dividend yield of 2.6% (18 of the 20 companies are dividend-payers).
The table below highlights, in green font, the three best-positioned energy companies in each of the following categories: projected EPS growth, dividend yield, 2017 forward P/E and 2017 forward PEG (P/E divided by percentage-point EPS growth).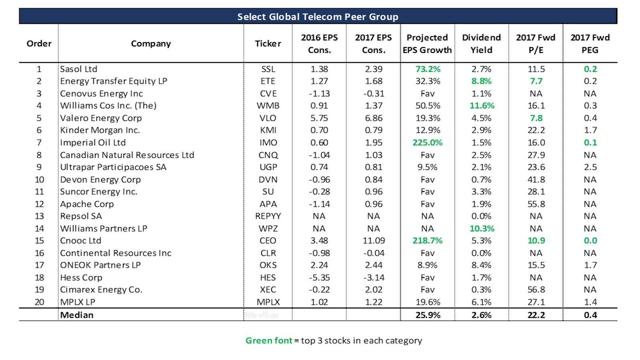 Click to enlarge
Source: DM Martins Research, using data from Yahoo Finance, Nasdaq and Market Watch
So which short-term loser should investors consider adding to their portfolio to take advantage, in the long run, of the price pullback? Let's take a closer look at one potential opportunity featured on energy's top 20 "biggest loser" list last week.
Sasol Ltd (NYSE:SSL): Negative reaction to interim update, upside potential
Trading Week Recap:
At the close of business Friday June 10th, the company remains up YTD, +2.6%. On Monday June 6th, the company filed a trading statement warning that its fiscal full-year EPS will decrease materially, compared to the 2015 financial year. Results are impacted by volatile macroeconomic environment leading to additional asset impairment charges on the company's shale gas properties in Canada. Sasol also lowered its expected return related to ongoing Lake Charles Chemicals Project in Louisiana, given the changes in long-term price assumptions and higher capital expenditure estimates. The company's ADR opened on Monday down more than 10%, which is the biggest plunge in the past 17 years, and retreated an additional 4.5% throughout the trading week.
Investment Thesis:
- SSL's current valuation may present a potential entry point opportunity for an investor with a long-term investment horizon and a knack for tolerating volatility.
- Fundamentally, Sasol is a well-entrenched South African company managed to conservative financial policies and operating targets. The company is in the midst of implementation of Business Performance Enhancement Program, as well as Response Plan, both of which focus on cost savings and increased simplicity of operations. Successful execution of these initiatives remains top of the agenda for long-term investors.
- SSL will provide a further update on its operational and financial performance in early August, with fiscal full-year 2016 results due to be announced on September 12th. The company mentioned that it may report better than previously forecasted production volumes and cost reductions. Momentum in the stock price could build ahead of that August update.
Risks:
- Such external factors as linkage of Sasol's results to the broader South African economic performance, Rand/US dollar exchange rate fluctuation, and lowered commodities price forecasts, may have an outsize influence on the company's future performance. For example, continued weakening of South African economy in the first quarter, as it contracted by 1.2% on an annualized basis will make it harder for SSL to outperform. From a cash flow generation standpoint, the company remains concentrated in its South African operations, with approximately 50% of 1H16 total revenues.
- An important note to income investors: Sasol cut its interim dividend when announcing its 1H16 results, as the company focuses on cash conservation. Depending on macroeconomic factors and operating results, additional dividend reductions are not out of question to maintain the company's stated goal of dividend cover ratio in the range of 2.2 - 2.8.
Disclosure: I/we have no positions in any stocks mentioned, and no plans to initiate any positions within the next 72 hours.
Business relationship disclosure: This article was written by a contributing author, and edited by Daniel Martins.