Since the start of the year, shares of Twitter (NYSE:TWTR) are down an astounding 40%. Slowing growth, human capital disasters, and a lack of enthusiasm has plagued the once loved social media company. Despite Twitter's structural problems, investors are remaining positive. Just this morning I voted in a sentiment poll here on Seeking Alpha:

Click to enlarge
Seeking Alpha user's are remaining remarkably positive with 79% of voters reporting a bullish sentiment.
For each and every stock, Seeking Alpha provides a little company description. I stumbled onto Twitter's company description over the weekend and it got me thinking. Here it is:
Twitter, Inc. is a global platform for public self-expression and conversation in real time. It provides a network that connects users to people, information, ideas, opinions, and news. The company's application provides social networking services and micro-blogging services through mobile devices and the Internet. It can also be used as a marketing tool for businesses.
Twitter was the first social media company to embrace short, real-time, thoughts and news. While Twitter may have been first, Twitter is certainly not going to be the last platform to embrace this type of social interaction. I believe Twitter is already on its way to being replaced by Snapchat (Private:CHAT). In this article I am going to use Twitter's very own company description to explain why I believe Twitter is going irrelevant in the face of Snapchat.
What is Snapchat?
Writing this in the nicest way possible, the Seeking Alpha readership demographic is a little on the older side (I am 22). So if you haven't heard of Snapchat it is OK.
Snapchat was launched almost 5 years ago by a few students at Stanford University. Wikipedia offers this great description:
Snapchat is primarily used for creating multimedia messages referred to as "snaps"; snaps can consist of a photo or a short video, and can be edited to include filters and effects, text captions, and drawings.

Snaps can be directed privately to selected contacts, or to a semi-public "Story". The private message photo snaps can be viewed for a user-specified length of time (1 to 10 seconds) before they become inaccessible.

Snapchat introduced "Discover", an area containing channels of ad-supported short-form content from major publishers, including BuzzFeed, CNN, ESPN, Mashable, People, and Vice, among others. Advertisements are estimated to be seen 500,000 to 1,000,000 times a day.
The concept is simple yet sticky. So sticky, late last month TechCrunch reported that Snapchat's valuation had grown to $22.7 billion.
Snapchat is a global platform for public self-expression and conversation in real time.
TechCrunch went onto say that Snapchat had about 100 million daily users in May, with around 10 billion video views per day.
Much like Twitter users, Snapchat's users want quick and pointed entertainment. But Snapchat is doing it better by using photos and videos, instead of 140 characters. A lot of older individuals believe that Snapchat is just a sexting tool, but isn't. A 2014 study found that only 1.6% of respondents reported using Snapchat primarily for sexting
Instead Snapchat is a tool to tell your friends what you are doing and thinking with photos and videos. And, Snapchat is a tool to see what your friends are doing and thinking with photos and videos.
According to ComScore, Snapchat's U.S. monthly mobile app user count cleared 50 million in April, surpassing Twitter for the first time, highlighting the video-messaging service's rapid growth.
Every single day, I see Millennials on Snapchat. Rarely do I see Millennials on Twitter. In June, Bloomberg reported that Snapchat has 150 million active daily users, beating Twitter by 10 million active daily users.
It is really very simple. Snapchat and Twitter have the same core theory. But in this day of age, photos and videos are better than 140 characters.
Snapchat provides a network that connects users to people, information, ideas, opinions, and news.
Twitter is loved by reporters and news addicts. Twitter is great at providing real-time news before any of the major outlets.
But over the last year, Snapchat has really improved its news service, Discover, which launched in 2015:
Click to enlarge
Major news outlets are now using Snapchat as a channel. Over time, I expect Snapchat to eventually become the source for real-time news via photos and video.
Snapchat can also be used as a marketing tool for businesses.
At the end of the day, social media companies do need to make money. It is no secret that Twitter has struggled to build stickiness with its advertisers. In an April interview with Chief Financial Officer Anthony Noto, Noto said "We had lower demand than we expected from our branded advertisers … Can we turn it around? We're driving very strong revenue and revenue growth with these advertisers, they just didn't spend as much as we had thought they would spend, and we're in a transition period."
Here is an interesting chart: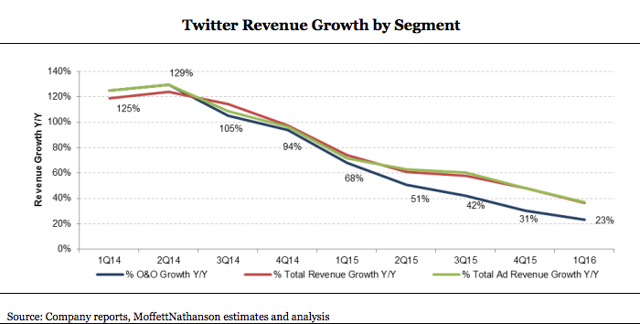 Click to enlarge
Slowing growth equals lower multiples which equals lower stock prices. From personal experience, I can tell you that Twitter ads are dramatically lower quality in comparison to Facebook and Adwords. By lower quality, I mean dramatically lower conversion rates.
Snapchat is much more creative and engaging. Snapchat placements engage into the stories of its users. Snapchat offers a variety of filters and geotags which allow users to naturally interact with advertiser content. Again from personal experience, it feels much more natural for the advertiser and user.
Conclusion
Snapchat is stealing Twitter's growth, engagement, and advertisers. Both companies have a very similar theory to social media. That said, Snapchat is going to win the war through photos and videos. According to a recent Seeking Alpha Market Challenge, 30.3% of respondents believe that Twitter is a speculative buy based on a possible takeover. You should never buy a company solely on the back of a potential takeover. Twitter is in a position where it can't grow. Users and advertisers aren't enthusiastic. Twitter has value but is not worth $10 billion today. Twitter will be acquired, but at a much lower valuation.
Disclosure: I/we have no positions in any stocks mentioned, and no plans to initiate any positions within the next 72 hours.
I wrote this article myself, and it expresses my own opinions. I am not receiving compensation for it (other than from Seeking Alpha). I have no business relationship with any company whose stock is mentioned in this article.