I met a farmer's daughter at a charity dinner recently. She was telling me about her father's farm near Dodge City, Kan., where he produced 310-bushel-per acre corn last year with the help of irrigation. Are you kidding? 300 bushels per acre? I remember when I was a kid and 150 bushel per acre was pretty good. Turns out my farm life days (1970s and '80s) are out of touch with what farmers are doing today.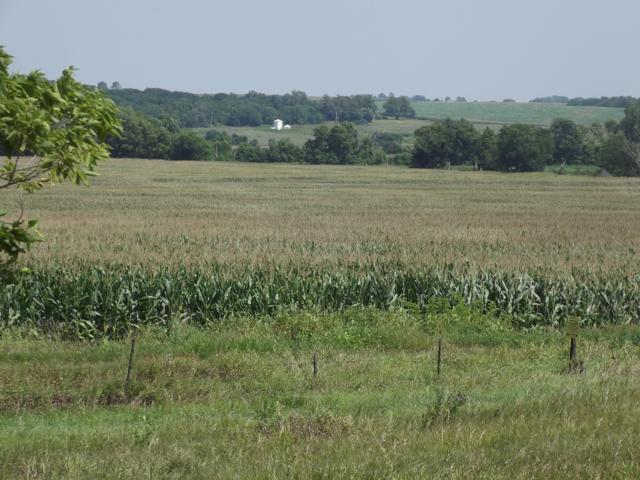 Click to enlarge
Corn grows in Northeast Kansas in 2015. Photo by Michael Hooper
Genetically modified corn is being made to resist drought and grow under the most difficult circumstances. If irrigated, this corn is performing like a child of Frankenstein, growing beyond our long-held beliefs about corn yields. Experts say it is a combination of today's genetics, excellent management, and pest-free environments that have contributed to these outstanding crop yields. Corn stress tolerance has improved over the past five decades, allowing farmers to plant more seed per acre and withstand more environmental stress.
Corn prices escalated to $8 per bushel in 2011-2012 after a severe drought in the Midwest. Farmers who irrigated their crops -- like those in Nebraska -- made outstanding profits. But since 2012, the rains have come on a steady basis. Indeed, Kansas was recently declared drought free. Pastures are green, ponds, lakes and rivers are full. From Texas to Minnesota, we've seen a lot of rain lately.
Yields from crops have not only improved, but farmers also have planted more acres to corn. Farmers have been fighting low corn prices by planting more corn. And they are producing record yields.
I know farmers in Nebraska who held onto crops from 2014 and 2015, hoping for better prices, but prices never went back to 2012 levels. Corn price has improved somewhat this spring but is still below $4.50 per bushel.
Iowa State University recently completed 2015 Estimated Costs of Crop Production in Iowa, showing farmers spend $4.79 to raise one per bushel of corn with a crop averaging 185 bushels per acre. A lower yield of 165 bushels per acre increases cost of production to $4.93 per bushel.
Farmers are smart businessmen. They don't want to sell a crop for cheaper than it cost them to produce. So they hold onto grain.
Grain shipments for railroads were down in 2015 due to high valuation of the U.S. dollar and sufficient grain supplies from other countries around the world. As a result exports of grain have slumped in recent years. The dollar has given up some value against other currencies but is still 16% higher than two years ago.
This creates a dilemma for farmers. Do they sell old crop at a loss or continue to hold? I know one farmer in Nebraska who has no more storage space. He has stored three years of crops and can't hold on much longer.
Some farmers in the Midwest are releasing their grains to market based on an uptick in grain volumes at two western railroads.
Union Pacific (NYSE:UNP) grain volumes are up 9% second quarter to date, and up 12% in Week 22 to 5,674 grain carloads hauled. But at the start of the year, grain volumes were sluggish, so grain volume is still down -2% YTD at UNP at 138,451 carloads.
BNSF Railway (NYSE:BRK.B) grain volumes were trending positive in recent weeks, to 8,698 carloads in Week 22, up 4% over same week a year ago, but total grain volume was down -0.71% YTD at 224,282 carloads.
BNSF Railway hauls grain from all over the Midwest from Texas to Minnesota, plus BNSF serves North Dakota and South Dakota, where UNP has no service. UNP serves a lot of corn and bean territory in Nebraska, Iowa, southern Minnesota, Missouri, Kansas, Oklahoma, Texas, Illinois and Arkansas.
If 2016 is another good crop year, I expect corn prices to remain below $5 per bushel for a long time. All that crop in storage is the farmers' enemy. A gusher of corn will cause their corn prices to decline.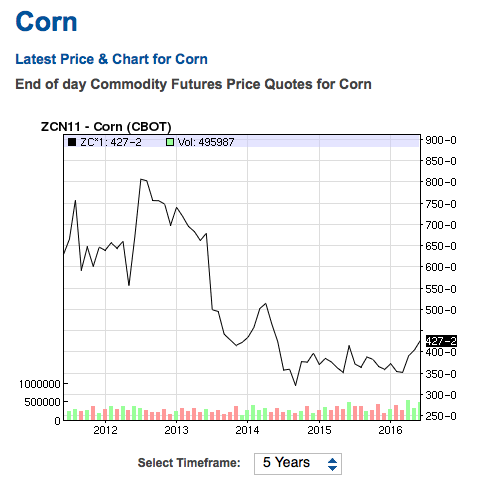 Courtesy of Nasdaq
And so we have the farmers who fight that sluggish price with higher production. Good luck with that formula. At some point, the laws of supply and demand will take over. Too much supply, not enough demand, prices will fall. Some of these farmers are producing corn on lands that would be better suited for hemp or winter wheat. Using irrigation from the Ogallala Aquifer to grow corn in semi-arid desert in western Kansas seems unsustainable. And there is already plenty of corn.
Conclusion
Farmers with two or more years supply of corn should sell some grain now and consider selling more during the hot summer months. If there is severe dry weather, corn might spike back up in price. Sell more grain then.
The Teucrium Corn ETF (NYSEARCA:CORN) is up 8% year to date, showing some improvement in corn prices. The tactical trader may want to take profits here.
If there is a mighty harvest again like last year, watch for corn prices to fall to $3 per bushel.
Disclosure: I am/we are long UNP, BRK.B.
I wrote this article myself, and it expresses my own opinions. I am not receiving compensation for it (other than from Seeking Alpha). I have no business relationship with any company whose stock is mentioned in this article.