After the fireworks of the previous week, the second week of June 2016 was extremely quiet by comparison.
Let's quickly run through the headlines and our notes for the week that was.
Monday, 6 June 2016
Tuesday, 7 June 2016
Wednesday, 8 June 2016
Thursday, 9 June 2016
Friday, 10 June 2016
Following the crumbling of the Fed's plans to hike short term U.S. interest rates again after last week's dismal jobs reports on Friday, 3 June 2016, at present, it appears that investors have sustained their attention upon the expectations associated with the distant future represented by 2017-Q1 in setting U.S. stock prices. Which is pretty much why stock prices didn't move around a whole bunch last week.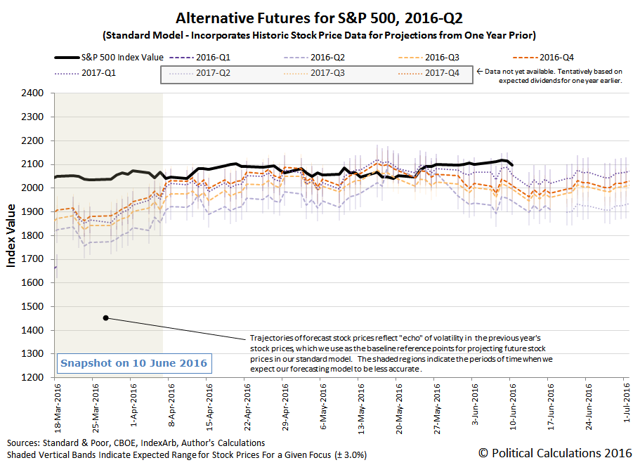 Click to enlarge
More than that, they're running a bit to the high side of the typical range we would expect stock prices to fall within for investors focused on 2017-Q1. Since Friday, 17 June 2016 marks the expiration of futures contracts for 2016-Q2, we could see a bit of volatility related to that event. Assuming that some news event doesn't cause investors to suddenly shift their focus to another point of time in the future, or the onset of a speculative noise event.
Early next week, we'll get our first indication of what the expectations are for dividends that will be paid in 2017-Q2, which we'll present with our tally of the week's market moving headlines for Week 4 of June 2016.