In a recent CNBC interview, Peter May, Trian Fund Management, who is Nelson Peltz's right-hand man, explained why the Trian Fund invested $2.5b of its capital in General Electric (NYSE:GE). During the interview, Mr. May stated the following, "And we followed the company and always felt that once they got out of the credit business, the opportunity for focusing on their industrial businesses-- which are the best industrial businesses in the world, totally countercyclical....things that have long tails, great service revenue. But in the case of GE, we consider ourselves validation capital."
Positive investor sentiment is often a vital component for stocks performing well over a given time period, and in many cases, the only thing missing is for someone "important" to validate the fact that the company has great long-term prospects in place. This is one of the main reasons why so many investors follow hedge fund titans into long positions, and the main reason why investors listen to every word that comes out of Warren Buffett's mouth.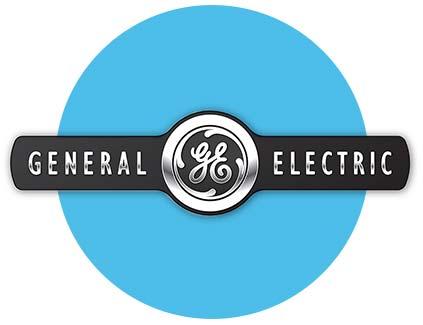 (Source)
Validation Was The Only Missing Piece Of The Puzzle
There is no denying the impact that the investment from the Trian Fund had on GE's stock price, as the announcement almost instantaneously impacted investor sentiment in a positive way. To highlight the impact, I created a timeline from early 2015 until today that includes two announcements (one from GE and one from Trian) and the company's stock performance over several different time periods.
1/1/2015 to 4/9/2015 - GE's stock price was up 3%, which was slightly better than the 2% that the S&P 500 was up over this same time period.
4/10/2015 - GE announced restructuring plans with a long-term goal of having 90% of earnings come from industrial businesses by 2018. The company's stock price shot up ~11% on the day of the announcement.
4/10/2015 to 10/5/2015 - GE's stock price was down 11%, while the S&P 500 was down only 7%.
10/5/2015 - The Trian Fund announced its $2.5b stake in GE.
10/5/2015 to 6/12/2016 - GE's stock price is up 12%, while the S&P 500 is up only 6%.
This timeline does a great job of showing just how impactful the Trian Fund's investment was for GE and its shareholders. Shareholders were praising the long-term restructuring plans that GE announced on April 10, 2015, but the praise was short-lived as shown by the fact that the stock lost the 11% one-day gain over the next few months. However, the Trian Fund saved the day by investing its capital, and as a result, GE's stock price has been outperforming the market by a wide margin since the investment was first announced.
It is important to also note that GE has been able to report better-than-expected earnings, or earnings that at least met the consensus estimates, in seven of the last eight quarters.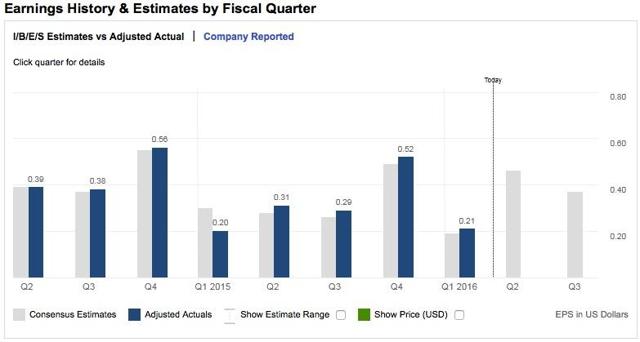 Click to enlarge
(Source: Fidelity)
Therefore, the company is doing what it needs to do to show shareholders that the plan is still intact and that progress is being made towards the company's 2018 goals. Moreover, GE has been able to report impressive industrial EPS growth over the last few quarters, and the most recent quarter was no exception.
All it took was for management to announce the company's intent to restructure and rid itself of the financing businesses, and that was enough to convince the Trian Fund to invest its capital. As Mr. May described in the video, GE was already a well-run company that has the best industrial businesses in the world but the only thing missing was management's commitment to stay focused on the company's bread and butter, the non-GE Capital businesses. Now, management will have to follow through on its plans by shrinking GE Capital into a more-manageable level.
As Planned, The Old GE Capital Is Almost A Distant Memory
At the Bernstein Strategic Decisions Conference, management gave investors an update on GE Capital, and, in my opinion, the presentation was very encouraging from a long-term investors perspective. The following were the major highlights:
GE Capital exit plan is 80%+ complete
The company is fully expecting to be receive approval for the SIFI de-designation
The Verticals will be important to the company's long-term growth prospects
The progress that has been made for the company being able to receive approval for the SIFI, systemically important financial institution, de-designation was the most important takeaway from the conference. Not only is GE applying to rescind the SIFI designation, but the company is also trying to limit the amount of other regulatory requirements that GE is subjected to by taking a planned approached at shrinking GE Capital.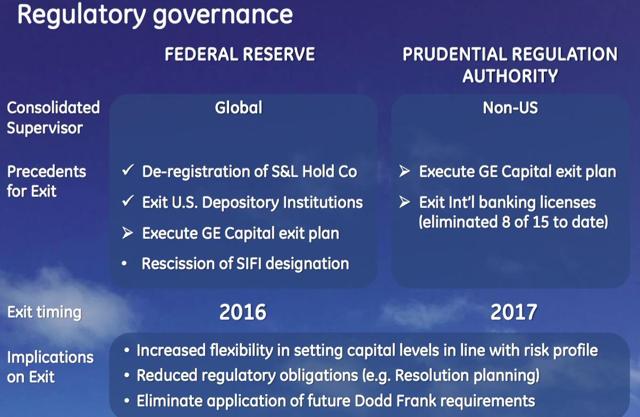 Click to enlarge
(Source: Bernstein Conference)
Mr. Keith Sherin, CEO of GE Capital, highlighted this topic during the conference:
"We've got a couple of hundred-page application we filed to talk about the changes we made inside of GE Capital when they think about our designation today. So we're a lot smaller. Assets are down 50% when we filed. And even within that, a third of the assets that are remaining are in cash and liquidity. That's up substantially from where it was when we were designated.

And we're not just smaller. We exited whole pools of risk. So we're no longer in the US consumer lending business. We're no longer in the US midmarket lending and leasing. No longer in sponsored finance. We don't have any more US depository institutions. We sold our federal savings bank and returned the charter. We also sold our industrial loan corporation. And so, we're no longer a part of the Federal Deposit Insurance Corporation safety net. And as Steve said, we're going to be less than 10% of the company's earnings as we go forward. So a much smaller entity."
GE is on-track with its planned approach to shrink GE Capital to a more-manageable level (i.e. only financing Verticals will be left), and this will allow for management to focus a lot more attention on the industrial businesses in the quarters/years ahead.
Bottom Line
The Trian Fund's investment in GE validated management's long-term strategic plan of returning this storied company back to its industrial roots, and the direct impact has been a rising stock price. In my opinion, the company's market beating performance since early 2015 is only the beginning of many years of strong stock performance for GE because a more industrial-focused company has the potential to create a great deal of shareholder value through 2017/2018.
GE shares are fairly valued from an earnings perspective, but there are several catalysts that will help propel the stock price higher over the next two-to-three years, with one significant example being the Alstom (OTCPK:ALSMY) acquisition. As I described in this article, GE is a long-term buy around the $30/share range even if the stock appears overvalued based on estimated 2016 earnings.
So, in your opinion, was GE validated by the Trian Fund's investment?
Full Disclosure: The Trian Fund has reduced the GE stake since the original investment was made, but the position in GE still represents the fund's largest holding. See Mr. John Vincent's article here for the Q1 2016 update for the Trian Fund.
If you found this article to be informative and would like to hear more about this company, or any other company that I analyze, please consider hitting the "Follow" button above.
Disclaimer: This article is not a recommendation to buy or sell any stock mentioned. These are only my personal opinions. Every investor must do his/her own due diligence before making any investment decision.
Disclosure: I am/we are long GE.
I wrote this article myself, and it expresses my own opinions. I am not receiving compensation for it (other than from Seeking Alpha). I have no business relationship with any company whose stock is mentioned in this article.