G7 Economic Consensus Short-Lived
In late May 2016, Japan hosted the G7 summit and Prime Minister Shinzo Abe issued stark warnings about slowing global economic growth and the potential for the recurrence of a Lehman moment, known as the "Lehman Shock" in Japan. While the G7 countries agreed to recognize the that "the world economy faces big risks," all members left the meeting with their own idea of the depth and immediacy of these risks.
At the G7 summit Prime Minister Abe stated that he would not delay a planned Japanese sales tax hike (from 8 to 10%) unless there was a significant natural disaster or Lehman-esque moment. However, within a week of the summit PM Abe announced a 2.5 year delay for implementing the proposed rate hike.
The rate hike was seen as an important policy for reducing the Japanese government deficit and safeguarding the future of social entitlement programs. Opponents contended that the sales tax stifled consumption contributing to deflation and low economic growth. Japanese consumer spending drives approximately 60% of GDP growth.
Regardless of where you come down on the policy side of the Japanese sales tax increase, PM Abe's about face raises the question: Does Prime Minister Abe see a looming economic disaster that other major heads of state do not?
Politically Motivated Or Legitimate Foresight
It is important to understand that PM Abe is fighting for his political life as critics of his namesake "Abenomics" economic reform plan are gaining strength. There are legitimate economic reasons to delay the sales tax hike such as persistent deflation and flagging consumer confidence/ GDP growth. However, these reasons do not mesh with Abe's prerequisite of a natural disaster or severe Lehman-esque financial contraction.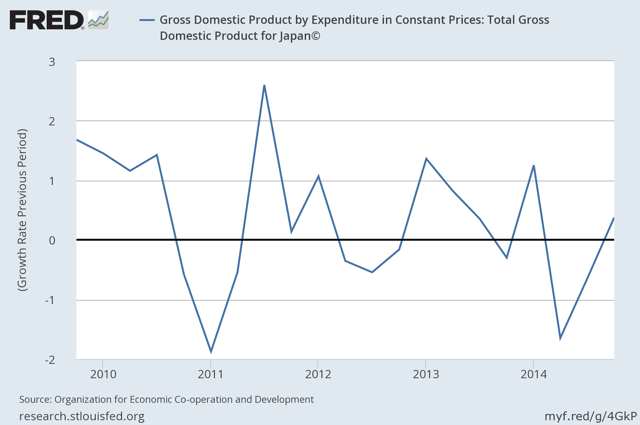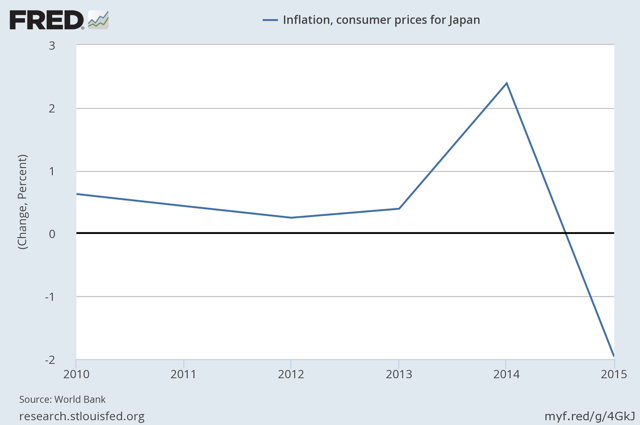 Graph Notes: Abenomics was launched in December 2013.
The argument for the sales tax delay being politically motivated is a strong one as the majority of the Japanese electorate support a delay in the sales tax hike. With upper house elections approaching in July 2016, it is important for PM Abe to appease the electorate in a bid to maintain power and support for his "Abenomics" policy with further stimulus valued at approx. US $45-90 billion. Additionally, many expect PM Abe to pursue potential constitutional reform to enable an expanded role for Japanese Self-Defense Forces.
The World Bank and IMF Seeing It The Abe Way
The World Bank recently downgraded their global growth forecast to 2.4% from the 2.9% forecasted in January 2016. Japan was a leading laggard among developed countries with a paltry forecasted growth rate of 0.5%. The World Bank downgrade comes on the heels of an IMF global growth downgrade in April 2016. In this forecast the IMF predicted a -0.1% growth rate for Japan in 2017. The continued specter of persistent low growth in China is weighing heaviest on the Asia-pacific region.
(Janet) Yellen at Abe
Even though PM Abe's warnings may have been politically motivated his warnings were not without merit as the data cited by PM Abe (and the Worldbank/ IMF) was enough to give pause to a "data driven" federal reserve.
On June 6 2016, Federal Reserve Chairwoman Janet Yellen gave a cautious speech in which she recognized that the poor jobs report and falling inflation may be due to weakening consumption. This speech came after over a month of efforts by Yellen and the Federal Reserve Board of Governors to steel the markets for a June 2016 interest rate hike. Despite her clear doubt, Yellen is still trying to keep markets assured by selling a positive growth story and sticking to plans for rate hikes, albeit a few months delayed, in 2016. The hikes are now widely expected to occur in September 2016.
Fear and uncertainty are not welcome for those trying to peddle prosperity and confidence to markets. Chairwoman Yellen cannot be pleased with PM Abe and his politically motivated rush to use market fear and uncertainty as a pretext to achieve his namesake policy goals. Abe's tactic, even if supported by data, batters psychologically fragile markets that are increasingly trading on sentiment instead of data.
Once markets expect worsening economic conditions, such as the May 2016 US jobs report, they have become conditioned to look to governments and central banks for accommodative policy. The Banks of England, Japan, the Federal Reserve, and the European Central Bank are concurrently accomodating markets. The below chart illustrates how markets have reacted since the end of the most recent easing cycle shown in the highlighted gray bar. Confidence is fragile.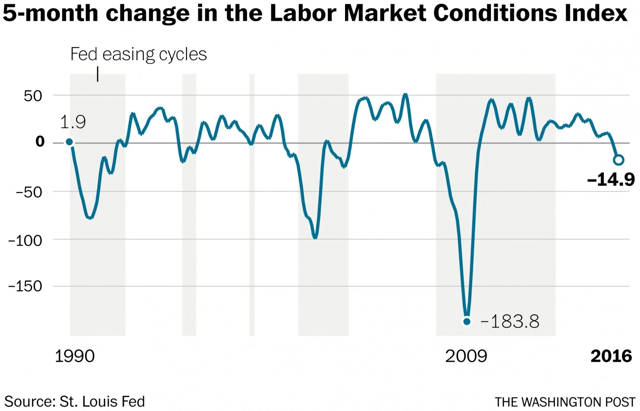 The Bill Buckner Moment For Central Banks
No one wants to miss the easy grounder and be the reason markets relapse into another Lehman Shock. Therefore, we expect to see central banks and governments continue to employ overcautiousness by reacting to negative data, such as the May 2016 jobs report, with accommodative policies. The danger with this is that markets and politicians seem to be driving monetary policy, not the other way around as originally intended (at least for the Federal Reserve). The formula has become predictable and the market knows the Federal Reserve and other central bankers do not want to miss the easy grounder.
As we predicted with Japan, we expect the Federal Reserve and other central banks to do more than just stand pat with interest rates by pursuing additional monetary easing. The markets require ever greater amounts confidence that, with interest rates near zero (or negative in Japan and Europe), monetary easing is the only tool left to provide this confidence.
The problem is that even if central banks are wrong for wanting to avoid their Bill Buckner moment, defense is a team sport. By focusing only on not missing the easy grounder, they are ignoring that the other people on the economic playing field also have to defend against loss of market confidence. With a pending Brexit vote in England, a caustic US election on the horizon, persistent turmoil in the Middle East, US economic addiction to financial engineering, and a scary debt problem in China, there are plenty of other errors waiting to happen. Central banks' focus on avoiding their Bill Buckner moment may not matter in the end.
Disclosure: I/we have no positions in any stocks mentioned, and no plans to initiate any positions within the next 72 hours.
I wrote this article myself, and it expresses my own opinions. I am not receiving compensation for it (other than from Seeking Alpha). I have no business relationship with any company whose stock is mentioned in this article.
Additional disclosure: This article is for informational purposes only.