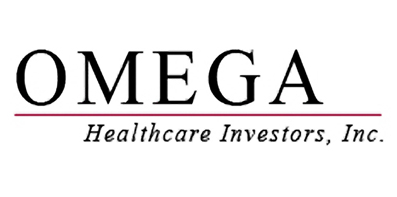 As income investors we want our investments to throw off nice enough dividends so that we can either A. Enjoy life with the extra income, or B. Reinvest the dividends, compound, and build a solid nest egg to live off of in our retirement. For most people reading this article, retirement will still be some years away, maybe 10, 20, and in some cases even 30 or more years. Therefore, investors that are not retirees yet, have the opportunity to invest their hard-earned cash in income vehicles with time on their side. As a result, income investors would want to look at dividend investments that not only provide them with monthly or quarterly dividend income, but preferably with a growing income stream over the next one, two, or three decades.
One such investment that I think has a good shot at delivering consistent (dividend) growth for income investors is Omega Healthcare Investors, Inc. (NYSE:OHI), a ~$6.2 billion healthcare REIT juggernaut worthy of serious attention. Why do I say this?
Because I think Omega Healthcare Investors is a perfect retirement stock; the REIT plays the long-term trend of growing senior healthcare demand through its investments in skilled nursing facilities. Omega Healthcare Investors has gotten its property portfolio through acquisitions, and has become one of the largest skilled nursing facility healthcare REITs in the industry.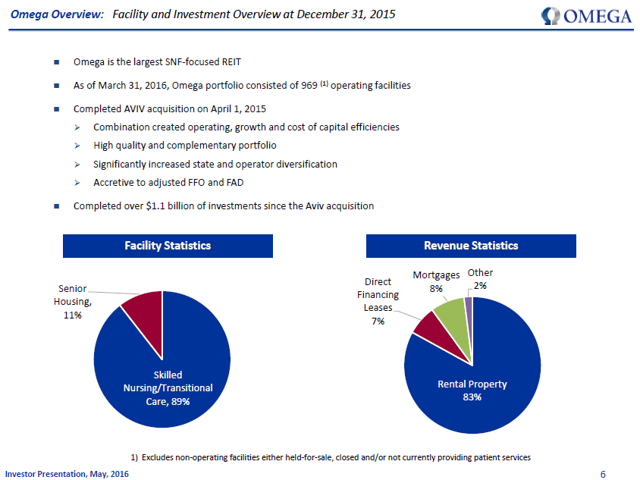 Click to enlarge
The Number One Reason To Buy This Healthcare REIT: Above-Average Shareholder Returns In The Past
A company can distinguish itself from its peers by achieving above-average shareholder returns in the past, it doesn't get more complicated than that.
Dividend investors tend to like income vehicles that return more and more cash to them over time. Traditionally, Omega Healthcare Investors has aimed to increase its quarterly dividend payout by a penny a quarter. Today, for instance, Omega Healthcare Investors pays shareholders a $0.58/share dividend. Five years ago the healthcare REIT paid just $0.38/share, reflecting ~53 percent dividend growth in about five years.
Importantly, Omega Healthcare Investors' investment returns have been much better than those of the average healthcare REIT: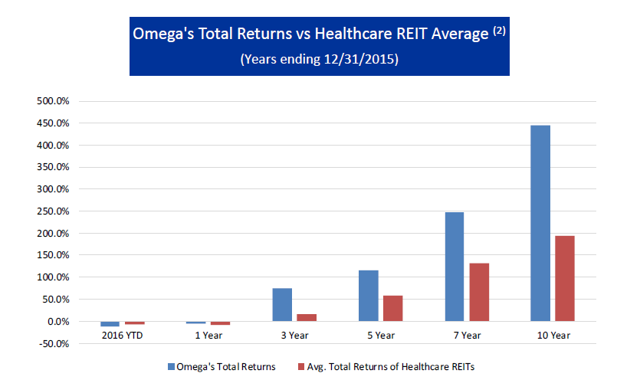 Click to enlarge
Safe Dividend Income
Omega Healthcare Investors receives its cash flow from a portfolio of operating facilities, which makes an investment in the company of relatively low risk. Every investment carries some risk, we all know that, but healthcare-related properties including skilled nursing and assisted living facilities are likely going to remain in high demand in light of an aging U.S. population. As a result, Omega Healthcare Investors' dividend, which is backed by the cash flow from its property portfolio, is a 'low-risk' dividend, something income investors appreciate a lot, too.
Your Takeaway
The trend of an aging population in the U.S. is unlikely to be reversed any time soon. Therefore, growing senior healthcare demand is a megatrend that healthcare REITs such as Omega Healthcare Investors seek to exploit. Omega Healthcare Investors has had decent success in doing so, growing into a ~$6.2 billion market valuation on the back of acquisitions and property investments. Omega Healthcare Investors has further achieved better total returns than the average REIT in the sector, partly due to a steadily growing dividend. An investment in OHI yields ~7 percent. Buy for income.
Disclosure: I am/we are long OHI.
I wrote this article myself, and it expresses my own opinions. I am not receiving compensation for it (other than from Seeking Alpha). I have no business relationship with any company whose stock is mentioned in this article.