Amgen (NASDAQ:AMGN) has been on something of a tear in oncology lately with its activities across a wide range of tumors. It had a vaccine approved in melanoma. Its hands were on palbociclib, which is making waves in breast cancer.
It has even made its debut in the management of leukemia, specifically in the setting of relapsed acute lymphoblastic leukemia (ALL), a particularly difficult hematologic tumor to treat.
Immunotherapy on the rise for ALL
Any savvy investor paying a small bit of attention to the world of oncology knows that immunotherapy, the activation of the immune system to engage a specific antitumor response, is all the rage right now. Part of that excitement was driven by findings in ALL, with the development of chimeric antigen receptor T cells (CAR-T cells) designed to exploit CD19 expressed on most ALL cells. With massive response rates in heavily pretreated children, CAR-T cells made an outsized impact based solely on Phase 1 data, with accordingly huge gains for companies studying this therapy.
But CAR-T cells will likely suffer from a few major challenges in the years to come. Here is an abbreviated list of pros and cons for this technology.
| | |
| --- | --- |
| CAR-T cell pros | CAR-T cell cons |
| Autologous therapy facilitates an antitumor response with a lower risk of severe complications like graft vs. host disease. | Requires complex techniques to extract patient's T cells and then transduce the chimeric receptor. |
| High response rates in a very difficult-to-treat setting: heavily pretreated patients. | High cost because of the need to tailor treatment to individual patients. |
| Relatively low incidence of toxicity compared with other treatment options. | Culturing the cells can take significant time, at least 10 days according to the original literature. |
| | The technique is still being honed, and it is unfamiliar to many practicing clinicians. |
| | It is unknown whether CAR-T cell therapy can be useful outside of B cell malignancies. |
For the sake of brevity, I will forego explaining why I have cited each of these. If you wish to read more, please see my appendix, published as an instablog on my profile.
Also note: I am not in any way pessimistic about CAR-T cell therapy. They are very, very promising. It's just that there are certain challenges that need to be addressed before they can be integrated into the standard of care.
Amgen's immunotherapy in ALL
Amgen has taken a different approach in ALL compared to the CAR-T cell strategy. They developed blinatumomab, a special antibody that recognizes two molecules at once: CD19 and CD3. CD19 is found on ALL and other cells from the B cell lineage. CD3 is found on T cells and helps them to become activated against invaders.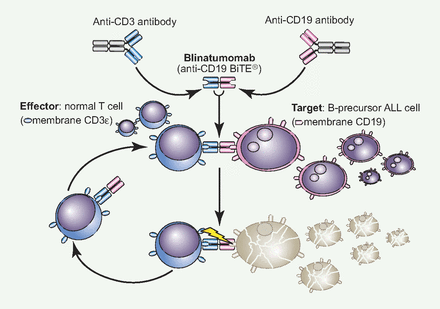 Source: Bassan R. Blood 2012
The result is a "bispecific" antibody that bridges the adaptive immune system to the tumor cell, resulting, essentially, in an anti-CD19 immune response.
Based on favorable Phase 3 findings, blinatumomab was given conditional approval by the FDA for adults with previously treated B-cell ALL.
This approval is groundbreaking, as it was the first approved immunotherapy for ALL. However, ALL is rare in adults, and the B-cell subtype represents only a small subset of patients. As such, the approval of blinatumomab represented more of a proof-of-concept victory than one that is going to have a serious impact on AMGN's bottom line.
Blinatumomab marches on
Two recent developments might change the importance of blinatumomab in the near future. First, based on a successful Phase 1/2 study, AMGN filed a supplementary NDA with the hopes that blinatumomab can be used in pediatric and adolescent patients with ALL. The FDA received this request and has granted priority review to the application last month.
Another important development came with an update on the efficacy and safety of blinatumomab in adult patients. At the European Hematology Association 2016 meeting, AMGN provided an update of the pivotal TOWER study, now with overall survival findings.
The results of TOWER showed that blinatumomab could double the complete remission rate compared with standard of care (39% vs. 19%, respectively), and overall survival was nearly doubled for patients (7.7 months vs. 4 months, respectively).
These findings came at a time when AMGN had something of a hard sell for a very expensive ($80,000+) treatment option for ALL. With a clear improvement in overall survival, it is easy to justify treating patients with blinatumomab. Moreover, these results provide more support for full approval of the drug, which will further help its exposure and introduction into the ALL space.
Conclusions
Immunotherapy has arrived in ALL, and in the coming years, it should continue to evolve and stretch the boundaries of therapy for patients. If blinatumomab is approved for the treatment of relapsed ALL in children, it should open up a much larger market for this drug.
Furthermore, as the experience with blinatumomab continues to accumulate, clinicians will gain greater knowledge of its use, helping to gain a greater foothold in the marketplace. If all of these impact events fall into place (approval in children, full approval in adults), then it could make blinatumomab an important jewel in the oncology crown for AMGN.
Disclosure: I/we have no positions in any stocks mentioned, and no plans to initiate any positions within the next 72 hours.
I wrote this article myself, and it expresses my own opinions. I am not receiving compensation for it (other than from Seeking Alpha). I have no business relationship with any company whose stock is mentioned in this article.