Warren Buffett said that "Only when the tide goes out do you discover who's been swimming naked." Well the tide has gone out from the debt fueled pharma roll ups.
Pharma roll-ups popularized by ex-McKinsey Consultant and ex-Valeant CEO J. Michael Pearson are basically leveraged buyout hedge funds masquerading as Pharmaceutical Companies. This article will attempt to gauge if Valeant Pharmaceuticals (NYSE:VRX) has the wherewithal to survive the said, low tide. The logic of the pharma roll up, is to use debt to buy future cash flow. Basically the pharma roll-up theory was that you can jack up the prices of drugs, cut R&D and marketing spend and boost the operating cash flow, rinse and repeat, several times a year. The pharma roll-up folks disdain R&D as too risky and uncertain (and frankly hard to understand without a PhD) and financial engineering as a better bet.
While analyzing these roll-ups, the key things to look for are the debt, the repayment schedule and operating cash flow. There are other unknowns as well like political or regulatory risks or as yet unknown risks with one of the drugs but these are out of the scope of this article.
Valeant is the company which started this all. The man behind the strategy J. Michael Pearson took over Valeant in 2008 and started his roll-up strategy by taking control of a Canadian company Biovail in 2010 and reverse merging with it. The initial reason was lower corporate tax rate in Canada (25%) vs. the US (39%).
Let us take a look at Valeant's balance sheet over the years first. As we can clearly see, most of the build-up of the balance sheet between 2009 to 2015 was taking on debt (purple area) and most of what Valeant bought was intangible asset (dark green). Please note all figures are in Canadian dollars except when indicated otherwise.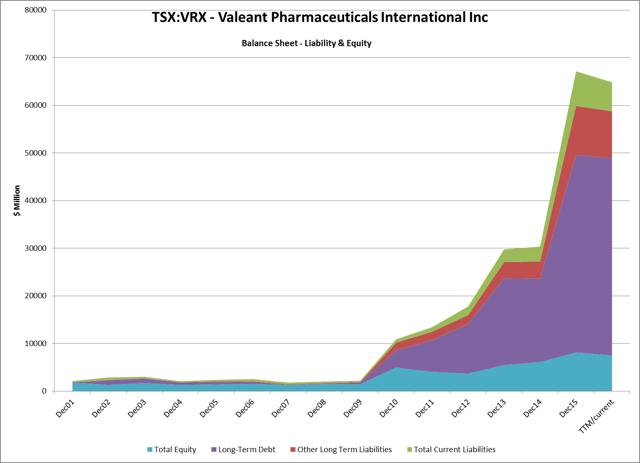 Click to enlarge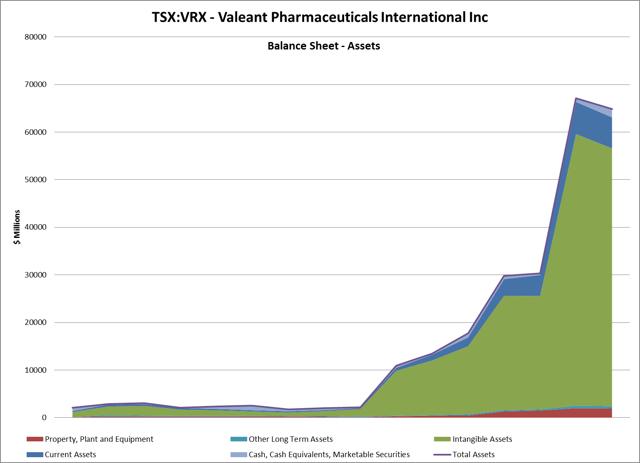 Click to enlarge
Below is Valeant's Income statement. You may ask, what Income? And you are right. Except for 2014 basically Valeant has been racking up GAAP losses since 2011.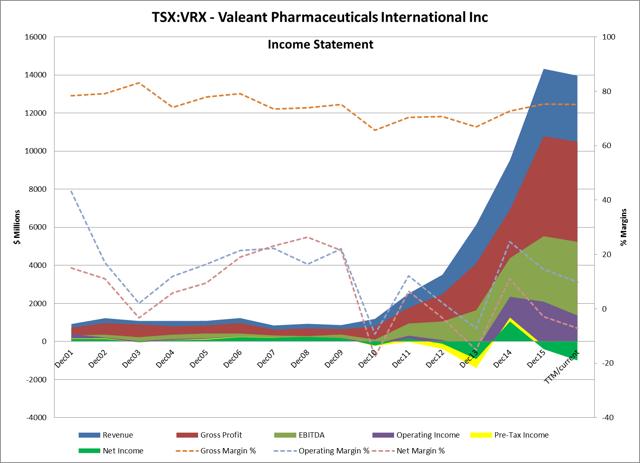 Click to enlarge
Now let us look at Valeant's operating cash flow, below. Apart from the big jump in operating and free cash flow which is obvious in the chart - note the big difference in net income and cash flow. This would indicate that in spite of the cash which is being bought in, if you were to properly account for all the expenses like depreciation & amortization, Valeant is making no money. Logic would dictate that ultimately Free cash flow and net income must come into sync over time. However this is far into the future and hedge funds don't worry about these things. The name of the game is to kick the can down the road.
Also Valeant has also been squeezing money out of "working capital". Working Capital consists of the items such as difference between Accounts Receivable and Accounts Payable as well as Inventories. As the Balance Sheet Chart above show that Valeant operates with a thin sliver of cash.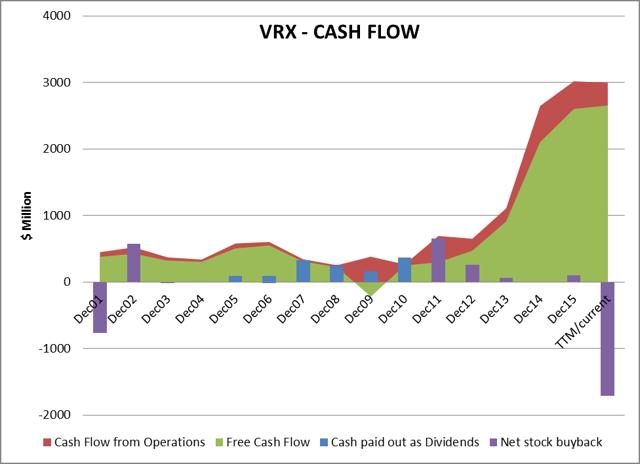 Click to enlarge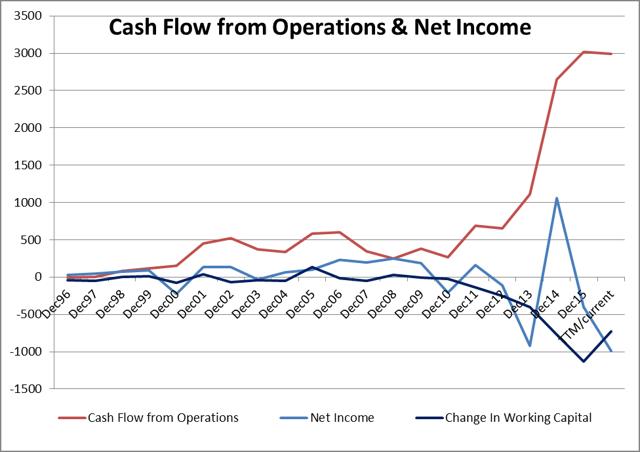 Click to enlarge
The chart below shows Valeant's debt/equity (blue line) and interest payments/ EBITDA (Red line). It appears that Valeant currently is producing enough EBITDA to cover interest payments, comfortably.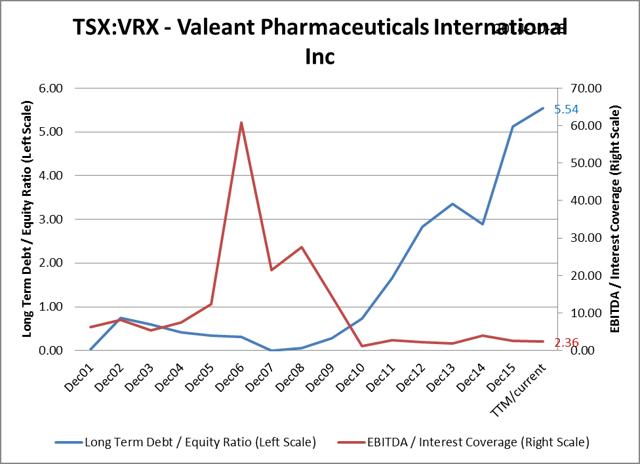 Click to enlarge
However this may be OK in the short run, in the medium to longer run this can cause trouble as you cannot escape depreciation and amortization forever. Eventually patents run out especially if you little to no R&D. However, as we look at long term debt, default does not appear to be anything close to imminent.
The following table shows Valeant's long term debt:
| | | |
| --- | --- | --- |
| | Maturity | USD Millions |
| Revolving Credit Facility(1) | Apr-18 | 1,450.00 |
| Series A-1 Tranche A Term Loan Facility | Apr-16 | - |
| Series A-2 Tranche A Term Loan Facility | Apr-16 | - |
| Series A-3 Tranche A Term Loan Facility | Oct-18 | 1,780.60 |
| Series A-4 Tranche A Term Loan Facility | Apr-20 | 939.4 |
| Series D-2 Tranche B Term Loan Facility | Feb-19 | 1,089.20 |
| Series C-2 Tranche B Term Loan Facility | Dec-19 | 836.4 |
| Series E-1 Tranche B Term Loan Facility | Aug-20 | 2,532.10 |
| Series F Tranche B Term Loan Facility | Apr-22 | 4,047.80 |
| Senior Notes: | | |
| 7.00% | Oct-20 | 688.1 |
| 6.75% | Aug-21 | 646.3 |
| 7.25% | Jul-22 | 542.4 |
| 6.38% | Oct-20 | 2,227.70 |
| 6.75% | Aug-18 | 1,589.90 |
| 7.50% | Jul-21 | 1,610.40 |
| 5.63% | Dec-21 | 893.5 |
| 5.50% | Mar-23 | 991 |
| 5.38% | Mar-20 | 1,981.00 |
| 5.88% | May-23 | 3,216.10 |
| 4.50% | May-23 | 1,689.20 |
| 6.13% | Apr-25 | 3,215.10 |
| Other(3) | Various | 12.3 |
| Less current portion | | -675.1 |
| Total long-term debt | | 31,303.40 |
Repayment of principal is reasonably spread out from April 2018 to April 2025. This as long as Valeant is able to stay on-side of the debt covenants, it has some time to get its house in order. By accident or design Valeant has built quite decent specialty franchises in ophthalmology, GI, Dermatology and OTC drugs and devices. It is not exposed to a huge patent cliff and is reasonably geographically diversified. Overall, I think while this is a high risk investment, and the roll-up jig is definitely up, it has a good chance of surviving and living to fight another day. There is also a decent chance that it may get bought out especially if some of the concentrated owners like Ackman and Ubben decide if they have had enough and take their medicine. For now, Valeant is producing lots of free cash and has the time to roll over debt as it comes due. However Valeant needs a culture change, from that of a debt fueled LBO hedge fund to a disciplined operating pharma company. Can Joseph Papa execute this transformation?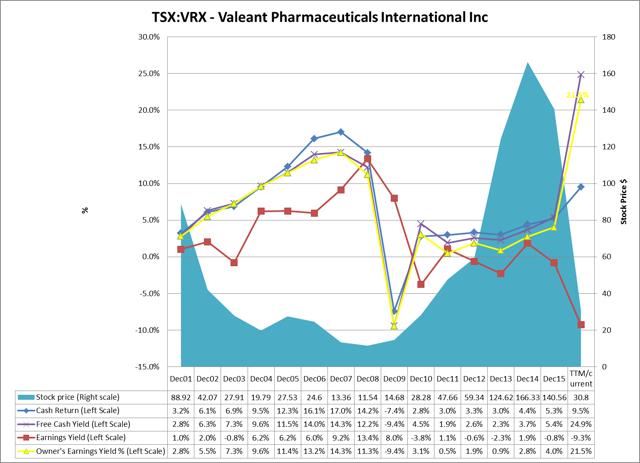 Click to enlarge
Disclosure: I am/we are long VRX.
I wrote this article myself, and it expresses my own opinions. I am not receiving compensation for it (other than from Seeking Alpha). I have no business relationship with any company whose stock is mentioned in this article.
Additional disclosure: Charts are in Canadian dollars. Data for charts obtained from Gurufocus.com