Biotech stock prices often exhibit extreme moves that can provide advantages for investors and traders. It can also cause consternation to long-term investors as they watch their stocks make big moves up and down.
New FDA guidance on the compassionate use of experimen

tal drugs will bolster the occurrence of large stock-price movements in the biotech and pharmaceutical industries, particularly in smaller companies that rely on only a few new drugs for success.
The updated guidance provides a simpler form, requiring less time to apply for compassionate use drug approval. From the FDA's press release:
One way we hope to make things simpler for physicians is to reduce the amount of time they spend filling out a request for access to an investigational drug. That's why today we are releasing the final Individual Patient Expanded Access Investigational New Drug Application. The new form can be used by physicians to request expanded access to investigational drugs for individual patients who suffer from serious or immediately life-threatening diseases and for whom no comparable or satisfactory alternative therapy is available. It is much shorter than the form previously used for individual patient expanded access requests and is designed specifically for these requests.
By saving doctors' time, the FDA expects experimental drugs will more easily get into the hands of patients who best benefit from them at the earliest possible time. Along with the new form, the FDA also provided additional Q&A style information on expanded access (compassionate use) and charging for the drugs to make the whole process easier.
Of course, the FDA already had guidance in place for experimental drug use. So, while not groundbreaking, it is really just a modification and improvement to the existing system.
But in the eyes of the FDA these updates are really meaningful. While the practical effect may be marginal from a pharmaceutical company standpoint, the FDA now views the whole process as more transparent and simpler to implement.
Consequently, when making decisions about drug approvals, compassionate use will be a ready option at the forefront of their minds. The result is that the FDA will interpret there to be a larger gray area where more data is needed, rather than moving straight to approval or complete response letter.
The FDA will more frequently request more data because they won't perceive there to be a negative effect on patients who need the new drugs.
Here's how this process affected Sarepta Therapeutics (NASDAQ:SRPT) this year as a result of the FDA's consideration of their new drug application for eteplirsen, a treatment for Duchenne muscular dystrophy.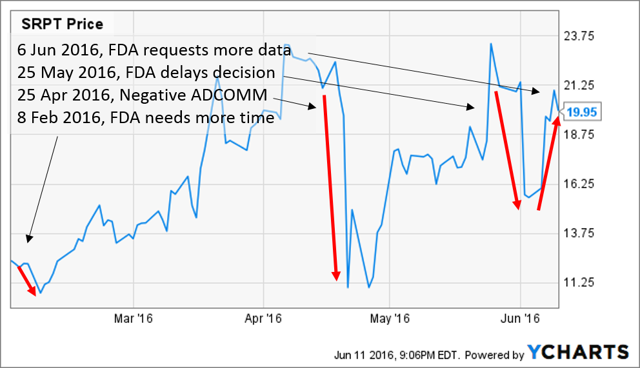 Click to enlarge
First, the FDA stated they needed more time for their review, which stoked suspicions that the data was not clear cut for the panel approval. Optimism reigned and the stock price rose.
Second, the negative advisory committee vote (3 to 7 with 3 abstentions) drove the stock price to recent lows.
Third, the FDA said they needed more time to continue their review and internal discussions. After a brief rise under the belief that eteplirsen was not a clear-cut failure either, the stock price dropped back down once again, especially on the release of the new compassionate use guidelines.
Finally, the FDA requested more data for their decision, which instilled a new positive bias again because it indicated the FDA might consider eteplirsen as approvable.
This type of up-and-down stock-price scenario could become more commonplace under the conditions of a drug review for which there is some uncertainty owing to not quite clear enough data and the drug's approval is a significant event for the company. I believe the 'not quite clear enough data' condition will become a more frequent fallback during FDA reviews because of reduced ramifications for delayed approval by the agency.
This is important for biotech and pharma investors because it could provide more or better entry points for new investors and context for dedicated long-term investors who need to hold through several big price moves, including some going against them.
The bottom line is that it's likely the FDA's option of requesting more data will become more common and investors will face additional decision points during the approval process. Biotech and pharma investors need to understand and appreciate this aspect of the FDA's approval process and stock-price fluctuations so they can make informed market transactions.
Disclosure: I/we have no positions in any stocks mentioned, and no plans to initiate any positions within the next 72 hours.
I wrote this article myself, and it expresses my own opinions. I am not receiving compensation for it (other than from Seeking Alpha). I have no business relationship with any company whose stock is mentioned in this article.