Kroger (NYSE:KR) is set to report fiscal year 2016 first quarter results on Thursday June 16th. With the company's over-performance the past five years versus the S&P 500 as well as peers Target (NYSE:TGT) and Wal-Mart (NYSE:WMT), investors likely have high expectations for Thursday's call.
What should investors expect to hear on Thursday?

Click to enlarge
Slower Same Store Sales Growth
Over the past six quarters, Kroger has increased same stores sales significantly faster than either Target or Wal-Mart. For Q1 2016, Wal-Mart and Target have already reported identical stores sales growth of 1.0% and 1.2% respectively.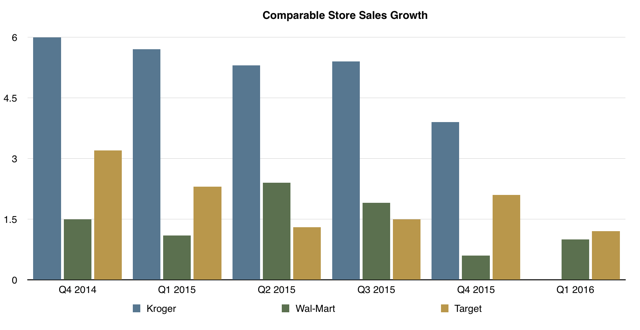 Click to enlarge
(sources: Kroger, Target, Wal-Mart)
What will Kroger report?
In the most recent SEC 8-k form, the company forecasted that fiscal year 2016 identical store sales growth excluding fuel would range between 2.5% and 3.0%. How does this compare with SEC disclosures from the same time for prior years?
On June 18, 2015, Kroger forecasted fiscal year 2015 identical store sales ex fuel would increase between 3.5% and 4.5%. Actual FY 2015 comparable sales growth was 5.0%.
On June 19, 2014, Kroger forecasted fiscal year 2014 identical stores sales ex fuel would increase between 3.5% and 4.5%. Actual FY 2015 comparable sales growth was 5.2%.
For fiscal year 2016, Kroger is currently forecasting the smallest increase in same store sales growth versus the past two fiscal years. In the earnings release on Thursday, Kroger may very well report identical store sales growth higher than Wal-Mart or Target but the difference may be smaller than it has been in years past.
Performance Data for New Store Formats
During Kroger's 2015 Q4 conference call, CEO Rodney McMullen stated the company is continuing to experiment with two new store formats: Main & Vine which focuses on local, specialty and everyday products at affordable prices and Ruler, which focuses on a no-frills shopping experience targeted towards lower income customers. Ruler competes with Aldi's, Lidl and Save-A-Lot while Main & Vine competes with Whole Foods (NASDAQ:WFM), Sprouts (NASDAQ:SFM) and The Fresh Market (NASDAQ:TFM).
Kroger currently operates 43 Ruler stores primarily in the Midwest. During the Q&A session in last quarter's call, CEO McMullen stated the company was still trying to understand the economics of no-frills shopping and achieve an acceptable return on invested capital.
In Kroger's 8-k formed filed on May 9th, the company disclosed it will open an additional 10 Ruler stores in FY 2016. Kroger's expanding footprint for Ruler likely means the company is making progress on the low income store format. Kroger will likely discuss performance at Ruler and future plans for expansion.
Kroger currently only operates one Main & Vine store in Gig Harbor, Washington, which opened this past February. With only one quarter of operations complete, I am not expecting any significant information regarding Main & Vine to be disclosed.
Share Repurchase Authorization
Since January 2000, Kroger has repurchased nearly $12 billion of its shares. Adjusted for last year's split, Kroger's outstanding shares have dropped from 1.6 billion in January 2000 to 900 million today. Shown below are the five most recent share repurchase authorizations:
FY 2015 Q4 - $500 million Repurchase
FY 2015 Q1 - $500 million Repurchase
FY 2014 Q4 - $1 billion Repurchase
FY 2014 Q1 - $500 million Repurchase
FY 2012 Q1 - $1 billion Repurchase
Fiscal year 2013 did not have any repurchases likely due to the $2.4 billion cash acquisition of Harris Teeter's.
Absent any major acquisition announcement this week, Kroger will likely authorize another share repurchase program of either $500 million or $1 billion.
Conclusion
In conclusion, Kroger's 2016 Q1 earnings release on June 16th may be a mixed bag for investors. Same store sales growth will likely slow down based on the company's most recent SEC filings. The company may disclose they are achieving respectable financial returns for Ruler based on the latest expansion plans. Another share repurchase authorization will be a positive especially with Kroger's stock at irrationally low levels.
I am not an insider nor do I have any inside information so the data points above are pure speculation. Kroger may very well announce same store sales growth way higher than Wal-Mart or Target. They may not authorize another share repurchase program.
Disclosure: I am/we are long KR.
I wrote this article myself, and it expresses my own opinions. I am not receiving compensation for it (other than from Seeking Alpha). I have no business relationship with any company whose stock is mentioned in this article.
Additional disclosure: I am long KR