I just sold half of my shares of AT&T (NYSE:T). AT&T has been a long-time income-based holding of mine, but last week I decided to cut some of it loose. Selling is always a personal decision. In addition to valuation, selling depends upon how much exposure you already have in your portfolio. As for me, AT&T was the largest holding in several accounts which I manage, and I have several years worth of dividends in capital gains.
Is it time to sell AT&T in general? This article looks at AT&T's prospects going forward, as well as where the valuation stands at this moment.
A mountain of new debt
Last year AT&T made a flurry of big acquisitions, the biggest of which by far was of DirecTV, for $47 billion; $14.4 of which was cash. AT&T issued $17.5 billion of bonds to complete the transaction. This lead to Moody's downgrading AT&T to Baa1, and the outlook from Moody's remains negative.
While AT&T's rationale for acquiring DirecTV is solid (I've spoken about it in another article), the reality is that AT&T has a lot of delevering that needs to do, and that is going to get in the way of dividend growth for several years. Even with $1.5 billion in synergies, which AT&T is on the way to realizing, and also accelerated earnings growth, I don't expect dividend growth to exceed 2% until AT&T gets at least one credit upgrade.
To make things even more uncertain, AT&T has bid $5 billion for Yahoo!, and that could ultimately lead to even more debt being issued if the bid is successful.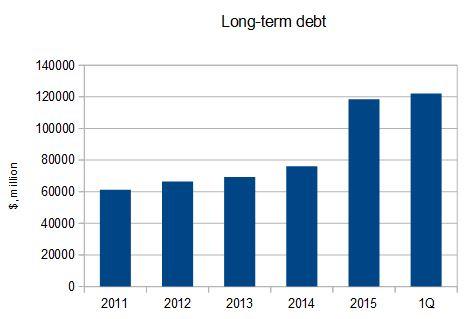 Long-term debt load has continued to increase.
Last quarter's revenue is difficult to compare year-on-year due to the big acquisition. However, wireless EBITDA increased 9% due to cost savings and productivity increases. Although wireless revenue is flat, margins continue to tick up. In the "entertainment" portion of AT&T's business, revenue increased 3.8%, thanks mostly to migration to DirecTV.
So, there definitely is an engine of growth, although it is a somewhat modest one. However, let's take a look at all that within the context of valuation.
Valuation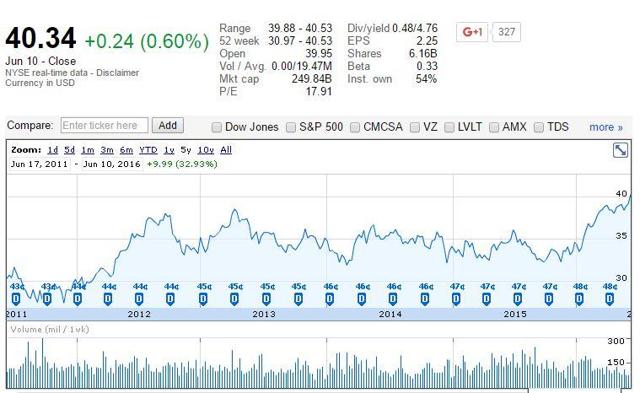 Click to enlarge
Courtesy of Google Finance.
Since the beginning of 2015, shares have gone from $34 to a hair over $40. That's a gain of some 17%. Not bad for a telecom. This climb has pushed AT&T above average ten-year valuations. Not by much, but it's still up there.
Over the last ten years AT&T has averaged 13.8 times trailing earnings. Currently AT&T trades at 14.5 times trailing, adjusted EPS. That means AT&T is about 5% above average valuation. Five percent is not much, but it was enough for me to sell half of my shares due to the weighting of my portfolio.
Conclusion
At the end of the day, AT&T is still reasonably priced at 14.5 earnings, even if that is a bit higher than the average ten-year valuation. While I no longer consider AT&T a 'buy,' I am at least willing to hold my remaining shares at this price. AT&T still has a place in any good income portfolio, but if you have a lot of profits, now might be a good time to take some off the table. If AT&T continues to grind higher, I will look at selling the remainder of my shares at another 10% or 15% from here.
If you're interested in AT&T, feel free to follow me on Seeking Alpha. I am personally long the stock and write periodically about it. I will write additional update articles when they are material and relevant.
Disclosure: I am/we are long T.
I wrote this article myself, and it expresses my own opinions. I am not receiving compensation for it (other than from Seeking Alpha). I have no business relationship with any company whose stock is mentioned in this article.