By Parke Shall
It was anything but a confidence inspiring way to end the week last week for Valeant Pharmaceuticals (NYSE:VRX). The stock finished at around $24, near the 52-week low price of $24.14.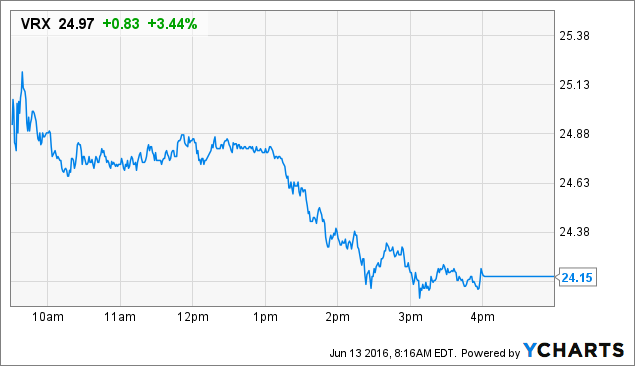 VRX Price data by YCharts
The company had reported earnings days prior and, despite guiding for non-GAAP numbers between $6 and $7 per share for next year, the street did not feel like extending Valeant any credibility, and the stock moved lower on the news.
We wrote last week that despite the earnings report that seemed to not only disappoint the market, but all sell side analysts covering the company, that the report was not as devastating as people may have thought and as long as the company is doing $2.3 billion dollars a quarter in sales, there is going to be room to move forward and progress as a company that generates cash and real earnings.
Joe Papa has a long road ahead of him, no doubt, but he and Mr. Ackman seem to think that they can reverse this rollup and turn the VRX story around. Between last Friday and the open this morning, we saw two "votes of confidence" in the company from company insiders.
First, on Friday it was reported that William Ackman restructured his options position in the company so that his call options in VRX do not expire in till 2019, versus the previous date of 2017.
Also, first thing Monday morning, CEO Joe Papa exercised some options and also bought 202,000 shares on the open market, as he disclosed a Form 4 filing. This comes in addition to options that Mr. Papa was awarded.
The open market buy has the stock up 3% pre-market, but it could also be argued that Papa is just fulfilling a requirement of his employment contract, where it states his must acquire $5M worth of shares in his first year. This was per his employment contract,
Holding Requirement. Executive shall purchase $5,000,000 worth of Shares by no later than the first anniversary of the Commencement Date (the "Purchased Shares"). All Purchased Shares shall be subject to the Transfer Restrictions contained in Section 5(b) of this Agreement.
We think that if VRX falls lower here heading into the new week, we are going to consider adding to our position yet again. We have been long VRX since about $30 and we have added as the stock has moved lower. We still think the current valuation represents a bankruptcy scenario for the company and we still continue to believe that the sum of the company's assets, if separated out and added up, will be multiples of what the equity trades for now.
We believe that the cash flow from the core businesses at Valeant will continue to remain adequate to service the company's debt and we also think that a couple of divestitures or asset sales will immediately go towards trying to bring the debt down several billion dollars, at least.
Trying to reverse a rollup is usually a pretty ugly scenario.
Sometimes assets are sold for less than they were acquired and a lot hangs in the balance of the future cash flow generation capability of the company. In the case of VRX, the market simply does not want to give the company the benefit of the doubt yet. Due to this, we believe that any good news would really make a significant impact on the stock for us. We continue to think that it is not unreasonable to think VRX may double, or even triple, from today's levels several years out.
The move from William Ackman that we got on Friday night and seeing Mr. Papa acquire shares this morning (for whatever reason) reassures us. Mr. Ackman rolling out his options and Mr. Papa buying shares at least shows us that the board and management are putting their money where their mouth is. In Mr. Ackman's case, his money has been here for quite some time, so it is nice to see him get active.
A lot depends on whether or not you believe Joe Papa and William Ackman are capable of managing the debt of this company while trying to unlock value from a compressed multiple situation. We believe that the company will find a way to do this, whether it is through spinoffs or sales, and if VRX moves lower Monday morning, we will likely be buyers.
Disclosure: I am/we are long VRX.
I wrote this article myself, and it expresses my own opinions. I am not receiving compensation for it (other than from Seeking Alpha). I have no business relationship with any company whose stock is mentioned in this article.