Action: Initiate Position
PayPal Holdings (NASDAQ:PYPL) as many already know was spun-off from eBay Inc. (NASDAQ:EBAY). Much has been written regarding PayPal's potential from a more technical perspective including recent acquisitions of Braintree, Venmo and Xoom. Additionally, PayPal operates a similar model as MasterCard (NYSE:MA) and Visa (NYSE:V) in that transaction fees are applied where each entity's networks and/or platforms are relied upon.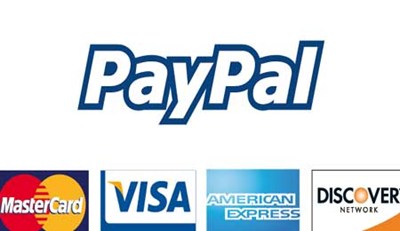 To this point, for desktop and mobile device purchases, any of these payment options as depicted above and more for credit card companies can be utilized. For merchant in-store purchases, PayPal has not become as integrated, but the company is striving towards improving this.

Click to enlarge
From this perspective, the name of the game is volume of transactions. Visa provides a competitive picture for total volume and total transactions. Based upon the information above, PayPal ranks fourth behind Visa, MasterCard and American Express (NYSE:AXP) for total volume and total transactions. PayPal witnessed roughly $300 billion in total payment volume (TPV) on a trailing twelve-month (TTM) period as of the first quarter and witnessed 5.2 billion total transactions.
This places PayPal ahead of JCB International and Discover Financial Services (NYSE:DFS), DiscoverDiners Club. Total transactions for PayPal were up nearly 25 percent year-over-year and on a TTM basis, while TPV was up 23 percent. As American Express's total volume and total transactions grew by 7 and 5 percent respectively during the previous fiscal year, PayPal has a legitimate shot at becoming the third highest company by total transactions over the next couple of years. For TPV, this may take longer over the next 7 to 10 years. This type of volume and transaction growth is important as a driver for net revenues, and the primary reason why the company may not surpass Visa and MasterCard anytime soon for volume and transactions, but has a chance for net revenues.
From this point I would like to remind investors of the past when MasterCard actually went public. This occurred all the way back in May 2006. At that time, the company generated nearly $3.3 billion in net revenue and was growing around 15 percent per year or so. It was not until 2007 that the company's profit margin really began to take off near the 30 percent level.
From here the stock returned over 2,000 percent over the course of ten years. This is truly one of the best investments one could have made over the previous decade. Back then, MasterCard also only sported a $5 billion market capitalization. From this quick review we can gather a couple of factors for PayPal. First the company is not cheap as it sports a $40 billion enterprise value. Second, the company's profit margins are not the same when it comes to Visa and MasterCard.
But to be fair, PayPal's net revenues are three times that of MasterCard's, so from a business lifecycle perspective, PayPal is more mature. The intrigue with PayPal is that the company was created for web-based payments. The evolution of the credit card payment system with merchants and the like has been built out over decades. Like most things related and/or dependent on the Internet, growth occurs much more rapidly. PayPal's success, however, has occurred during a similar timeframe as MasterCard, and based upon current scale, while still debatable, the current valuation is justified being much higher than MasterCard when considering net revenues.
The other important component and core driver for investments is earnings growth. For MasterCard, the company was able to reduce their percentage of general and administrative and advertising and marketing costs relative to net revenues by an astounding 1,500 and 2,100 basis points between 2006 and 2013. This reduced these two line items' costs as a percent of net revenues from 45 to 30 percent and 31 to 10 percent respectively.
To this point, PayPal's business structure is simply more costly as the company needs to have expense line items for transactions, transaction and loan losses, customer support and operations and product development. Sales and marketing and general and administrative costs are low at 10 and 6 percent respectively. But all the other costs add up leading to the company's current 14 percent margin; 17 percent when considering an adjusted basis.
By comparison, PayPal will most likely not be able to witness the phenomenal growth in profit margins similar to MasterCard and/or Visa. So the rapid rate of growth over the next decade will be nowhere close to MasterCard, but if PayPal is able to grow its net revenues by an average 9 percent per year and improve its adjusted net income margin near the 20 percent level, an average return of 10 percent per year is not unreasonable, placing the company around a $100 billion enterprise value.
The current stock price of $36.77/share is 23 percent above the low and 16 percent below the high. The current valuation is dependent upon whether one uses analyst estimates which rely upon adjusted earnings or GAAP diluted EPS. Based on non-GAAP adjusted earnings for 2017, PayPal trades about 20 times earnings. Using GAAP diluted EPS, this equates to around 25 times earnings. MasterCard and Visa trade 23 and 25 times 2017 analyst earnings estimates. From this perspective, PayPal does not seem to be trading at a premium versus its peers, but is not a steal at the moment either.
PayPal is strongly positioned to compete moving forward as evidenced by total volume and transactions versus the company's peers. The broader markets have remained volatile throughout 2016 with last week ending on a sour note. The potential for PayPal to return 10 percent per year based upon the current valuation is cause for consideration to initiate a position within the Lean Long-Term Growth Portfolio (LLGP). Any substantial weakness during the upcoming week with the stock price declining to the low $30s would be an ideal opportunity; regardless a position will be considered.
Disclosure: I/we have no positions in any stocks mentioned, but may initiate a long position in PYPL over the next 72 hours.
I wrote this article myself, and it expresses my own opinions. I am not receiving compensation for it (other than from Seeking Alpha). I have no business relationship with any company whose stock is mentioned in this article.