California Resources Corporation (NYSEMKT:CRC) is one of the more interesting energy names I've ever come across; but it's so much more than interesting. Having been formed as a spin-off of Occidental Petroleum (NYSE:OXY) in November 2014, which absolutely was the worst time to monetize a spin-off dating back fifty years (for those on the buy side of the transaction), California Resources Corporation has seen nothing but declining health and declining viability since inception.
I believe, largely based on the commodity environment that it was birthed into, that California Resources Corporation has been unsustainable as a model since inception. This is a case I'll make within the screencast below. But, as with all things California Resources Corporation -- the model-story here isn't simply a story of commodities; not in failure and not in any chance of sustainability.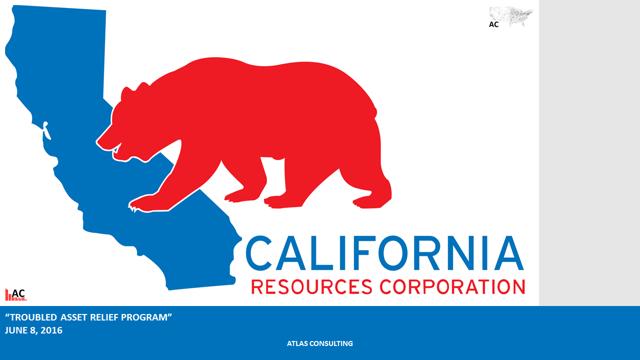 Click to enlarge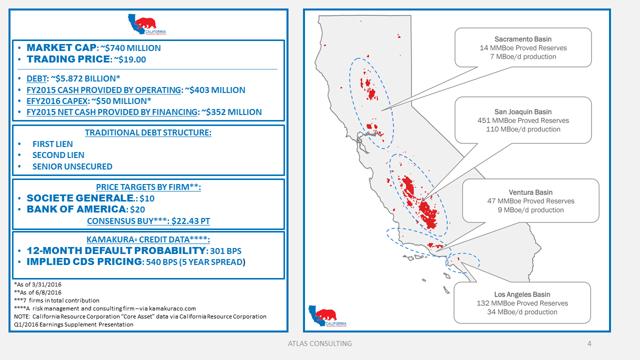 Click to enlarge
Costing California Resources Corporation investors a whopping, debt-financed ~$6 billion and bringing Occidental Petroleum a $6 billion windfall, California Resources Corporation has since inception been burdened by a debt load that has been low-visibility from a sustainability standpoint at best (and clearly unsustainable - even at initial outlay - at worst). It's this debt burden, coupled with the complete collapse of commodity pricing (which one should note was already taking place as this transaction was being trotted out to the public), that has further caused over $8 billion in asset impairments over the last 24 months.
Again, asset impairments that I believe could have reasonably been assumed if anything of reasonable commodity pricing modeling was being done while California Resources Corporation was still inside the Occidental Petroleum umbrella as its "California-based Operations" (or California Resources Corporation 10-K defined "Occidental's California oil and gas exploration and production operations and related assets, liabilities and obligations").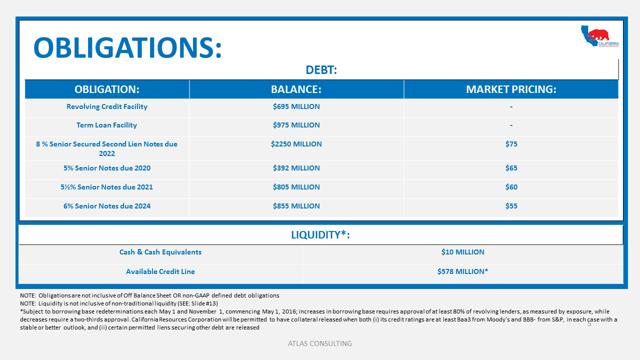 Click to enlarge
These asset impairments (which Occidental Petroleum monetized to the tune of billions of dollars), in turn, have caused a domino collapse in total enterprise value (led by the market cap collapse of the E&P - which is being led by the share price collapse taking place) which has been in parallel associated with a PV-10 collapse. Remember, PV-10 is a valuation figure that is considered by management and the Board of Directors when making solvency representations; solvency representations that definitively lead the decision making process of continuing the enterprise outside of an in-court restructuring.
The story of California Resources Corporation has been one of savage and consistent destruction of value; again, not all or even a majority management and/or Board of Director caused. This dynamic of declining values, low visibility of sustainability, and realization of lower asset monetization expectations has caused numerous credit downgrades and subsequent covenant tightening by lenders. I believe it's this covenant tightening that will ultimately lead to an in-court restructuring of the since inception unsustainable model at the E&P.
But there are levers that California Resources Corporation has available to pull in destressing efforts. There is in fact an outside chance that California Resources Corporation survives. Not one that I believe will be realized, especially when considering the overwhelming story outlined within the screencast (including the top of capital structure positioning), but there is a story of survival possibility within the broader story I've called a "Troubled Asset Relief Program." I've outlined these levers within the screencast.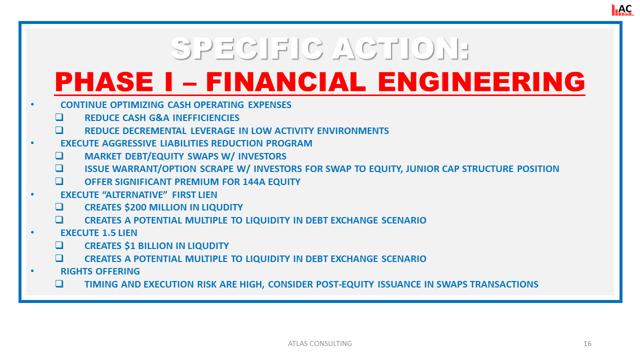 Click to enlarge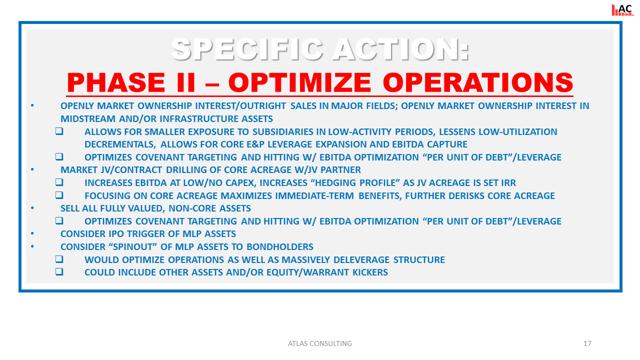 Click to enlarge
That said, I believe the following deck is an excellent road map for risk managing a position in California Resources Corporation. I believe that I summarize the real-time narrative as of the most recent close (at deck finalization), and that I present both the current risk picture as well as a dynamic road map for tracking overall structural stress levels at the E&P. The hope for those still long this name is that the E&P can successfully destress.
Within this screencast I've provided a comprehensive breakout of what investors should be looking for California Resources Corp. to accomplish, and what model-stress indications any progress might negate. Tracking this changing equation of risk and long-term potential is going to be paramount in knowing when to hold a position, when to add to a position, and when to exit a position -- even if at a near-catastrophic loss. California Resources, despite my efforts to present a bull case from a destressing standpoint, still has very real risk of continuation of loss; continuation of loss that I believe ultimately leads to an in-court restructuring.
Disclosure: I/we have no positions in any stocks mentioned, and no plans to initiate any positions within the next 72 hours.
I wrote this article myself, and it expresses my own opinions. I am not receiving compensation for it (other than from Seeking Alpha). I have no business relationship with any company whose stock is mentioned in this article.