Vivus (NASDAQ:VVUS) investors are likely used to the Qsymia sales mantra. Flat sales with a bias to the downside. Vivus investors are also likely used to the mantra that cost cutting will be used to try to improve the bottom line. Some investors are heartened by what management says. I look at what is happening and do not find much solace in it.
This past week Qsymia sales came in at about 8,300 scripts. This was a decline from the week prior, but in fairness, there was a holiday. In any week where a holiday is involved sales will suffer a bit. Unfortunately, when the overall trajectory is down, these holidays exacerbate the situation.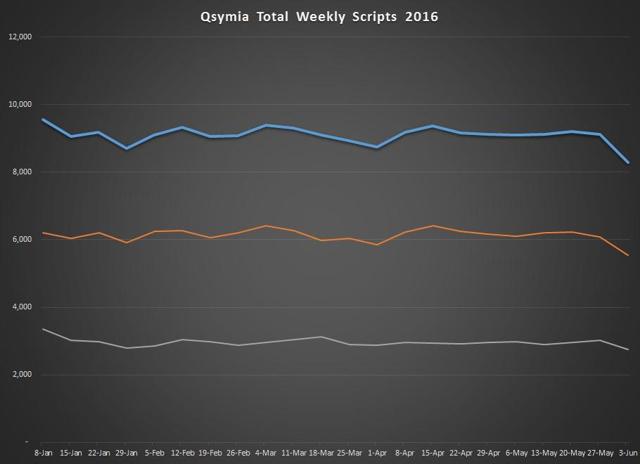 Click to enlarge
Chart Source - Spencer Osborne
On a quarter over quarter basis we are seeing further confirmation that peak sales of Qsymia was a Q1 event. Sales at this point in Q2 are pacing 1.02% lower than the same point in Q1. Historically Q2 was usually the best quarter of the year for the drugs in the branded anti-obesity space. This year we saw peak sales in Q1. In all likelihood we will see Q2 sales be lower than Q1 sales. Some investors may hold out hope that a "new and improved" marketing plan will change the dynamics. The reality is that changes to the savings plan will not make a material enough difference to the problem of sales that are much lower than needed.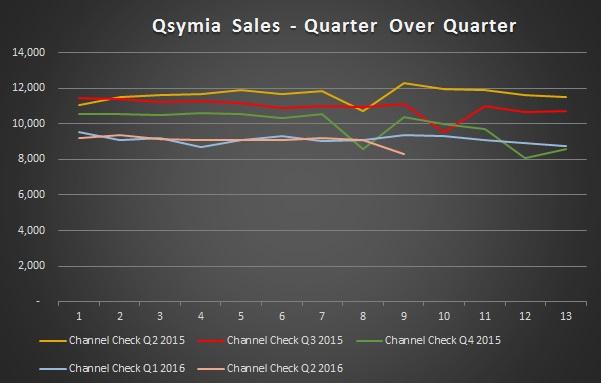 Chart Source - Spencer Osborne
On a year over year basis we can see that the troubles of Qsymia and the sector continue. Qsymia sales are 21.4% lower than what was delivered a year ago. This will begin to really show in the quarterly reports. It was about this time last year when Vivus made further cuts in its marketing expenses. What will begin to show through is that the negative year over year comparisons can not be covered up by cost cutting initiatives anymore. The situation is getting down to the brass tacks. In the last 5 quarters we can see the shifts happening and the outcome is predictable. The company was able to increase margins per script, but was not able to grow revenue to what is needed. In Q1 of this year the margins per script went down along with the sales numbers.
Q1 2015 - Qsymia revenue of $12.6 million on sales of 141,000 scripts ($89 per script)
Q2 2015 - Qsymia revenues of $14 million on sales of 151,000 scripts ($93 per script)
Q3 2015 - Qsymia revenues of $14 million on sales of 142,000 scripts ($99 per script)
Q4 2015 - Qsymia revenue of $14 million on sales of 129,000 scripts ($109 per script)
Q1 2016 - Qsymia revenue of $12.4 million on sales of 119,000 scripts ($104 per script)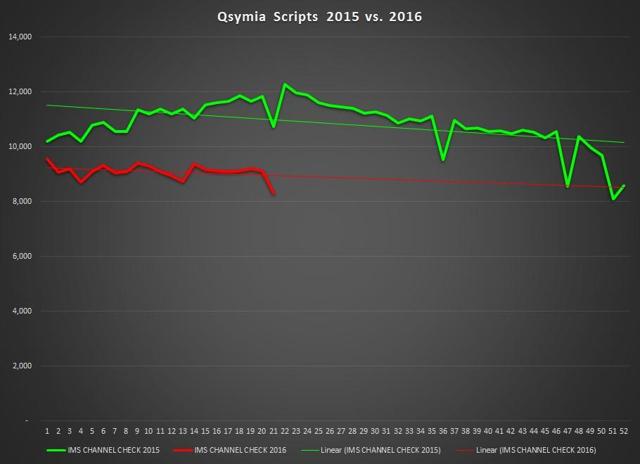 Click to enlarge
Chart Source - Spencer Osborne
In looking at market share, Qsymia has a small silver lining. It is not from any good move made by management, but rather because a competitor has simply tripped and is in the process of an implosion of its own. This past week Qsymia carried a market share of 25.45%. This is not a stellar performance by an means, but Qsymia is managing to hold a line between 24% and 26%. The market share trajectory still carries a downward bias that investors should be aware of.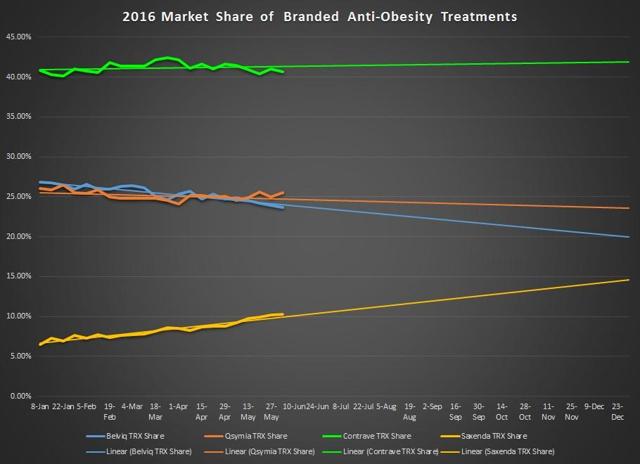 Click to enlarge
Chart Source - Spencer Osborne
The overall branded anti-obesity space is in trouble. At this stage, sales in 2016 are just 1.91% better than at the same point in 2015. The problem is that the trend is outlining that sector sales could go negative by double digits. Poor sector growth means that the entire space falls out of favor. This means that attracting investors is difficult, financing is difficult, and getting the attention of insurance companies is difficult. This means that the overall Vivus story has challenges that the street will focus on.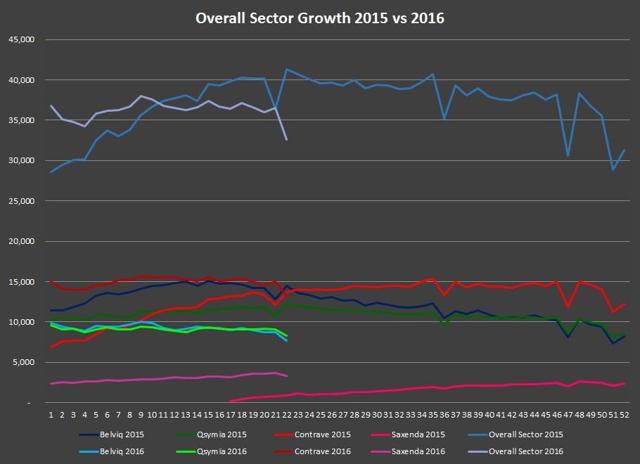 Click to enlarge
Chart Source - Spencer Osborne
Vivus investors do have some hope in the erectile dysfunction drug Stendra, but in my opinion there is problems on that front as well. In my opinion Stendra needs a big marketing campaign to drive into the sales of Viagra, Cialis, and Levitra. This is not a sector where shoestring budgets will drive sales. As yet, Stendra in the hands of Vivus has not been a compelling story. In many ways the hope might be that the company will sell for a nice premium because of Stendra. That makes the speculative side of a Vivus investment a bit more attractive. In my opinion I would consider this spec play if the stock gets down to 80 cents or so. At the current price, I am perfectly comfortable sitting on the sidelines and waiting for more concrete information. Stay Tuned!
Disclosure: I/we have no positions in any stocks mentioned, and no plans to initiate any positions within the next 72 hours.
I wrote this article myself, and it expresses my own opinions. I am not receiving compensation for it (other than from Seeking Alpha). I have no business relationship with any company whose stock is mentioned in this article.