It's unfortunate but true that gold prices are likely to be supported by the horrendous mass murder that occurred in Orlando, Florida over the weekend. Gold benefits when America or the U.S. dollar is threatened, and while it has yet to be determined, the attack appears it could be an act of terrorism or inspired by terrorists. Uncertainty and fear will likely provide a stronger floor under gold over the short-term. Also, the U.S. Federal Reserve is less likely to act on interest rates if financial markets are significantly disrupted by relative uncertainty, and that serves as a weight against the dollar and is uplifting to gold near-term as well. The duration of this impact may be short-lived, but it is substantial near-term nonetheless.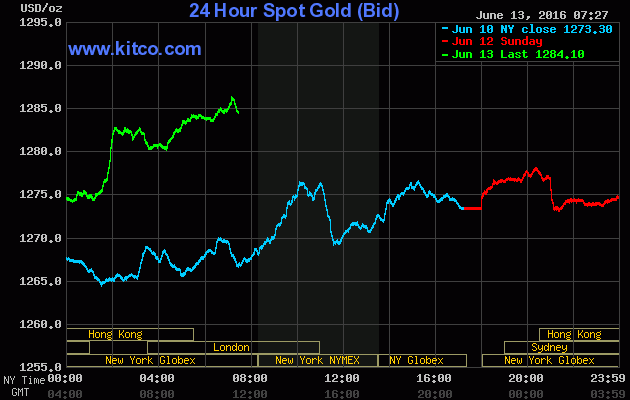 Spot gold leapt a level higher in overseas trade this morning. It had been gaining over the last couple days on international fear relative to the Brexit vote and George Soros' important and public opinion on markets. This morning, however, it could also find further support in U.S. trade, given what occurred over the weekend in Florida.
A New York born man of Afghan descent murdered at least 50 nightclub goers in Orlando, Florida this weekend, in this nation's worst mass massacre since 9/11. Importantly, The New York Times and others report the man had been investigated for terrorist ties, and the Islamic State reportedly took credit for the attack in the hours following the event. Other reports from credible sources indicate the attacker made a 911 call to police proclaiming his allegiance to the Islamic State (ISIS) just ahead of his attack. There are other unsubstantiated reports also leading to the assumption of terrorism, which is important for gold, though this is clearly the act of a deranged man.
If the market assumes this is to be a terrorist attack on America, whether lone wolf or ISIS planned, it will have an important impact on markets. While it would seem unlikely that we would see any further events near-term, and authorities are assuring there is no further risk to the area, ISIS is stating otherwise. As a result of that uncertainty, and as the media grabs a hold of this, fear is likely to intensify near-term. A sign of this can be found in media speculation and perhaps over-reporting about current risk to Disney's (NYSE:DIS) Orlando theme parks, theaters, and gay pride parades. The popular news aggregator Drudge Report is loaded today with relative stories this morning perpetuating fear. As a result, this morning we are seeing some weakness premarket in U.S. equity futures, the U.S. dollar and crude prices. Because the event happened on a day when markets were closed, some of the initial emotional influence it might have had has been reduced. Still, because of the softness in the dollar and the significant risk that seems to some to pervade against America, gold is higher.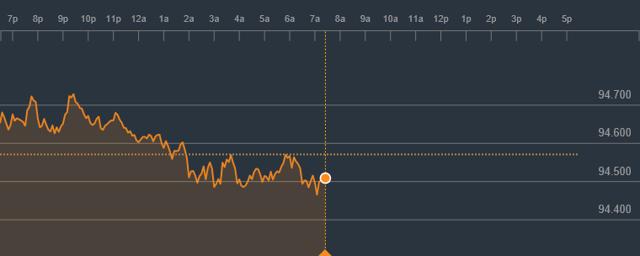 U.S. Dollar Index 6-16-16 at Bloomberg
The U.S. Dollar Index had been regaining lost ground recently, but uncertainty about the security of America or the American economy weigh against the dollar. We are seeing some softness this morning offsetting Brexit fear driven support for the greenback, though the dollar is only off slightly this AM. The PowerShares DB US Dollar Bullish (NYSE: UUP) is off fractionally on dollar index trepidation. Though, take note, the dollar index is not expressing major concern about an ongoing or significant threat. As a result, as time passes, the dollar should regain its recent upward trend on Brexit concerns and pressure gold, especially if the U.S. Fed raises interest rates by July, as I expect. However, for now, the dollar and gold can rise together.
Take note that if financial markets are severely impacted by U.S. investor concern about terrorism, especially if another significant event occurs near-term, then the likelihood of a Fed rate hike would decrease. Financial market volatility would reflect real economic pressure in that case, and would raise alarm at the Fed about the prospect of greater systemic disruption.
| | |
| --- | --- |
| Precious Metal Securities | 06-13-16 Premarket |
| SPDR Gold Trust (NYSE: GLD) | +0.8% |
| iShares Gold Trust (NYSE: IAU) | +0.7% |
| iShares Silver Trust (NYSE: SLV) | -0.2% |
| Direxion Daily Gold Miners Bull 3X (NYSE: NUGT) | +5.8% |
| Direxion Daily Gold Miners Bearish 3X (NYSE: DUST) | -5.5% |
| Market Vectors Gold Miners (NYSE: GDX) | +1.9% |
| Market Vectors Junior Gold Miners (NYSE: GDXJ) | +2.2% |
| Goldcorp (NYSE: GG) | +2.2% |
| Newmont Mining (NYSE: NEM) | +2.3% |
| Randgold Resources (NASDAQ: GOLD) | +0.5% |
| Barrick Resources (NYSE: ABX) | +2.7% |
| Yamana Gold (NYSE: AUY) | +3.2% |
| Gold Fields Ltd. (NYSE: GFI) | +1.4% |
| Silver Wheaton (NYSE: SLW) | +1.8% |
| Coeur Mining (NYSE: CDE) | +1.6% |
Gold relative securities are widely showing significant strength into the open Monday morning. Much of it is greed driven speculation that should dissipate with the passing of time and as fear subsides. But for now, gold has a stronger floor and can even rise alongside dollar appreciation into the Brexit vote now. However, gold longs should be aware that if the Brexit vote passes without disruption and if no more domestic attacks occur near-term, gold will be weighed into the Fed July meeting by the pressure of a possible Fed rate action. Gold is gaining now, but its catalyst is unfortunate. Our prayers go out to the victims and their families. I cover gold in an unbiased manner and invite investors interested in unbiased factor analysis to follow my column here at Seeking Alpha.
Disclosure: I am/we are long UUP.
I wrote this article myself, and it expresses my own opinions. I am not receiving compensation for it (other than from Seeking Alpha). I have no business relationship with any company whose stock is mentioned in this article.