Antero Midstream Partners (NYSE:AM) (much like another company I have covered previously, Shell Midstream) is a midstream MLP with limited history (a late 2014 IPO), but a potentially bright future. While the company's partner, Antero Resources (NYSE:AR), doesn't have quite the global clout that Royal Dutch Shell (Shell Midstream's sponsor) has, Antero Resources has quickly risen to being one of the most dominant players within the domestically-produced onshore energy market. Antero Resources has dedicated itself fully to its new offshoot, putting in place a twenty-year commitment with Antero Midstream that makes the company the sole provider of gathering and compression services on Antero Resources' current and future acreage (besides acreage previously committed to third parties). As a result, Antero Midstream has exclusive rights to serve as a distributor on 435,000 acres at the end of 2015 (along with serving other operators who own nearby acreage).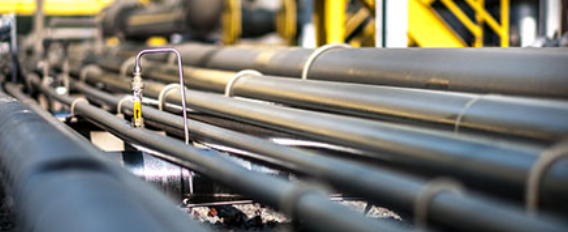 While the equity hasn't necessarily been a stellar success at first glance (down 15% versus a flat performance for the S&P 500 since the IPO), the company has in fact substantially outperformed most of its sectors' comps, which are down nearly 40% on average over the same time frame. Overall, the midstream sector looks like a much better buy today than it did one year ago on valuation perspectives, and the marginal improvement in domestic oil and natural gas pricing has brought a little stability to many names. Will the company continue its march forward?
Business Overview
It is extremely important that before looking at Antero Midstream's assets, its past results, and projecting its future earnings to note just how reliant it is on Antero Resources. 97% of 2014 revenue and 99% of 2015 revenue came from Antero Resources as part of a variety of agreements that we'll discuss later. Third party revenue is basically non-existent. Now, this relationship does go both ways. Antero Resources is a large shareholder of Antero Midstream (40.9M common units, 75.9M subordinated), or roughly 74% of the diluted share count. As a result of that holding, Antero Resources does have a vested interest in Antero Midstream equity succeeding. Nonetheless, it is important to take into consideration just how inextricably tied these two companies are to one another when it comes to both success and failure. It is extremely difficult to hold a positive view of one while holding a negative view of the other.
Like is common with many MLPs, the company has an IDR agreement in place with its general partner, in which the general partner is entitled to an accelerating percentage of the distribution.

In Antero Midstream's case, these IDRs are aggressive, and with the most recent distribution at $0.235/share, it won't be long before hitting the 50/50 payout threshold. Investors need to keep this in mind when thinking about future cash flow growth and what percentage of that growth limited partners will be entitled to per that agreement.
Midstream Assets
Antero Midstream operates two distinct sides to this business: Gathering/Compression and Water Handling. Gathering and compression is the typical midstream business: the transportation of natural gas and natural gas liquids from the wellheads to the eventual end market. Antero Midstream currently operates 182 miles of both low and high pressure pipelines in the Marcellus Shale region and 91 miles in the Utica. Substantially, all of Antero Resources' acreage lies in the Appalachian basin where it fracks for natural gas (13.2 trillion cubic feet of proved reserves). The current contract calls for a gathering fee of $0.18/mcf for high pressure gathering and $0.30/share for low pressure gathering. Antero Midstream transported more than 800 billion cubic feet of natural gas for Antero Resources in 2015 - up more than 100% from the year prior. Now, such blistering growth cannot be expected forever. Antero Resources expects "just" 15% growth in production in 2016, which likely means another leg upwards in volumes for Antero Midstream.
To protect the downside, if for some reason Antero Resources slips, Antero Midstream is protected by some take-or-pay volume provisions it has in place with Antero Resources. These can be expanded going forward as well. If Antero Resources requests the construction of gathering and compression infrastructure rather than it being built proactively by Antero Midstream, take-or-pay is put in place for 70% of the capacity.
The fracking process also requires water - lots of it. Antero Midstream also provides water services, pumping fresh water directly to Antero Resources' well sites, while also handling the disposal of wastewater created during the fracking process. Like with some of the unrefined product assets, Antero Midstream has a minimum volume agreement in place - one that is set to accelerate through 2019. Current minimum volume fee is 90,000 barrels day in 2016, accelerating to 120,000 barrels per day by 2018. At an average cost of 3.65/barrel of water supplied, these minimum commitments are not small on a dollar basis ($120M annually in 2016).
These water assets tie in cohesively with the next piece of the puzzle for Antero Midstream - wastewater treatment. In partnership with Veolia, the company is building an advanced wastewater treatment facility to process liquids produced during the fracking process. This is a win/win for Antero Resources and Antero Midstream, as it addresses a highly contentious environmental component of fracking. After a well is fracked (injected with water and a mixture of chemicals), more than 60% of this mix flows back up the wellhead. In prior years, a lot of the means to deal with this wastewater has been to dump it in a surface pond for evaporation (burying the chemicals left behind once done) or deep-well injection (stick it in the ground so far as to hopefully not poison anyone or anything). Either option raised numerous safety concerns. Treating the water properly makes it easier for fracking to be viewed favorably from an environmental perspective, ensuring the health of the industry.
Initial capacity is expected to be 60,000 barrels/day when completed by the end of 2017. Full capacity is expected to be reached quickly given the present demand. This is easily an $80M+ annual contributor to revenue, and likely in the range of $50M in EBITDA. Considering the current agreement that has been put into place awards Antero Midstream $4.00/barrel for wastewater treatment and an additional fee for collection services, this will be a solid driver of earnings.
Capital Spending Allocation, Growth Projections
Antero Midstream projects roughly $450M in capital spending in 2016. Most of this will be spent in the Marcellus region. Marcellus Shale gathering and compression growth capex investment in 2016 ($216M) and water delivery ($40M). This isn't a surprise, given how cost-conscious the oil and gas industry currently is. Utica Shale beneath the Marcellus, and that, along with its tougher permeability, makes it slightly more expensive on average from a cost perspective.
The recent pickup of 55k acres from Southwestern, on which the gathering and compression will fall on Antero Midstream, only further bolsters the company's focus on Marcellus. Remember, where Antero Resources goes, Antero Midstream goes. Beyond those investments, the sizeable remaining portion of capital spending ($130M) is going towards the previously discussed wastewater treatment facility. Likely $180-210M in total costs remain in order to bring the plant online.
While capital spending needs are high (and well above operating cash flow, much less free cash flow), the company does have substantial liquidity. Currently, all the company's debt is held within the company's revolving credit facility (maturing 2019). Debt outstanding stood at $680M at the end of Q1 2016, or roughly 2x 2016 adjusted EBITDA guidance. By comparison to many midstream plays that soaked up a lot of debt in the bull rush of 2010-2014, leverage remains low here, and liquidity is high ($820M untapped on the facility).
Management forecasts $275M-$300M in distributable cash flow in 2016, or $1.81/share at the midpoint. Remember, the general partner is entitled to 50% of all cash flow above $1.02/share and smaller percentages at levels below that, so net cash available to shareholders after IDRs is in the range of $1.35/share. Management has guided to 30% distribution growth in 2016 ($0.87/share) so the distribution coverage is still more than there. Current management guidance of 30% distribution growth in 2016 and 2017 is a little light; 2017 distributable cash flow could not budge and the company would still maintain its 1.1x-1.2x distributable cash flow target.
In reality, 2017 will likely see further increases in distributable cash flow growth. Futures pricing on natural gas remains bullish; most market participants expect accretive pricing, which will do nothing but encourage boosted domestic production. Antero Resources is projected to have yet another double-digit increase in its production in 2017, which will filter down to Antero Midstream results via increased volumes across the board on both gathering and compression and fresh water deliveries.
Takeaway
The current forward indicated dividend yield is light (3.87%). However, 30% distribution growth is easy to hit in 2016 and 2017, and puts the 2017 ttm distribution at $1.13/share, or 4.5%. In reality, the distribution growth is unlikely to stop there, with the wastewater treatment facility entering full swing in 2018, along with the accelerating minimum contract deliveries on water and further increases in unrefined product gathering and compression likely. The company could full well manage to see the distribution approach $2.00/share by 2020.
As a relatively new MLP option with a small indicated yield, this company likely falls off the radar of many investors. That is a bit of an injustice. The path to management's distribution growth target over the next two years is far from aggressive, and the company's sponsor is managing to maintain profitability in a highly distressed natural gas pricing environment. Solvency risk appears quite low.
However, it is hard to be a buyer at current levels as the company trades at nearly 12.5x 2017 EBITDA. It is currently priced for solid execution on management initiatives over the next three years. I don't think investors should buy today, but the value proposition becomes much stronger at $20/share, levels we saw as recently as February and April. Selling puts potentially make sense on the September/December contracts if you want to get paid to potentially get placed, but open interest remains low and the premiums are nothing to write home about. All in all, it deserves a spot on investor watchlists.
For more research like this on small/mid cap companies perpetually underfollowed by Wall Street and under-owned by retail investors, consider following me (by clicking the "Follow" button at the top of this article next to my name) to receive notification when I publish research. Feel free to ask any questions in the Comments section below.
Disclosure: I/we have no positions in any stocks mentioned, and no plans to initiate any positions within the next 72 hours.
I wrote this article myself, and it expresses my own opinions. I am not receiving compensation for it (other than from Seeking Alpha). I have no business relationship with any company whose stock is mentioned in this article.