The oil market (NYSEARCA:USO) is incredibly complex, with so many conflicting factors contributing to the ultimate price, that nobody really knows what is going on. We pay outsized attention to U.S. data, but only because there is no good data for the rest of the world. Nonetheless, there is good reason to believe the decline on Friday is the sign we will face at least a modest correction in the near future.
The market has been near-flat since mid-May (at least, relative to a very strong bull run-see chart); bullish sentiment has been very strong.

Click to enlarge
However, significantly, for the second week in a row the number of oil rigs went up, and for the first since January US oil production went up:

Click to enlarge
Source: eia.gov
If certain Morgan Stanley analysts were to be believed, this would be the start of a repeat of the 2015 scenario, where prices rebounded and renewed the slide in June/July. This would at least lead to a revisiting of the lows, if not to new lows. Call this the (extreme) bear thesis.
However, many factors have changed since then. First, U.S. production is over 800,000 barrels lower than this time last year. Second, oil demand has significantly risen since then - likely around 1.2 mbpd for 2016, with large increases China and India. These factors lend credence to the (extreme) bull thesis: that a dramatic plunge in U.S. shale oil production, coupled with strong demand growth, will lead to a shortage of 1.5 mbpd by the end of 2016.
What to make of all of this? It's impossible for anyone to calculate the exact 'fair price' of oil, taking only fundamentals into account. Nobody knows what the net effect is of falling shale production, rising Iran, Saudi Arabia and Russia production, disruptions in Nigeria, Libya, etc. - or whether there are missing barrels in the EIA numbers. The oil market is incomprehensible if one does not take the interaction of narratives into consideration. From that perspective, the 'theses' of Morgan Stanley and other sell-side analysts are not scientifically-grounded hypotheses, tried and tested; rather, they more closely resemble stories that we tell ourselves, to make sense of certain aspects of complex data.
Truth is usually in the middle. It's also usually where most profits can be made. It's likely that neither the extreme bulls nor extreme bears will turn out to be right. However, what's much more certain is that the bear thesis has been relatively discounted in the past few months, and will make a resurgence unless certain deal breaking factors conspire.
Look at the price action. First, after breaking through to new highs after Tuesday 6/7, there was a spontaneous sell-off back to the previous trading range. This indicates that the rally is getting fatigued. Second, the reaction to Canadian wildfires and Kuwait oil strike was, while supportive of the price, relatively muted. If the market was effectively in supply-demand balance, as some commentators claim, one should have expected a spike. Third, there has been decreased volatility and range-bound trading over the past weeks -- common behaviors before big moves, either up or down. Given the massive bull-trend, and given the fact that the bear-thesis has been pushed to the sidelines for a long time, my bet is on a downwards move.
While there might well be a bounce going into next week, a short position should be offer some margin of safety as we seem to be sitting near a price ceiling, even though bullish sentiment is so strong. As a measure of bullish sentiment, consider how money managers have become more bullish as prices have increased: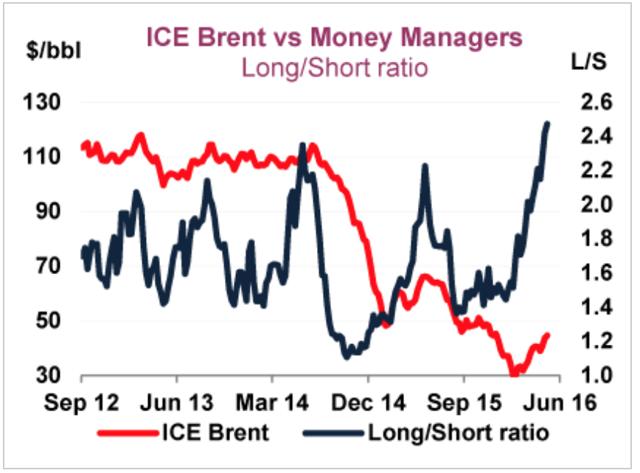 Click to enlarge
Source: EIA Oil Market Report: 12 May 2016
Profit taking and prudential hedging can easily push oil lower if fund managers smell a whiff of danger. Producers may accelerate hedging, as they get the feeling it's now or never. If there are serious declines, forced closing of positions could turn a correction into a violent sell-off.
On the other hand, the past corrections in oil markets over the past few months (e.g. 3/23-4/5, 4/13-4/17) have all led to a strong 'buy-the-dip'. In those instances the bull narrative was challenged but its dominance was quickly reaffirmed. However, an increase in shale production will truly pull the rug from under the bull narrative - even if this increase is only temporary. The idea that shale producers (such as Continental Resources (NYSE:CLR)) will hedge future production once oil is over 50$ is not new -- it's been out there for months. However, it will drive the narrative sooner or later.
Further, possible external triggers may exacerbate any correction. For example, an unexpected slowdown in the world economy or robust increases of production from Saudi-Arabia (in reaction to Iran) or from Russia (in reaction to OPEC). Such scenarios would lead to extreme bearishness.
What is the deal-breaker for this thesis? A resumption of the strong decline in U.S. oil-rig count would perhaps be the most important factor. A positive surprise in economic growth, especially in India and China, is another factor to look out for. Caution is needed, especially as the bulls have been like a train the past months and will likely make a number of attempts to reassert themselves. A short position with a target even 10% lower from Friday's closing price is likely to close with a profit. While the market is ripe for a deeper correction, if external factors may line up to strongly affirm the bull thesis, bulls will take over once again.
Disclosure: I am/we are short BRENT.
I wrote this article myself, and it expresses my own opinions. I am not receiving compensation for it (other than from Seeking Alpha). I have no business relationship with any company whose stock is mentioned in this article.