Hi-Crush Partners LP (NYSE:HCLP) unit holders have had a rough ride the last couple of years. The StockCharts.com graph below shows the stock fell from over $66 in 2014 to under $4 earlier this year. Ouch. But is the damage overdone?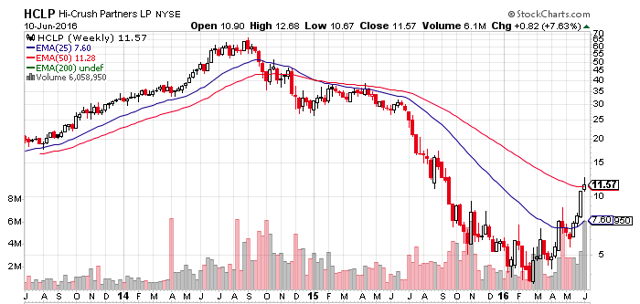 Click to enlarge
And to be fair, while still down significantly, units of HCLP are up over 100% from their lows. So is this the turnaround longs have been hoping for? Or is it simply a blip before the downtrend resumes? Nobody can know for sure. But this article will look at HCLPs business and try to determine how it's positioned going forward.
One caveat is that HCLP only has operating history going back to 2011. I prefer to examine companies with over 10 years of historical financial data. But unfortunately, any financial trends in HCLP are still relatively nascent.
And before we look into these historical financials, let's take a moment to review the main business activities of HCLP.
Why Frac Sand Matters:
HCLP's main operating business is the production and supply of monocrystalline sand (also known as frac sand). If you aren't familiar, this sand helps shale producers get more oil out of their wells.
Some of the direct competitors of HCLP are U.S. Silica Holdings Inc (NYSE:SLCA), Fairmount Santrol Holdings Inc (NYSE:FMSA) and Emerge Energy Services LP (NYSE:EMES). These companies have also seen steep declines in share price, and are also starting to rebound. FMSA and SLCA have held up well during this cycle. Could this signal better times ahead for the industry at large?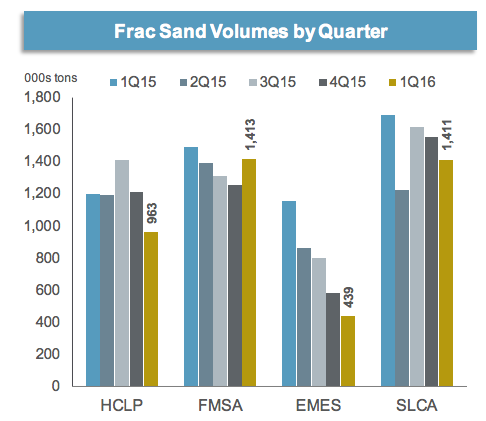 As you can see, HCLP shows a sharp decline in frac sand sales in the most recent quarter. Will this continue, or is it the bottom? For some more qualitative insights into this state of affairs at HCLP and the industry at large, this slide from their June 2016 investor presentation (source) provides a helpful summary:
Click to enlarge
From the summary above, it's obvious HCLP has some significant obstacles to overcome. Despite long term contracts to lock-in supply, the severe drop in oil has led to fiercely competitive renegotiations and limited visibility into future demand. On the upside, HCLP has a compelling strategy, which CEO Robert E. Rasmus articulated well on the recent Q1 2016 conference call (source):
Hi-Crush is by-far and away the low cost producer of frac sand. Our production cost advantage also extends to our distribution network in the Marcellus, Utica, Permian, DJ and Eagle Ford Basins. Our goal on Hi-Crush is simple. We aim to provide the most cost-efficient product with best-in-class service at all times. Our commitment to this goal is unwavering and now more than ever it is critical to have a low cost structure, a strong logistics foot print, and a flexible balance sheet, that's Hi-Crush in a nutshell.
While HCLP is undoubtedly doing it's best to survive these tough times, they are doing it with an eye on the future so that hopefully they can thrive, should oil prices stabilize. With a strong distribution network, the largest frac sand capacity in Wisconsin, and the second largest in the world with 10.4M tons of capacity (source) HCLP could be back in a position of strength sooner rather than later.
Unfortunately for unit holders, even if HCLP's core operating business picks up again, it doesn't necessarily mean the company will be able to return much cash to equity owners. Because although leverage could help share prices recover faster, the debt/equity ratio is above 2.8. This is a big red flag for me. If revenue can't pick up, interest expense could continue to grow as a percent of gross profit. This measure is currently 32% on a TTM basis, which is higher than I'm comfortable with.
According to the most recent 10-Q, HCLP's debt is made up primarily of two items. First, they have about $25M of borrowing capacity left on their $75M revolving credit agreement, which expires in 2019. The company also has a $200M term loan which expires in 2021 (source).
Encouragingly, there's some breathing room until the next debt maturities. Substantially all of the debt is long term and current liabilities of $22M are well-covered by $62M in working capital. That's a plus, especially in tough times.
So ultimately, the biggest upside potential I see for HCLP is tied to the price of oil. If oil stays stable, the company should start to see business pickup a little. As reported by Bloomberg, $50 oil is enough for Continental Resources (NYSE:CLR) to send crews back to work on unfinished wells (source). These drilled but unfinished wells present opportunity for frac sand producers. And even if new wells aren't drilled, the existing ones present potential pent-up demand for frac sand. This might only be a temporary reprieve though as new supply coming online could drive price back down again.
With that in mind, I'll be watching both top and bottom line results very closely in the quarters ahead. As you can see from the limited historical data below, after tremendous growth out of the gates, things haven't been going well the last 12-18 months. The drop in net income is astounding.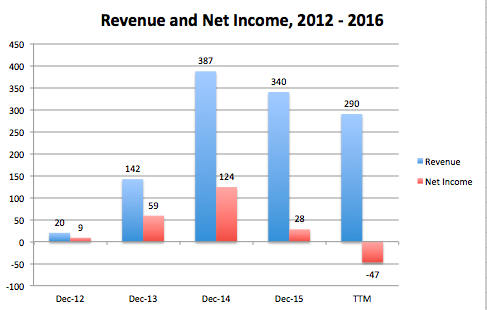 So by now you're probably wondering: given the unique competitive advantages of HCLP, contrasted with the high debt load and declining earnings, is it worth an investment?
Conclusion: I'll Dig for Dollars in HCLP
I recently picked up a few shares of HCLP. It wasn't an easy decision to pull the trigger. So for now, I'm keeping the position small given the volatile nature of this stock. I'm also hesitant to make a large bet when the outcome is tied to a commodity price that I can't predict. I'll be monitoring revenue and earnings in the coming quarters to see how these trends develop.
But what do you think? Does the future for HCLP look brighter? Or is this just a temporary upturn on the way to eventual bankruptcy?
Disclosure: I am/we are long HCLP.
I wrote this article myself, and it expresses my own opinions. I am not receiving compensation for it (other than from Seeking Alpha). I have no business relationship with any company whose stock is mentioned in this article.