In line with our process of being on the ground in the countries we invest in, Senior Investment Analyst Ruchir Desai traveled to Vietnam last month.
This was my second visit to Vietnam for the year as there are yet many more companies to meet and also much to learn from being on the ground. This time my visit focused on meeting new companies which we have not met before, as well as carrying out site visits to some of the listed port companies in Northern Vietnam and check out the factories of the fund's existing holdings.
I started my trip from Hanoi and as mentioned in our previous newsletters, the infrastructure in terms of traveling from the airport to the city has improved tremendously since my first visit to Vietnam almost three years ago. My first day was full of company visits; a toll way operator/real estate developer, a consumer company and a company which manufactures glass, ceramic floor tiles and sanitary ware. The next day I traveled to Hai Duong, which is a 90 minute drive from Hanoi, to visit the factory of one of the fund's existing holdings, an industrial pump manufacturing company: Hai Duong Pump Manufacturing [CTB]. Since this is a smaller company, there is a lot of room for improvement in terms of manufacturing capability and efficiency. Positively, the company's management is keen to improve on this in the coming years. Afterwards, we traveled (the analyst from the local brokerage company and myself) for another 45 odd minutes onto the new highway which connects Hai Duong to Haiphong. This new highway actually connects Hanoi to Haiphong but we just took it from Hai Duong. The new highway was opened recently, but I was told the fare to use it is quite high relative to the older highway so a lot of traffic is still using the older highway. However, due to better quality, the newer highway seemed to be worth the higher fare.
Haiphong is located about 120 km east of Hanoi. A smaller city than Hanoi and Ho Chi Minh City, it is much quieter, but it is the leading port area in North Vietnam and is home to more than a dozen port companies, some of which are listed. Understanding the location of these ports is important as this affects their throughput as well as the size of ships which they can berth. Also, these ports are all currently river ports which are located next to the sea and hence cannot accommodate vessels of the size that Hong Kong and Singapore can accommodate. As can be seen in the map below, location is paramount as the ports closer to the mouth of the river can accommodate larger ships compared to some of the ports which are further upstream. Besides location, another development which could impact the dynamics of the ports is the new deep water port under construction up on Cat Hai Island, to the east of Haiphong. This deep water port will be connected to the mainland by a bridge and is expected to have a capacity of 1.1 million TEUs (twenty foot equivalents) in its first phase. It will accommodate much larger vessels and is expected to begin operations in 2019. The development of this port could be a threat to the ports along the river as their utilisation levels fall and one cannot rule out some sort of consolidation amongst the smaller ports in the near future.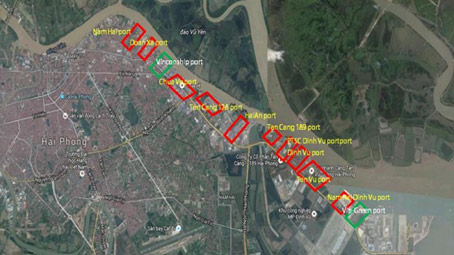 The port companies I met ranged from smaller players having capacity of around 200,000 TEUs to larger players having capacities of 1 million TEUs. The management teams of all three port companies did mention that the new deep water port could be a threat going forward. From what I saw on the ground, all the ports are pretty much lined up one after the other. I did manage to take some pictures, although at one point we were stopped by a security officer saying that "foreigners" need permission to be in the port premises.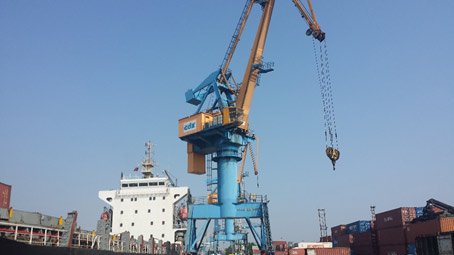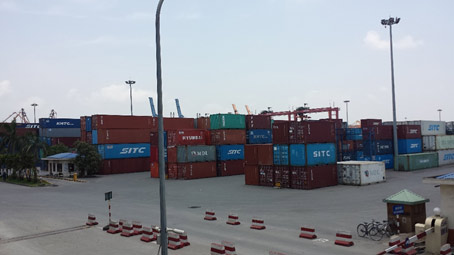 In between meetings, we had lunch at a local seafood restaurant. This is a plus about visiting other parts of Vietnam besides just Hanoi and Ho Chi Minh City, as one gets to taste the regional cuisine.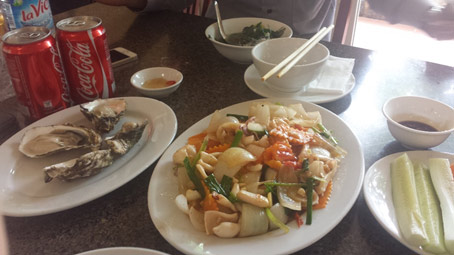 Since I was going to be spending most of the day in Haiphong, I decided to fly to Ho Chi Minh City [HCMC] from Haiphong's international airport.
It is always refreshing to visit Ho Chi Minh City as it always has a good buzz to it. My meetings in HCMC kicked off with the largest fertilizer company, a ferry company and a tire manufacturer. Interestingly, most of the commodity-focused industries in Vietnam are facing a threat of cheaper imports from China and this has impacted prices negatively over the past year, being the case for both the fertilizer and tire company.
The next day I headed to Binh Duong province, which is about an hour's drive from HCMC, to meet with a real estate company which develops residential projects primarily in Binh Duong. Though it has some other business such as a toll way project and some commercial real estate projects, its main business activity is in the construction of residential real estate projects. Since Binh Duong and the surrounding areas are seeing a lot of industrial activity due to the economic development of the region, this company can see its real estate projects benefit.
Following this, I visited the factory of Chuong Duong Beverages [SCD], a local cold drinks manufacturer in District 1 which is a prime location in HCMC. Yes, it is surprising to see a factory operation in District 1, but this company is sitting on very valuable land. The company manufactures a local brand of cold drinks but it does not necessarily compete with Coke (NASDAQ:COKE) and Pepsi (NYSE:PEP) as its drinks are not cola but of a different flavour (somewhat like Dr Pepper (NYSE:DPS) in the U.S.).
The next day I headed to Dongnai province to meet some more companies. Dongnai is about an hour and a half north of HCMC, and on part of the drive, I drove parallel to the metro project which is under construction. In Dongnai, I met with an infrastructure company, a detergent company and visited the factory of an automotive battery company. The fund holds the automotive battery company, Dry Cell and Storage Battery JSC [PAC], and on seeing the factory, we continue to be positive on this company given their expansion plans at the existing factory location.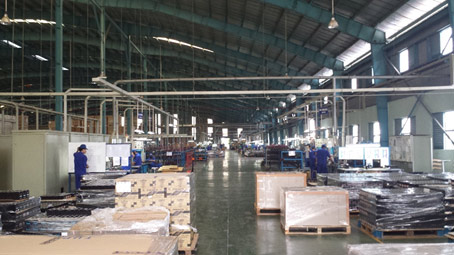 This was a very informative and educational trip to Vietnam as I got to meet new companies as well as conduct site visits. Being on the ground is the best way to get a feel of what is going on in a company or the country and where it can be in the long term as Asia Frontier Capital is very positive on Vietnam. Company visits, meeting with management, site visits further helps to build a portfolio of fundamentally sound and growing companies.
It is further Asia Frontier Capital's belief that investments in emerging and especially frontier countries like Vietnam should be done through an actively managed fund like AFC Vietnam Fund. It is no surprise that AFC Vietnam Fund has outperformed all existing Vietnam ETFs and other passively or benchmark linked funds since its inception on 23rd December 2013: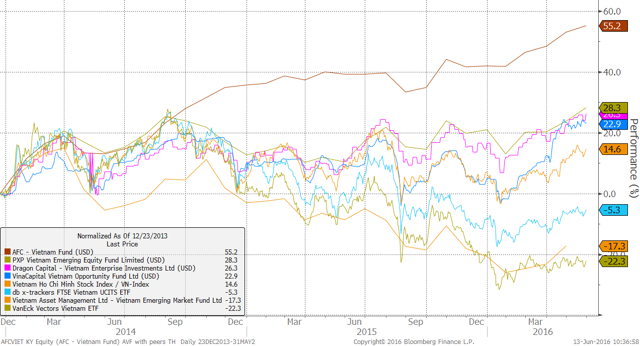 Click to enlarge
Source: Bloomberg
As in the chart above shown, the performance of the funds are as follows:
AFC Vietnam Fund:+55.2%

Dragon Capital - Vietnam Enterprise Investments (OTC:VTMEF): +26.3%

Vinacapital Vietnam Opportunity Fund (OTCPK:VCVOF): +22.9%

DB x-trackers FTSE Vietnam UCITS ETF: -5.3%

VanEck Vectors Vietnam ETF (NYSEARCA:VNM): -22.3%
All performances are in USD from 23rd December 2013 to 31st May 2016.
During the same period, the index of the Ho Chi Minh Stock Exchange "VN-Index" was up 14.6% in USD.
This charts shows clearly that "actively" managed funds are outperforming passive managed funds over a medium- to long-term time horizon in Vietnam.
Disclosure: I am/we are long HAI DUONG PUMP MANUFACTURING, DRY CELL & STORAGE BATTERY, CHUONG DUONG BEVERAGES JSC.
I wrote this article myself, and it expresses my own opinions. I am not receiving compensation for it. I have no business relationship with any company whose stock is mentioned in this article.