On Monday morning, many investors were surprised by the announcement that Microsoft (NASDAQ:MSFT) was buying LinkedIn (NYSE:LNKD) for more than $26 billion, net of cash. Congrats to all those who held shares of LinkedIn, as you received a very nice reward this morning. For Microsoft, however, this felt like a bit of a stretch, which is why I believe shares are down a couple of dollars. Here are my key takeaways from this deal.
Was Microsoft desperate for growth?
With iPhone sales struggling, we've heard a number of calls suggesting that Apple (NASDAQ:AAPL) go out and buy Tesla Motors (NASDAQ:TSLA). This is because investors want to see growth, and Apple is struggling on its top and bottom lines currently. Well, the same situation is happening with Microsoft now.
If we take a look at current estimates, analysts are forecasting a 2.2% decline in revenues this fiscal year for Microsoft. In the next fiscal year, growth is called for, but the two-year total is for just 1.6%. With the changing PC environment and Microsoft handing out free upgrades to Windows 10, the company was looking for a new source of revenue. This purchase will help with that, although LinkedIn is projecting just $3.72 billion of revenues this year, while Microsoft is in the mid $90 billion area.
The price certainly seems excessive:
Microsoft is paying $196 per share in cash to acquire LinkedIn, a substantial premium for a stock that closed Friday at $131, and that included about $17 in net cash as of LinkedIn's latest quarter. Additionally, LinkedIn shares traded as low as $98.25 earlier this year after a huge earnings report. Microsoft is giving a nearly 50% premium for a stock that's rallied more than 30% from its low seen just a few months ago.
Is LinkedIn really worth basically double what the market thought it was worth just a few months ago? Well, let's compare LinkedIn to peers Facebook (NASDAQ:FB) and Twitter (NYSE:TWTR). Since it will take a number of months for the deal to be completed, I'm looking at non-GAAP P/E ratios for these names based on 2017 expected earnings and Monday morning share prices. The results are seen below.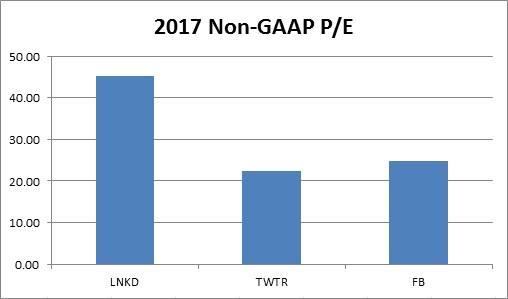 LinkedIn doesn't boast a revenue growth percentage anywhere close to that of Facebook, and is basically along the lines of Twitter. On a non-GAAP EPS basis, LinkedIn is expected to see 50% total growth this year and next, while Twitter is at 70% and Facebook is a bit over 100%. Microsoft is paying nearly twice what the two peers trade for on a P/E basis. With the median price target on LinkedIn being just $160, I think this is a big overpay.
Financials will get even murkier:
Technology companies, especially those that have blossomed in recent years, have some of the most confusing and lengthy earnings reports. That's because they use both GAAP and non-GAAP numbers, where the non-GAAP ones can have many adjustments to exclude things like stock based compensation, restructurings, acquisitions, etc. Even though Microsoft is one of the old guard names, it uses a variety of figures, as seen in the most recent earnings release:

Click to enlarge
I don't think the picture will get any cleaner once LinkedIn numbers are included in Microsoft's results. Microsoft's GAAP results will worsen a bit it seems, and the company suggested it could take almost two years for non-GAAP EPS to be accretive from this deal. I can only imagine how much more complex these earnings reports will look after this deal is finished.
Microsoft's dividend raise will be impacted:
I was actually working on a Microsoft dividend article this month, but that will be delayed a bit thanks to this major acquisition. In the news release, Microsoft said that the purchase will be primarily financed through debt. That's because the company doesn't want to really dilute investors, and Microsoft's cash balance in the US is quite low. As seen on page 44 of the most recently filed 10-Q, Microsoft had less than $3 billion in cash and equivalents in the US, with almost $103 billion held by foreign subsidiaries.
Microsoft also stated that it expects to complete its $40 billion buyback by the end of this calendar year, and $10.7 billion remained as of March 31st. With a lot of debt being added to the balance sheet and buyback plans being unchanged, I do think that we'll see a smaller than previously expected dividend raise this year.
Microsoft was up over $46.4 billion in total debt as of the latest quarter, up from less than $32 billion a year earlier. As the foreign cash balance continues to grow, one must wonder if the company will eventually bite the bullet and repatriate funds. Otherwise, Microsoft will probably need to take on even more debt just to keep the dividend going given the current situation.
Final thoughts:
Microsoft's purchase of LinkedIn will certainly shake up the technology landscape. The technology giant needed to find a new source of growth, although the purchase price seems a bit excessive. The deal will certainly complicate Microsoft's financials, and I also think it will hurt this year's dividend raise given Microsoft's low US cash balance and fast growing debt pile. The decline in Microsoft share price seems like the right reaction in the short-term, and it will take a while to fully digest this blockbuster news.
Disclosure: I/we have no positions in any stocks mentioned, and no plans to initiate any positions within the next 72 hours.
I wrote this article myself, and it expresses my own opinions. I am not receiving compensation for it (other than from Seeking Alpha). I have no business relationship with any company whose stock is mentioned in this article.
Additional disclosure: Investors are always reminded that before making any investment, you should do your own proper due diligence on any name directly or indirectly mentioned in this article. Investors should also consider seeking advice from a broker or financial adviser before making any investment decisions. Any material in this article should be considered general information, and not relied on as a formal investment recommendation.