Click to enlarge
A Top Name In January, A Top Name Again
In a recent article (Buying Amazon At An 864 P/E), we mentioned that Amazon (NASDAQ:AMZN) had one of the highest potential returns calculated by the Portfolio Armor website in January, and that prompted us to suggest readers to consider buying it, despite its high valuation at the time. Another one of the site's top names last January was Nvidia (NASDAQ:NVDA), which was included in the hedged portfolio mentioned in this article - Hedged Bets Against Oil, China, Show An Alternate Approach to This Market.
That hedged portfolio is interesting for what it got wrong as well as for what it got right, so we'll examine that. Then we'll present an updated hedge for Nvidia.
Building A Hedged Portfolio At An Inflection Point
If you recall, market sentiment was fairly gloomy back in January. The Economist, for example, featured George Soros asking if this would be another 2008. It looked like stocks might continue to head south. In our January article that included Nvidia, we wrote about how our site's inclusion of bearish ETFs came into play:
Agnostic Security Selection

Instead of limiting itself to stocks, Portfolio Armor is agnostic about whether a security is a stock or an exchange-traded product such as an ETF. Further, with respect to ETFs, it's agnostic about whether they are inverse or not, and whether they are leveraged or not. All the site considers is what the security's potential return is over the next several months, and how expensive it is to hedge while being positioned to capture that potential return. It then ranks its securities by potential return net of hedging cost ("net potential return"), and uses the ones with the highest net potential returns to populate hedged portfolios.

Agnostic Security Selection During An Inflection Point

Before the recent correction started, the top 10 names in the site's universe, when ranked by net potential return, were almost always stocks. Now, though, two levered inverse ETFs have climbed into the top-10: The ProShares UltraShort Bloomberg Crude Oil ETF (NYSEARCA:SCO), which is a levered -2x bet on crude oil, and the Direxion Daily FTSE China Bear 3x Shares ETF (NYSEARCA:YANG), which is a levered -3x bet on the FTSE China 50 index. You can see this in the hedged portfolio below, which is what the site would have presented you as of Tuesday's close, if you told it you had $200,000 to invest and were unwilling to risk a decline of more than 18% over the next six months.
This was the hedged portfolio: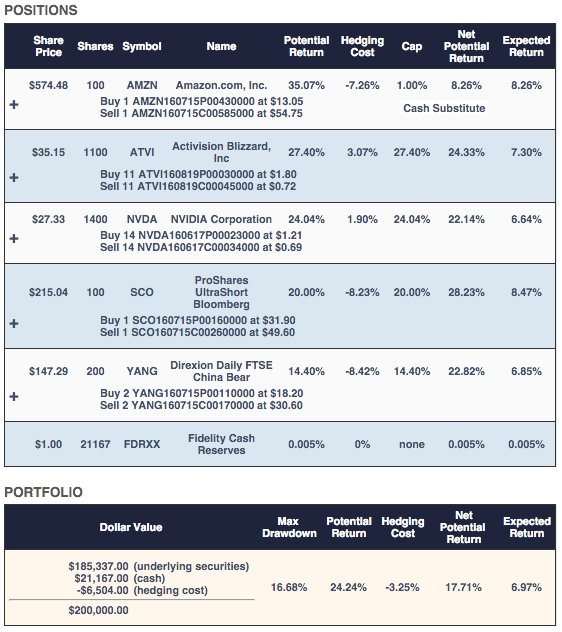 The game plan with these hedged portfolios is to hold the positions for 6 months or until just before their hedges expire, whichever comes first. So an investor in this portfolio would exit everything next month. Barring a radical reversal over the next four weeks, the two biggest things this portfolio will have gotten wrong are YANG and SCO, which were down about 43% and 64%, respectively, as of Friday's close (due to the hedges, an investor in this portfolio will end up being down no more than 18% on those positions).
All three stock positions, Amazon, Nvidia, and Activision Blizzard (NASDAQ:ATVI) are in the black now, but it's interesting to consider what might have happened had Soros's warning about another 2008 come to pass by now: most likely, the three stocks would be down and the two bearish ETFs up instead.
The site still got a couple of things wrong with the names it picked that went up: it overestimated Activision Blizzard's potential return and underestimated Nvidia's. Underestimating Nvidia's potential return has proved more costly so far. Because the site used its potential return estimate of 24% as the upside cap on the optimal collar it presented for NVDA, an investor's maximum possible return on that position by next month will be about 22% (24% minus the hedging cost the investor paid). Meanwhile, NVDA is up about 68% since that portfolio was created.
An Updated Potential Return And Hedge For Nvidia
Before we present our updated potential return and hedge for Nvidia, let's address the question raised by what our site got wrong in January: why estimate potential returns when they'll usually be wrong? One reason is that when you hedge with collars, you need to set your upside cap somewhere, and setting it at your high-end estimate of how the security might perform makes sense. Another is that, in our backtests, we were able to generate decent returns with this method, as the hedges smoothed out the returns of the positions. You can get a sense of that from the portfolio we showed above: hedging looks like it will end up lowering positive returns on NVDA significantly by next month, but it will also lower the negative returns on YANG and SCO significantly.
With that in mind, as of Friday, our site's updated potential return for NVDA over the next several months was 26%.
And this was the optimal collar, as of Friday's close, to hedge 500 shares of NVDA against a greater than 15% decline by mid-December, while not capping an investor's potential upside at less than 26% (screen captures below via the Portfolio Armor iOS app).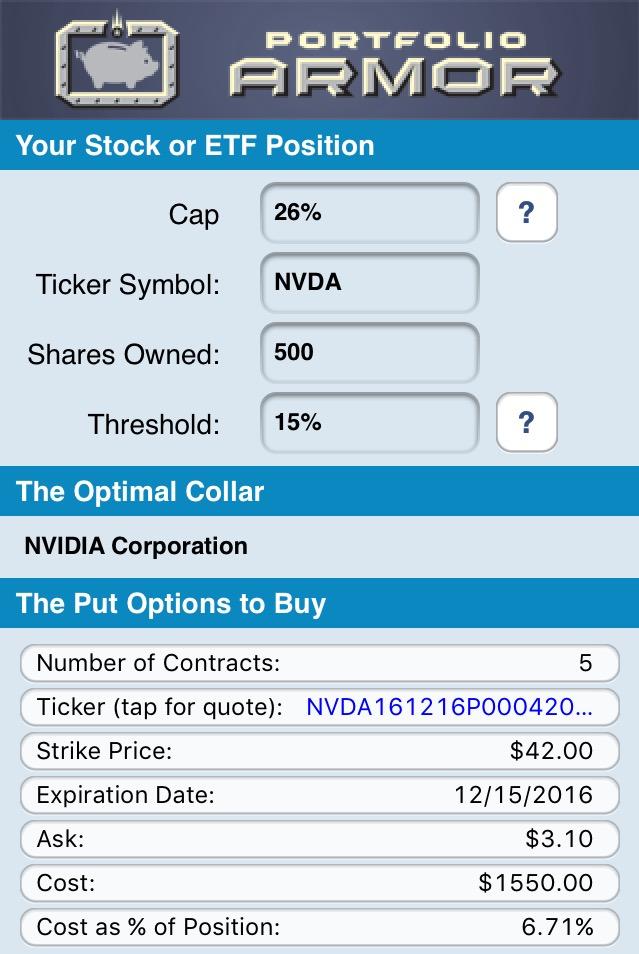 As you can see above, the cost of the put leg of this collar was $1,550, or 6.71% of position value. But as you can see below, the income generated from the short call leg was $385, or 1.67% of position value.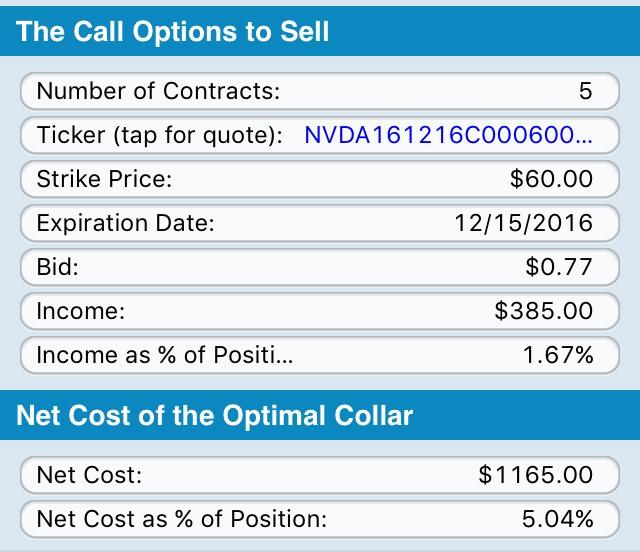 So the net cost here was $1,165, or 5.04% of position value. That cost was calculated conservatively, using the ask price of the puts and the bid price of the calls. Since, in practice, an investor can often buy puts for less and sell calls for more (at some price between the bid and ask, in both cases), the actual cost of this collar would likely have been slightly less.
That said, this cost raises another question: if we know our potential return estimate is likely to be inaccurate, why not instead pick a lower cap that will give us a negative cost (assuming one is available)? We tested that approach and found it generated lower returns, on average. The reason was that the benefit to returns of negative hedging costs was outweighed by missing out on more of the upside of the top-performing names.
Disclosure: I/we have no positions in any stocks mentioned, and no plans to initiate any positions within the next 72 hours.
I wrote this article myself, and it expresses my own opinions. I am not receiving compensation for it (other than from Seeking Alpha). I have no business relationship with any company whose stock is mentioned in this article.