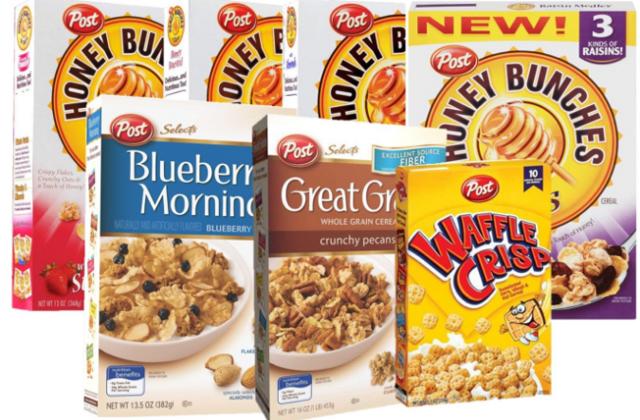 Post (NYSE:POST) can be added to the list of consumer staple stocks that have exhibited tremendous strength against the market in the past few quarters. The push towards the perceived safety of these stocks has served Post well but the company itself has been performing nicely in addition to factors out of its control. I've personally been amazed at just how high Post has climbed given that its growth by acquisition strategy is very expensive and has taken a toll on its balance sheet. But here we are so after Q2 earnings sent shares even higher, let's take a look at the valuation.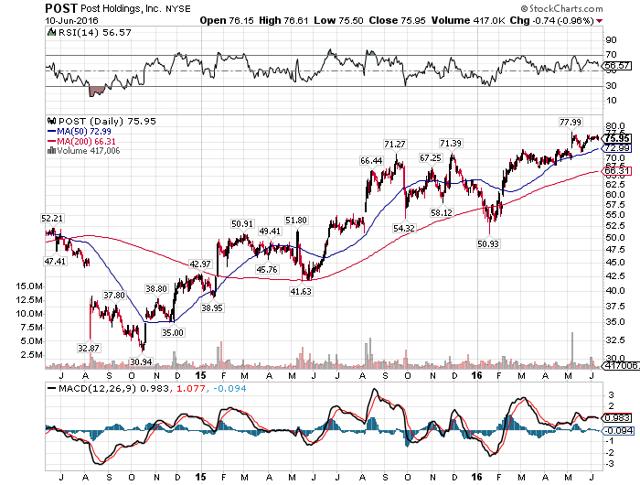 Sales were up 20% in Q2 but on a comparable basis, the gain was less than 1%. Post is constantly buying other companies and in this particular quarter, the acquisitions that were added to the top line were sizable. The company's top line performance has been tremendous in the last couple of years as lots of significant acquisitions are producing nice results. This chart shows the company's torrid revenue growth over the last couple of years and this is a big reason why shares are up so much.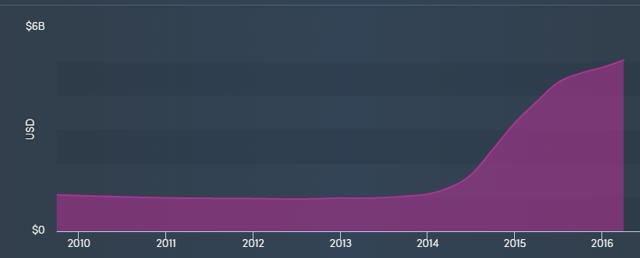 Source: Simply Wall St.
There is an enormous uptick in the top line in the last two years as Post has made some big purchases and many small ones as well. Management has been very aggressive in growing the top line and it has worked despite the extraordinary cost involved.
That cost includes not only the premiums that must be paid to acquire other businesses but also the fact that Post doesn't come close to funding these acquisitions through normal operations. That results in a debt load that looks like this, a curve that has an uncanny resemblance to the revenue chart above: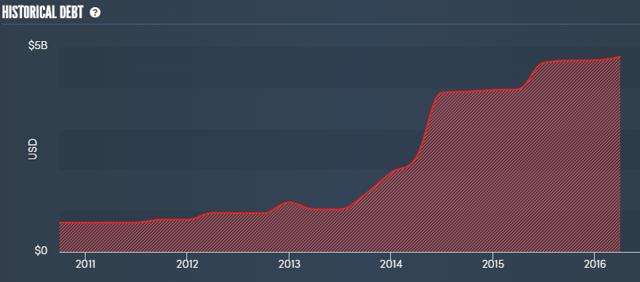 Source: Simply Wall St.
Post now has nearly $5B in debt on its balance sheet as it has borrowed basically all of the cost of its recent acquisitions. That has destroyed its balance sheet and also made it very expensive simply to service the debt. The company is getting away with it for now from investors but how long will that last? No company can continuously deteriorate its balance sheet so Post will likely have to stop with large purchases for a while. Either that, or see its balance sheet in even worse shape than it is today with even higher interest costs.
Margins, to Post's credit, were absolutely tremendous in Q2. Gross margins were up a staggering 6% in Q2 and we also saw some respectable leverage on SG&A costs. This caused operating margins to fly from 4.7% last year to 12.8% this year, a gain that you'd be hard-pressed to find for any company in any industry. There is certainly no denying that Post's recent acquisitions have been tremendous but at some point, the stock will become too expensive.
The reason I don't like growth by acquisition stories is because that is the single most expensive strategy any company can pursue. Just have a look at Post's profit history for the past few years: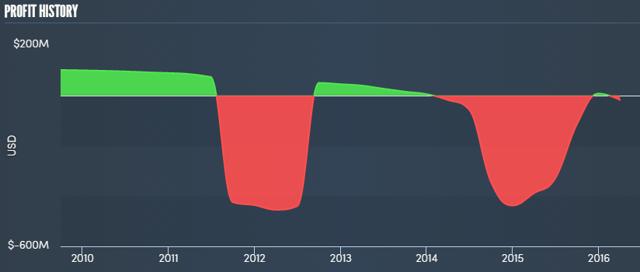 Source: Simply Wall St.
Things like goodwill impairments and even just the costs of integrating new businesses can destroy profitability and while Post was terrific in Q2, how long before we see another dip deep into the red? Also notice that periods of profitability are dwarfed in size by periods of losses; that's not a good situation either.
With Post trading for 31 times next year's earnings despite what should be relatively weak growth rates, I can't help but think shares are moving further and further into very expensive territory. Here's what analysts see for the next couple of years in terms of profit levels.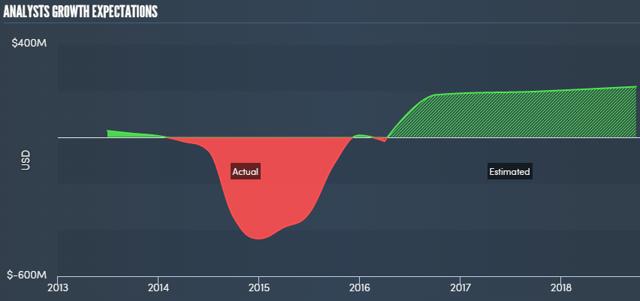 Source: Simply Wall St.
We can see that over the next two years, analysts have Post earning ~$200 million annually against a market cap of almost $5B today and an enterprise value of $8.8B. Those numbers are insane to me and they also assume Post won't buy any other sizable companies in that time. Should it do so, profits will likely be negatively impacted in the short term once again and even this trajectory will be at risk.
I'm not here to deny that Q2 was tremendous for Post because the company is firing on all cylinders. The problem comes in when you look at Post's valuation; how will it grow into an enterprise value near $9B when it is going to make $200 million annually? Cash flow has historically been better than earnings but even so, Post is ludicrously expensive there as well. To be totally honest, there is no way to justify the current valuation because Post is priced for earnings growth it cannot possibly produce. If Post were growing organically, you could potentially make a case, but its organic growth is nonexistent.
I think Post has been caught up in the consumer staple stock buying craze that has sent mediocre companies to soaring heights. And while I'm not saying Post is mediocre, its horrendous balance sheet and the fact that its earnings are very weak relative to its valuation mean that the stock is mediocre at best. I can't imagine paying 31 times earnings for a cereal company with virtually no organic growth and an overly leveraged balance sheet. Buy here at your own peril.
Disclosure: I/we have no positions in any stocks mentioned, and no plans to initiate any positions within the next 72 hours.
I wrote this article myself, and it expresses my own opinions. I am not receiving compensation for it (other than from Seeking Alpha). I have no business relationship with any company whose stock is mentioned in this article.