I have written multiple stories about Marathon Patent Group (NASDAQ:MARA) over its first two years of existence as a publicly traded company. As companies go they have been wildly successful over the first two years of their existence generating 10s of millions of revenues compared to many start-ups who take many more years to generate any revenues and this year they have already set records for revenues and will more than likely double or triple sales from last year. While all this is good and the following chart shows the roller coaster ride shareholders have been on it was at a recent investors conference that CEO Doug Croxall outlined the new corporate strategy that in my opinion makes this the IP monetization stock to own in the space. Also, keep in mind, even though Marathon has only been around 2 years their executives have over 70 years of IP monetization experience and five of their executive team were named to the latest edition of IAM Strategy 300 -- The World's Leading IP Strategists.
Chart courtesy of Stockcharts.com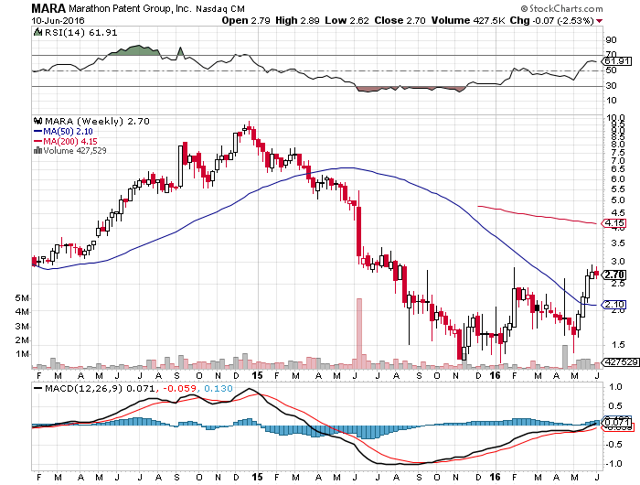 From the LD Micro Invitational conference presentation on June 8th that can be found on their website I have summarized the important facts below:
The company will be focusing on a two pronged strategy going forward. The first will be future licensing will consist of quarterly payments instead of lump sum judgments. These payments will be spaced over a 1 to 3 year window which provides much better visibility for investors for revenues and earnings making it much easier to come up with a realistic company valuation. The second corporate thrust is going to be the continued commercialization of IP. The recent example announced on their subsidiary 3D Nanocolor is the first example of what is planned to be many commercialization opportunities. In this case 3D Nanocolor is technology that was developed by Hewlett Packard (NYSE:HPE) and is now licensed by Marathon. Marathon is taking the technology/ IP and company assets/personnel and funding the development to get to actual revenue generating products. They will raise money for the company and eventually take the company public and spin it off to current Marathon shareholders. If all goes according to plan Marathon shareholders will end up with shares in a very valuable company that could turn out to be worth many multiples of Marathon's current market cap. If they can start the commercialization of one new entity per quarter this amasses a huge pipeline of potential value for current Marathon shareholders independent of any licensing litigation.
Another critical area that was discussed is refilling their current pipeline of potential licensing opportunities. Marathon has done an excellent job of procuring valuable intellectual property and then licensing to various companies. The latest example with Apple (NASDAQ:AAPL) who rarely settles with anyone shows the strength of their tools they have developed to understand a patents potential value. While there is still plenty of licensing opportunities going forward with the current portfolio it's their strategy going forward to refill the pipeline that makes them the best play in this space. From the conference Doug Croxall explained going forward they would be working with companies that have large IP portfolios but no way to monetize them. A perfect example of this would be Yahoo's latest news about wanting to sell their $1B IP portfolio to a third party. The reason they want to do this is they have no way to monetize what could be a huge asset on their books. In steps a company like Marathon to take over the monetization while taking their cut but also bringing value back to the original company. This is a great plan as more and more fortune 500 companies find themselves looking for ways to monetize assets to increase shareholder value without having to spend any additional investment dollars. Plus it is much easier to monetize IP when getting it from a company that uses their own IP every day. Showing potential damages and value is straightforward and many of the cases will just involve signing a license with not even a threat of litigation. What makes this such an important key fact is in the next 30 to 60 days Marathon will announce their first of what will hopefully be many companies they will be partnering with to monetize their portfolio. Depending on what companies and what technologies they have IP in this could be the most important event in Marathon's short history.
Another important fact is Marathon is ramping up its European group to find potential IP to acquire. This group, led by perhaps the most well-known IP monetization person in the world, Eric Spangenberg, has already been very active and seems to be just getting started. As noted in my most recent article the German courts are much better technically with IP and fairer when it comes to making sure both parties get a fair deal. The use of injunctions gives the plaintiff a reasonable path once the chance of infringement looks likely which encourages settlements. Companies can't hide behind delay tactics as used in the US courts to deny plaintiffs justice.
Another note from the conference is the fact that Marathon has not used any of the $2M they have authorized for potential share buy backs. While a buy back does not impact its long term viability it does show the company believes its stock is well undervalued and typically when it spends money on intellectual property it is looking for a 10X return on its investment. I would expect that would be the case here once they start buying back shares.
Risks
As with any microcap investment the risks must be looked and a decision made on how high the risk is verse the possible rewards. The risks as I see them are several fold. Can they refill the pipeline with quality IP assets that can be quickly monetized? Who are the companies they are going to work with going forward? What is the current capital structure of the company? These are all questions that should come out in the next 30 to 60 days as discussed at the conference. The capital structure won't be known until the next 10q comes out maybe as late as mid August. While the company seems to have enough cash after the recent settlement with Apple it is hard to know exactly what their debt is at. While I don't think it's a critical item and announcing a share buyback seems to imply that they are in good financial shape, seeing the actual cash verse debt and the payback schedule is very important long term for the company's success.
In the patent monetization field innovation and invention are rewarded. Marathon Patent is going through a metamorphose that will make them the IP play to own going forward. By focusing on partnering with large companies to monetize their portfolios and commercializing IP to spin off to current shareholders they have potential to be worth 10X their current valuation in a few years. There are not many companies out there today that have such a clear path to success, a team of industry recognized heavy weights and a track record of IP monetization success that indicate the rewards could be many times over the potential risk of this investment.
Disclosure: I am/we are long MARA.
I wrote this article myself, and it expresses my own opinions. I am not receiving compensation for it (other than from Seeking Alpha). I have no business relationship with any company whose stock is mentioned in this article.
Editor's Note: This article covers one or more stocks trading at less than $1 per share and/or with less than a $100 million market cap. Please be aware of the risks associated with these stocks.