Introduction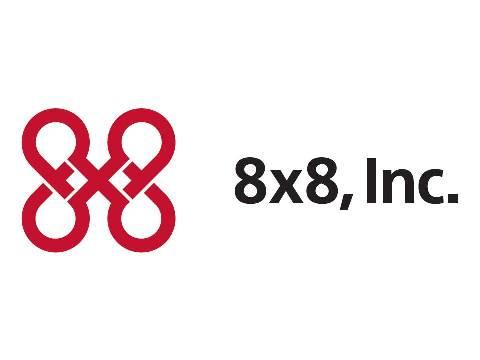 For those who are not familiar with 8x8 Inc. (Nasdaq:EGHT), the company was founded in 1987. Their main competitors in the industry are Cogent Communications (Nasdaq:CCOI), Consolidated Comms Hldgs (Nasdaq:CNSL), Frontier Communications (Nasdaq:FTR), and most of all, Vontage Holdings (NYSE:VG).
Th company has about 810 employees and is in the communication services sector of the telecom services industry. They provide cloud communication solutions internationally. 8x8 was originally branded as a residential VIOP company, but after getting beaten badly by Vontage in the space, they transitioned into networked communications.
Despite lackluster value metrics, 8x8 has outperformed its peers consistently over the past five years. The company will be reporting earnings in a week, and after a stellar May in which the stock gained 12.6%, they will have to produce good numbers to justify the current valuation.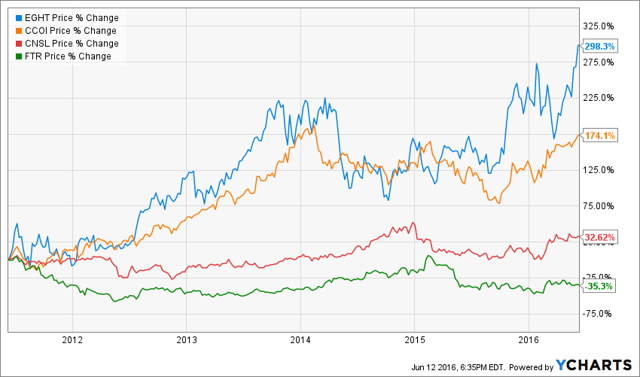 EGHT data by YCharts
Financials
8x8 Inc. reported revenue of 209.34M for the past 12 months, which came out to be 0.6554 per share. Their Q4 revenue was 31% higher than the same quarter the previous year. Hence the spike in price after their Q4 announcement. This quarter, the company logged a net income of -5.12M. Looking forward, the consensus EPS long-term growth rate is 17.89%. CFO May Ellen Genovese projects TTM revenue growth of 20% while maintaining current net margins.
As of right now, 8x8 Inc.'s P/E ratio is negative, compared with the industry average of 16.82, but we may see a significant change in share price depending on the results of the earnings announcement. The shares posted a 52-week high in June this year. Over the past 12 months, 8x8 Inc. has an ROE of -1.88%, an ROA of -1.69%, and an operating margin of -3.38%. Compare this to industry averages of 14.17%, 4.12%, and 14.64%, respectively. This quarter, 8x8's R&D expenditure increased by 59%, a positive sign for the young company.
EGHT data by YCharts
Much of the market is dominated by Vontage, whose 227 million in revenue and ~3.5% net margin last quarter continued their trend of consistent growth. Vontage has been growing at about 3-4% annually. 8x8, on the other hand, has experienced tremendous growth over the past five years. The price has tripled in that time frame, reflecting their perceived growth potential. The industry as a whole has a great deal of potential for growth.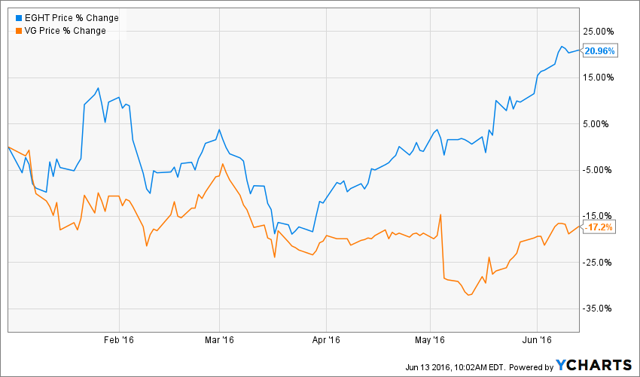 EGHT data by YCharts
The main problem I have with 8x8 is that despite growing revenue quarter after quarter, the company still cannot manage to turn a profit. Much of this is due to the company's reluctance to leverage their excellent balance sheet and take on more risk. I just think the company is being too conservative and won't be able to profit on an international level unless they take advantage of economies of scale.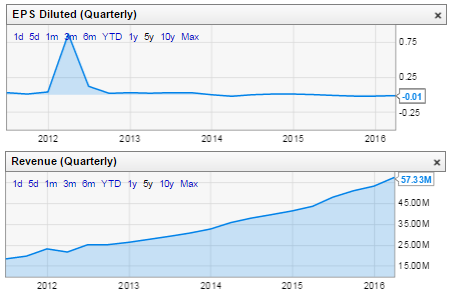 EGHT data by YCharts
Earnings Announcement
8x8 Inc. is scheduled to report earnings after market close on 7/22/2016. Consensus estimates have the company on the hook for 0.03 per share on revenues of 57.92M. This will be an increase of 148% over this past quarter's -0.0623 per share if the estimates are correct.
This company does not seem to be trading cheap going into earnings. With an earnings yield of -0.45%, continuing ops earning yield of -0.42%, adjusted cash earnings yield of 0.32%, no dividends, and a market cap to sales ratio of 5.883, 8x8 ranks in the bottom 10th percentile in value metric across the board. The only brighter spot is the book to market ratio of 0.2235.
However, the company does have very strong fundamentals. 8x8 has positive revenue growth, a five-year ROE of 22.81% (coupled with long term debt < 5x average net income), average cash flow of 11.27 over the past 10 years, a current ratio of 5.352, and a D/E ratio of 0.1386.
Out of 10 analysts covering the stock, eight rate this stock a buy and two a hold. I am more comfortable in the $10-12 range. What I do like about this company is that they have recently shifted into more long-term contracts, providing shareholders a bit more predictability.
What I don't like is that they have not proven that they will scale to the point where their business will be profitable. Revenue growth without EPS growth is not attractive, especially at the current price.
Disclosure: I/we have no positions in any stocks mentioned, and no plans to initiate any positions within the next 72 hours.
I wrote this article myself, and it expresses my own opinions. I am not receiving compensation for it (other than from Seeking Alpha). I have no business relationship with any company whose stock is mentioned in this article.