Microsoft (NASDAQ: MSFT) announced that it has reached an agreement with LinkedIn (NYSE:LNKD) to acquire the professional social network company for a jaw dropping price $26.2 billion. It will be an all cash deal so Microsoft shareholders will experience all losses/gains resulting from the merger in the future.
This is a very bold move by Microsoft. The price tag isn't exactly low. $26.2 billion is 7% of Microsoft's current market cap. Because the deal is in cash, the equity value of Microsoft will decline after the deal (LinkedIn's book value is just $4.6 billion), but the hope is that LinkedIn can earn it back in later years.
But will it be worth it? From a purely financial perspective I believe that this acquisition will be a major failure. LinkedIn didn't make money last year, posting a loss of $166 million in 2015. The loss accelerated in Q1 to $45.8 million/quarter. A possible appeal could be the "healthy" operating cash flow that the company has generated in the past. There is a clear divergence between what the company earns in GAAP net income and how much cash it collects.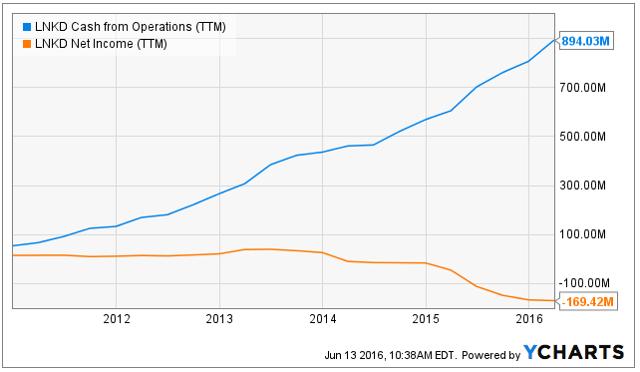 Click to enlarge
However, a significant portion of operating cash flow consists share based compensation; 58% of the operating cash flow in Q1 consisted of such expenses. While equity compensation does not represent a direct cash outflow, there is no doubt that it represents a real cost (e.g. dilution or subsequent buybacks). Unless Microsoft plans to cut everyone's pay, these equity rewards will likely take the form of Microsoft shares or cash (i.e. real costs). After adjusting for this cost, we should be look at $400-500 million of cash flow per year. This implies a P/CF multiple of 52x to 65x, still expensive by any measure.
Two Different Philosophies
If Microsoft plans to trim some fat from LinkedIn (i.e. cut costs), the acquisition would look a lot more attractive. Unfortunately, it would appear that Microsoft has no plans to do so. Per the press release, LinkedIn "will retain its distinct brand, culture and independence." Jeff Weiner will also remain as the CEO. I also believe that the goals of the two companies are simply too different to work as a cohesive entity.
Under Jeff's direction, LinkedIn spent $1.5 billion on an acquisition that didn't make any financial sense (read Lynda.com Was A Mistake). There is a clear difference between Microsoft's goal and LinkedIn's goal. The former is returning capital to shareholders (e.g. the planned buybacks, dividends), while the latter is pursuing growth at any cost. What sort of synergy can be achieved by merging the two? What we do know is that LinkedIn now has access to Microsoft's piggy bank, and who knows what sort of growth initiative Jeff has planned for us in the future?
Your Takeaway
Microsoft will now have a fast growing company under its wing, but at what cost? Not only is the upfront cost prohibitive (all cash at that), there is also no plan in place to turn LinkedIn's profitability around. If the Lynda.com acquisition was any indication of LinkedIn's future direction, Microsoft shareholders can continue to expect growth-oriented acquisitions in the future at the expense of profit.
Click the "Follow" button beside my name on the top of the page to be updated with my latest insights. To learn more about the V20 Portfolio (+40% in 2015), whose goal is to compound capital at 20% over the long term, I encourage you to read the introduction to my investment process. Premium subscribers get full access to the V20 Portfolio. Track the portfolio through the latest update, here.
Disclosure: I/we have no positions in any stocks mentioned, and no plans to initiate any positions within the next 72 hours.
I wrote this article myself, and it expresses my own opinions. I am not receiving compensation for it (other than from Seeking Alpha). I have no business relationship with any company whose stock is mentioned in this article.