Recently, at an ACG luncheon event in New Orleans, I had the opportunity to hear from Ben Bell, Vice President of Products at Activision (NASDAQ: ATVI). As you would expect, his speech about the Company began on an empty canvas in which he painted an endearing and flattering mosaic, filled with the positive market sentiments of today and favorable growth trends of tomorrow. Mr. Bell delivered his presentation with poise and exuberance as he explained to a crowded room how Activision has become a positive force throughout society by providing hundreds of millions of people a platform in which they can express themselves in different ways and by delivering not just a product but also a social experience through entertainment. Driven by Mr. Bell's passion, insistence and perceivably genuine faith in the Company, I decided to delve into the prospects of Activision in the most objective manner possible with my own blank canvas and discover if mine became as colorful as his. In addition, I wanted to determine how his company compared to its most closely-related rival, Electronic Arts (NASDAQ: EA).
If there is one lesson I will remember from Aswath Damodaran's valuation courses, it's to understand that every analyst begins the journey of valuation with a predetermined bias that shapes the dynamism and direction of that valuation. In other words, there tends to be minimal objectivity embedded in the initial stages of valuation where we determine the sustainability of an investment in the future because we have a preexisting emotional connection to the underlying investment. As a millennial, I grew up experiencing one of the most transformative technological and innovative changes for gaming in history, so as an audience, you should know my bias initially leans long, but for no company in particular.
Browsing through the comment section on similar articles, one comment really stood out to me, and the comment stated that the article would have been profoundly better if the contributor would have offered his personal perspective of the games that he spoke about. So, before diving in to the analysis, I, too, think it would help my readers to see and understand where I'm coming from. As a long-term and current consumer of the products that both Electronic Arts and Activision sell, my desire for the experience offered by these companies has changed little over the past almost ten years. I was always an ardent player of both Call of Duty and a range of EA products, such as Madden and the FIFA series, but I found that as I grew older, I transitioned to Battlefield as my primary first-person shooter. The reason being is that I felt it was a more adult-oriented game which required more teamwork and strategy to achieve objectives. Also, the realism in comparison to COD was palpable. But what's important to note is that while I spent more time playing the Battlefield series and believed more strongly in its platform as a FPS, I would still buy every single COD that was released simply because it was and still is such a ubiquitous game that is relatable to almost any one that you meet, and you run the risk of being on the outskirts of the social gaming engagement if you don't allow yourself the option to have COD accessible if needed. So, as the gamer base becomes older and thrives on more serious forms of FPS, the reality is that COD is such a household product amongst the widest demographic of gamers that, if afforded the option and ability, most people will buy both. Also, individuals that are growing older and seek different components to games are swiftly replaced and probably outnumbered by the amount of newer, younger gamers entering into the market. That is my perspective and my current relationship with both companies. With that being said, let's jump to the initial value indicators and see how Activision compares to its comparable public peers.

Click to enlargeSource: Capital IQ - $ amounts in millions
At first glance, it's apparent that Electronic Arts is close to a spitting image of Activision and is the closest thing to a pure comp that you can ask for in a valuation. When you have two companies with close similarities in both market value and in top-line sales generation, it's often only after you begin peeling away at the outer layers of the companies when you determine the major differentiators inherent in each business model. Once a company reaches a certain level, making the money is always easier than keeping it, and that is where the differences will be present. The first component of this comp sheet that pulsates a gleaming gold is the similarity in market cap but distinct difference in Enterprise Value. As we know, EV is simply calculated as market cap, or equity value, + debt - cash, or simply market cap + net debt. So why the difference? Activision's cash position has decreased significantly over the last fiscal year due to the King acquisition. As a part of the acquisition, $3.56 billion was to be set aside in a cash escrow account, which was listed as a non-current asset on the balance sheet ended December 31, 2015. As of the Company's most recently released balance sheet of March 31, 2016, the funds have moved out of escrow, and the Company's cash balance has increased by $1.0 billion to $2.87 billion. However, the Company's balance sheet is laden with long-term debt. As of the three months ended 2016, the Company has net long-term debt of $5.78 billion, which gives it a Debt/EBITDA ratio of 3.63. Not abysmal, but not ideal. For comparison, EA's D/E ratio, even including $161 million in current portion, is 1.07. Certainly a variable to consider when determining risk in an investment decision.
As of the King acquisition, the Company entered into a credit agreement for a $2.5 billion secured term loan facility and a $250 million secured revolving credit facility. It also issued $1.5 billion of 5.625% unsecured senior notes due in 5 years and $750 million of 6.125% unsecured senior notes due in 7 years. On a positive front, the Board of Directors authorized debt repayments of up to $1.5 billion of the total outstanding debt during 2016, and as of March 31, 2016, management has reduced total outstanding term loans by $500 million. On a negative note, a year earlier on Feb. 3, 2015, the Board of Directors authorized a stock repurchase program under which the Company can repurchase $750 million of its common stock, and as of March 31, 2016, 0 shares have been repurchased.
Conversely, EA's share repurchase program has been a different story. During FY 2016, the Company repurchased approximately 1 million shares for $57 million under the May 2014 program and has repurchased approximately 6.9 million shares for around $461 million under the May 2015 program. As an added bonus to shareholders, in February 2016, management announced a new $500 million stock repurchase program, which was incremental to the existing two-year $1 billion program of May 2015. As of March 31, 2016, the Company has repurchased around 7.8 million shares for the allotted amount of $500 million and will continue purchasing shares under the May 2015 program.
So, there are two different dynamics occurring within the core of these two businesses. Depending on how you view the sustainability of Activision's capital structure, this could influence the feasibility of the investment for you. But it's important to understand the purpose of why companies inherit large debt balances and its intended use. Activision's debt expansion is a byproduct of its quest to maintain its position as the world's largest gaming network. Over the last five years, mobile phones has become a dominate force in the gaming market. With their lower cost of entry, mobile phones are cheaper, more simple, and there's a broader global market than with PCs and gaming consoles. Also, the mobile market is eight times the size it was five years ago and is projected to grow 64% over the next five years. The following was written by Activision's CEO, Bobby Kotick:
"Despite the size of the opportunity, we approached the mobile market with caution over the last few years. The type of games that are successful on mobile phones, and the way you make and market these games, is different from games on PCs and consoles. We didn't really know how to do this well. To take advantage of this opportunity, we decided to acquire a company with the skills and capabilities to make mobile games. We needed to find one that met our stringent criteria for how we allocate capital through an acquisition. With King we hit the ball out of the park. Like Activision and Blizzard franchises, King games can be expanded and nurtured year-round. King also has incredible potential upside from the careful integration of advertising into their games. Their network is bigger than Twitter or Snapchat, and they have well over 20 billion hours of game time to monetize."
In addition to the steep investment in the future of mobile games with the King acquisition, Activision also purchased MLG ("Major League Gaming") for $46 million in an effort to expand its influence and diversify its revenue streams across multiple channels. In an effort to prime this horse with the sturdiest saddle, the Company hired two heavyweights to run the newly founded division: MLG co-founder Mike Sepso and former ESPN head Steve Bornstein. The new deal will also see MLG's other co-founder Sundance DiGiovanni joining the party. According to research firm SuperData, over 130 million people worldwide now regularly watch eSports tournaments and events. While Activision will profit initially from the sponsorships and advertisements, the true gold is struck when it can develop a devoted and enthusiastic community of gamers to which it can perpetually sell products to. So, the idea here is that the debt is being used in a manner that may cause short-term sacrifices, such as the stock repurchase program, but has the potential to add significant value to the Company in the long-term. Let's look briefly into the esports franchise.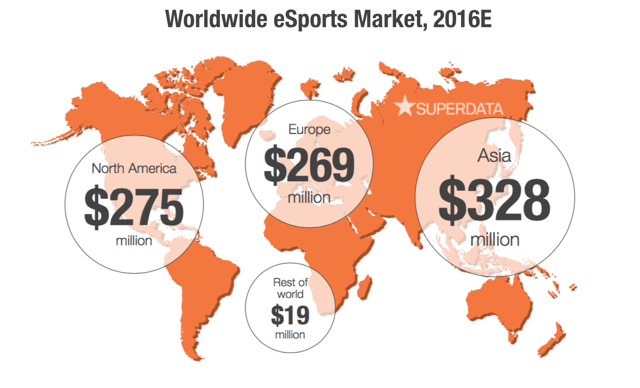 Click to enlarge
Source: Superdata
Drawing on some data found in the 2016 esports report, research company Superdata determined the total value of the esports revenue to be $892.8B and predicts that value to exceed $1.1B by 2018 as a result of direct revenue source sources, such as betting sites and amateur tournament platforms and indirect sources, such as advertisement. The following is a list of the report's main points:
Over 213.8 people watch competitive gaming this year, and is on track to reach a global audience of 303M by 2019E.
Global revenue for the worldwide eSports market totals $892.8M in 2016E, up 19% YoY.
Asia leads the current global eSports market with $328M in revenues, followed by North America ($275M) and Europe ($269M).
Direct consumer revenue grew 36% YoY, as eSports enthusiasts spend $231M on tickets, merchandise and prize pool contributions, among others.
eSports audiences are predominantly male (85%), and nearly half (46%) are between 18 and 25 years old.
CEO Bobby Kotick exclaimed that the motivation behind the esports acquisition was to create the "ESPN of esports." With the new live streaming coverage platforms that will bring live tournament coverage to MLG.tv and also every day leisure gaming on gamers' Facebook timeline feeds, it seems apparent that Activision is taking the strategic measures to accomplish this goal.
Jumping back to the comp sheet and in to the enterprise value metrics, it is again noticeable how similar the two companies are in terms of market perception. Activision currently trades at slightly higher revenue and EBIT multiples, but these differences are negligible. The disparity in price/diluted shares outstanding is indicative that Activision is more highly priced in the market compared to EA, and the reason is the expectations the market has for Activision exceeds that of EA. This is justifiable considering Activision is projecting year-over-year increases in revenues of 34% and EPS of 45%, driven by these new sources of revenue. Also, as described in detail in another contributor's article, Activision's partnership with Facebook will allow PC users to stream their gameplay from their computer onto their Facebook timelines via a "Go Live" capability. Hopes of the success monetization of this partnership is being built into the stock. Gamers will be able to stream Overwatch, Hearthstone: Heroes of Warcraft, and World of Warcraft. The reason this is a prudent strategy is because of the simple ideology of advertisement which is just be there. Be a presence in the minds of the consumer. In an effort to expand the esports franchise, this integration will give Activision access to Facebook's 1.65 billion users and allow these users to socially engage with their friends while serving as an advertising vehicle for the Company. This is the first dagger in the heart of Amazon's $1B, sweetheart acquisition of Twitch. Twitch's viewer count reach 277 million last month towards its most popular games, and to compare scale, Activision's Hearthstone: Heroes of Warcraft was the second most watched live-streamed game worldwide last month with 49.5 million hours viewed. Users will need a strong incentive to make the switch from Twitch to a dedicated Facebook streaming user because Twitch has spent years optimizing its platform to the desires of its consumers. The direction of long-term success for the partnership is up for debate, but it's invigorating to witness Activision taking strategic steps in the direction of market share expansion and not being afraid to take on the role of David (vs Goliath) in a new market.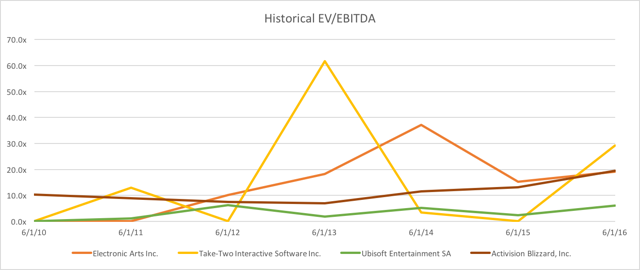 Click to enlarge
The chart above displays the historical EV/EBITDA multiples across the comp set. The most volatile of all companies was Take-Two, ranging from "NM" to over 60.0x multiples, which shines some light on the mercurial nature of being a small player in this business. Generally, EA & Activision traded similarly until the end of FY 11 where EA's multiple steadily rose to a high of around 38.0x. Since that peak, the market has readjusted its expectations for the stock following a series of unfortunate events, and the stock has traded directly in line with Activision, which for the past five periods has shown discipline, sustainability and control in a turbulent market environment.
EA's 4Q16 results look fantastic, and it's future game pipeline looks exciting, as well.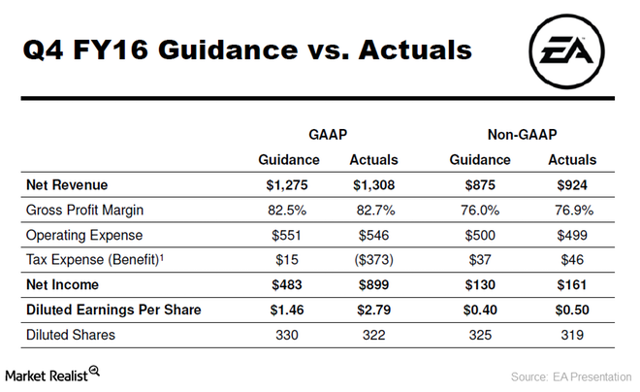 Click to enlarge
Driven by the sales of Star Wars: Battlefront and growing digital revenues, the Company was able to beat guidance by a wide margin. EA sold over 14 million units of the game in fiscal 2016, and digital revenues rose by 18.3% to $712 million. Revenues from full game downloads rose by 18% to $134 million and EA's revenue from mobile games also rose by 15% YoY to $173 million, as a result of better-than-expected performance by Star Wars: Galaxy of Heroes and Madden NFL. Most impressive to me is the FIFA Ultimate Team extra content revenues rising by 26% to $310 million in 4Q16. It's much more difficult to entice a gamer to spend additional money on top of the $65 it costs to purchase the game initially, but EA has done a venerable job of doing so this past fiscal year.
As projected, Star Wars: Battlefront was and continues to be a huge success. After it's debut in November 2015, the game has become one of the top five most downloaded games in over 130 countries and exceeded expected units sold by over 10%. In addition, the Company's Sims 4 player base increased 67% YoY and total unique players increased 65% to 54 million YoY. Now, my personal opinion having played the Star Wars game, and I have spoke with other individuals who feel the same, is that the exclusion of a story mode or anything besides essentially a ground and pound online multiplayer has left a sour taste in my mouth, and I will assuredly not be purchasing the next one. I am much more enticed by the open-world platform offered by Activision's Destiny, where users are encouraged to work together to achieve ambitious goals and undertake various missions instead of just a simple fight-against-each-other multiplayer. Nonetheless, EA has proven gracefully its ability to capture the attention of its audience and cast such a large portfolio of riveting games that you're ensured to become entangled within the net. And it's apparent that EA knows this, as they are projecting 2017 full-year, non-GAAP revenues of $4.9B, which represents an 11% YoY increase.
In conclusion, I think my tone throughout this article was apparent in that my chips on the table are being bet on Activision for the better long-term success. While I think both companies make for solid long-term investments, especially EA with its dedicated stock repurchase program, I am more confident in Activision's ability to generate long-term value due to its strategic initiatives to diversify its revenue streams with smart acquisitions, increase market share and brand awareness through partnerships with active-user titans such as Facebook and esports, and ultimately because of its willingness to initiate large investments towards the direction of its industry and adapt to the changing tides. I now understand why Mr. Bell was so enthusiastic about his work at Activision, and I can now say unabashed that my blank canvas transformed into an endearing and flattering mosaic, filled with the positive market sentiments of today and favorable growth trends of tomorrow.
Disclosure: I/we have no positions in any stocks mentioned, and no plans to initiate any positions within the next 72 hours.
I wrote this article myself, and it expresses my own opinions. I am not receiving compensation for it (other than from Seeking Alpha). I have no business relationship with any company whose stock is mentioned in this article.