By Contributing Analyst Nathan Sell
The one thing that can always be counted on is that the stock market as a whole will have its ups and downs over the years. That being said, despite problems in Europe, China, and speculative interest rate spikes, we are currently in one of the longest bull markets in history. Sure, there have been slight corrections now and then, but since 2009 there have been no huge crashes even close to comparable to the 2000 tech bubble or the 2007 housing crash. The question now is how long this bull market can last, and if (and when) it crashes, where we can seek shelter. The answer, in my mind, is big tobacco.
Tobacco stocks have been an extremely profitable play in the recent past, as shown by the chart below, with Altria Group (NYSE:MO), Philip Morris (NYSE:PM) and Reynolds American (NYSE:RAI) up 10.2%, 12.8%, and 7.8% YTD respectively compared to the S&P 500, up only 2.5%. Altria and Reynolds in particular have been growing splendidly over the past 5 years while paying steady dividends to their loyal investors. Taking a position in Reynolds or Altria will be a smart move, and today I will be focusing on why Reynolds American will help to keep your portfolio safe.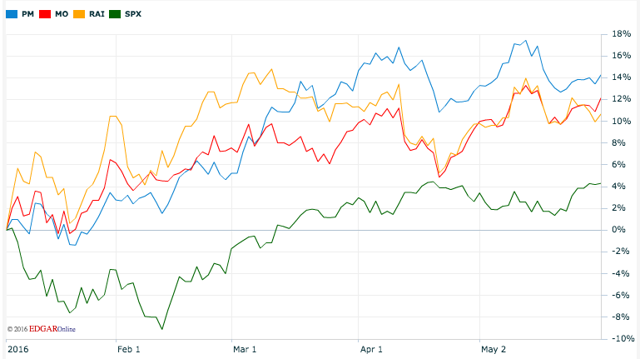 Click to enlarge
Before delving into the financials and the specifics of RAI, it must be addressed that RAI is indeed a "sin stock". With that in mind, many people have problems investing in companies that produce products that are not good for individual health. By writing this article, I am not encouraging use of tobacco products or the production of such cancer causing devices. I, however, operate under the attitude that the company will continue to operate regardless of if I invest in it or not, and if it shows the potential to make a return on my investment, I should be extremely open to the idea.
Reynolds American is a tobacco giant with strong divisions in the cigarette, snuff, and vapor markets. They are the parent company of R.J. Reynolds Tobacco Company, Sante Fe Natural Tobacco Company, American Snuff Company, and R.J. Reynolds Vapor Company, along with a few others. Leading brands include Camel, Newport, Natural American Spirit (an organic, non additive brand), and Pall Mall, the four of which make up 93% of their combustible portfolio and hold a 32% combined market share in the combustible market. RAI also owns moist snuff brand Grizzly (30.8% snuff market share) and vapor brand VUSE. They have recently had huge growth engineered by the acquisition of Lorillard (previous owner of Newport). As Newports become more integrated into the manufacturing of Reynolds, their segment margin will only continue to rise and become more and more profitable in the long run. These Newports are menthol cigarettes, a flavored cigarette becoming more and more popular with young people under 30 and African Americans due to marketing directed toward these demographics. It is important to note that menthol cigarettes have recently been announced to be banned in the EU by 2020. There have been debates about whether the U.S. will follow suit, but either way I believe Reynolds can keep strong sales with other products.
Along the lines of other regulations, e-cigs and vapes have now come under scrutiny. In an effort to keep the vaping trend from spreading more in high schools among minors the FDA has passed regulations that require extensive pre-market testing on vape products estimated to cost around $1 million per product. Although this may sound like a bad thing for a tobacco company like RAI, there is an upside to it. With this expensive fee for testing, it will be harder for new or smaller companies to break into the industry. The major profits that RAI and the other big tobacco companies enjoy will be more than enough to cover the fees that discourage smaller companies, leading to less long term competition. The U.K. and Canada have also recently released regulations that will require cigarettes to be sold in uniform packaging. I do not see this as seriously problematic for the big tobacco companies, as brand loyalty is huge in the market. Asking for a certain kind of Camel will be just as easy as before, just look slightly different.
As of June 8, RAI is sitting at a price of 50.59, just slightly below its all time high of just over 52. The EPS of RAI has been steadily rising this past quarter up 13.6% after adjusted EPS at $0.50 taking into account the sale of Natural American Spirits rights for business outside the U.S. There has been a YOY revenue increase of 41.8%, up to $2.9 billion from 1Q15 to 1Q16, due in part to the addition of Newport. This hit analyst estimates pretty much right on the head. The company really shines in regards to dividends, currently offering a 3.38% dividend that has been unwavering since RAI first went public. This dividend allows investors to get paid to wait for growth, as well as get paid in growth.
The forward P/E is right on track with the industry, at 19.35 as compared to MO's 19.74 and PM's 20.84. The reason I see this valuation being slightly lower is the failure to fully compensate for the Lorillard acquisition. As stated before, when Newport's manufacturing is fully integrated into the company, I believe there will be cost savings and increases of value from economies of scale that will be recognized. Reynolds also boasts a healthy .99 current ratio with liquidity sufficient enough to pay off debts. An inventory turnover ratio of 3.09 is flat from Q415 and shows that the company is effective in moving inventory through the supply chain, even with the added volume.
One of the biggest upsides to RAI is the lack of downside risk. With a beta of .40, the stock is the least volatile of the big tobacco stocks which are inherently nonvolatile. The nature of their product means that people will continue to use tobacco no matter the economic status of the country and volume will remain largely unchanged. Being able to keep revenue and profit up will allow for stability in price and continued dividends even in times of a recession.
As with any tobacco stocks, RAI does have some slight risk, namely increased regulation or taxation of the industry. We are seeing the U.K. and Canada begin regulations. If the United States clenches their fist on tobacco, RAI will suffer. However, with the amount of economic power and interest that big tobacco has, I do not see strict regulation coming anytime soon. In the meantime, sit back, relax, and enjoy the profits rolling in.
Disclosure: I/we have no positions in any stocks mentioned, but may initiate a long position in RAI, MO, PM over the next 72 hours.
I wrote this article myself, and it expresses my own opinions. I am not receiving compensation for it (other than from Seeking Alpha). I have no business relationship with any company whose stock is mentioned in this article.