This Week
The National Oceanic and Atmospheric Administration (NOAA) issued its population-weighted, cooling degree-day (CDD) forecast for the week ending June 18th. It predicts that CDDs will be 22% higher-than-normal this week, but 14% lower than they were in the same week a year ago.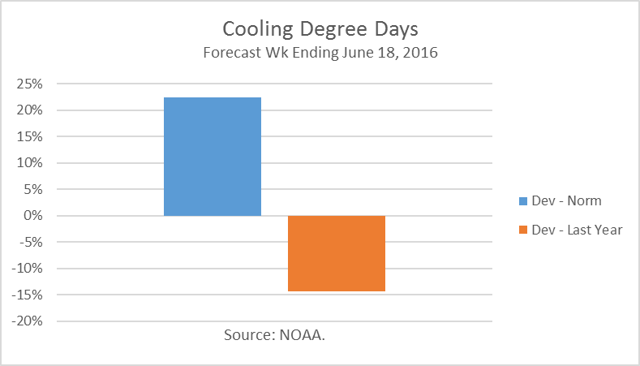 Click to enlarge
For the CDD season-to-date, which begins in the dead of winter, CDDs are 16% higher-than-normal and 7% lower during the same period last year.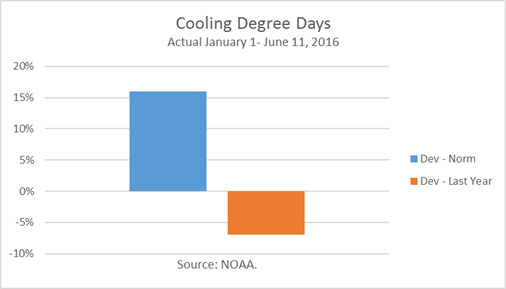 Hotter-than-normal temps over the past few weeks have limited the build in natural gas storage, slowly reducing the size of the inventory glut. For the week ending June 3rd, the surplus is 28.5% vs. a year ago, and 32.1% vs. the 5-year average. Last week, I showed that the year-over-year surplus would disappear in the November-December time frame, based on EIA's normal temperature assumption beyond July.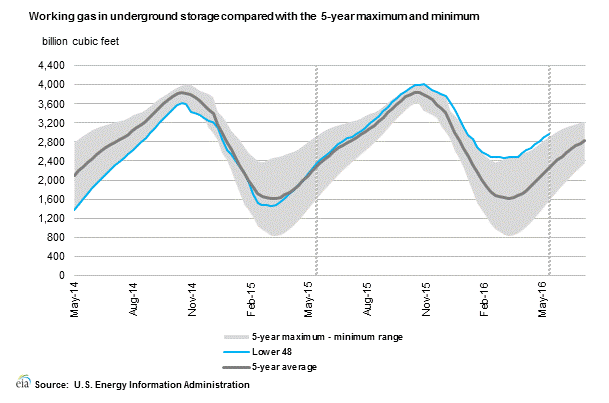 The El Niño weather pattern has officially ended and the La Niña weather pattern is highly likely to develop by the end of the summer, according to NOAA. In the meantime, during the transition, odds are that this summer will be very warm, particularly in the United States, where, for the last two months, every single state has been warmer than average.
The last time we were in a La Niña phase was the 2011-2012 season. While it was considered a weak one, it did bring the typical warmer than average temperatures, with several days topping 100° during the year.
As I previously discussed, Bill Kirk, CEO of Weather Trends International (WTI), is forecasting a scorching hot summer and severe drought from the Midwest into the Northeast. For the core July-August summer months, WTI predicts the Midwest having +30% more cooling degree days (CDDs) than average and +59% more than last year. Natural gas usage is highest in the mid-continent. In the Northeast, core summer month CDDs are expected to be up 17% compared to average and 21% versus last year.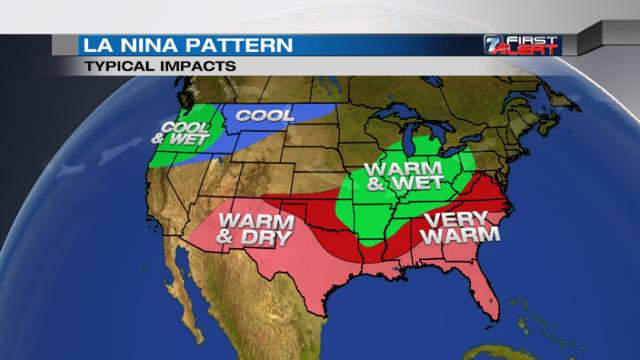 Click to enlarge
Winter Weather Impacts
As indicated below, a strong La Niña could mean very cold weather in the upper three-quarters of the U.S. WTI predicts that there will be an early start to winter with the La Niña pattern among other 23 cycles they monitor. For December in New York City, WTI projects 19% more heating degree days (HDDs) than normal and a whopping +112% more than last year. It would be the coldest December in 16 years. For a video discussing WTI's summer and winter predictions, click here.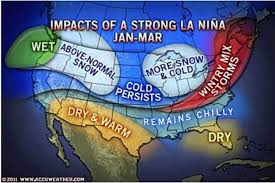 Conclusions
Weather trends are likely to continue to support reducing the size of the glut, and are supportive for prices. However, traders need to take into account how volatile natural gas prices can be and manage their risk exposures appropriately.
Disclosure: I/we have no positions in any stocks mentioned, and no plans to initiate any positions within the next 72 hours.
I wrote this article myself, and it expresses my own opinions. I am not receiving compensation for it (other than from Seeking Alpha). I have no business relationship with any company whose stock is mentioned in this article.