By S. Hasan Abid
When it comes to brand recognition, there are very few companies in the world that can give Nike (NYSE:NKE) a run for its money. Nike isn't a business that merely sells apparel or athletic footwear, it thrives by selling its brand.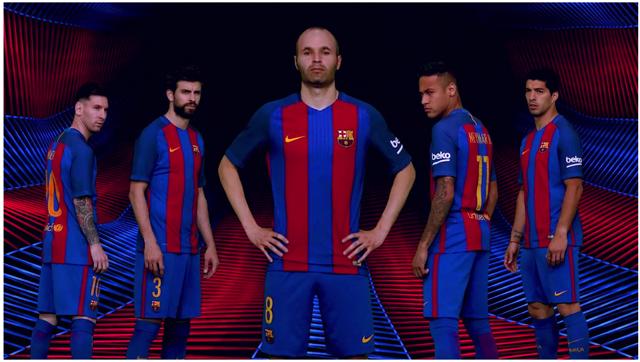 The reason why Nike is a terrific company is that whenever you think that its revenues are reaching an ominous saturation point or growth is slowing down, it surprises you by finding new avenues of growth, reinventing ways to strengthen its brand. A couple of weeks ago Nike extended its current sponsorship deal with FC Barcelona and now, until 2026, we'll be seeing Nike supply kits for the reigning Spanish champions. This deal, worth at least £100 million per season, is being touted as the most expensive kit deal in history and could play a key role in fueling Nike's footprint in Europe and Asia.
FC Barcelona, by the way, has won the UEFA Champions League no less than four times in the past decade; a feat matched by no other club in Europe. Barcelona's current team, led by international superstars like Luis Suarez, Neymar, Iniesta and, of course, five-time FIFA Ballon d'Or winner Lionel Messi, is undoubtedly one of the best club squads of all time. So Nike's association with FC Barcelona is huge. It will extend the company's stronghold in kit sponsorships and complement its expansion plans in Asia. After all, according to a study by Marketing China, FC Barcelona is the second most popular club in the Middle Kingdom, with their star player Messi being the most followed player in the country. The Chinese love Michael Jordan and basketball, but football stands out as the most popular spectator sport in China.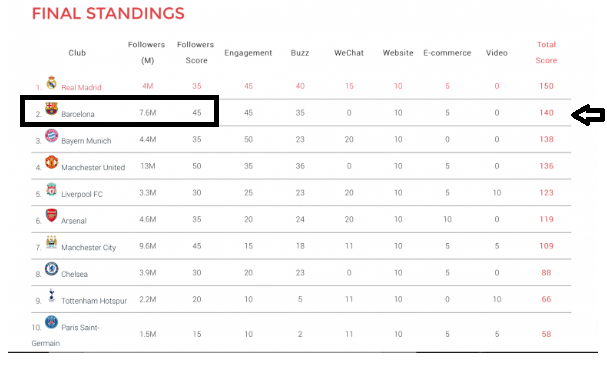 Talking about Nike making inroads in Asia, it is no secret that China's growing middle class and booming fitness industry represent boundless opportunities for Nike. Before delving into this further, let's take a look at the progress being made by Nike's 'Greater China' segment.
The first chart below shows that the revenue contribution of 'Greater China' has been climbing up since Q1 FY14. Note that I am talking about year over year and not sequential change in contribution. Out of the previous eleven quarters, pick any quarter and look at the contribution of Greater China to Total Nike Brand revenues. You'll notice that Chinese revenue contribution for the same quarter a year ago was lower.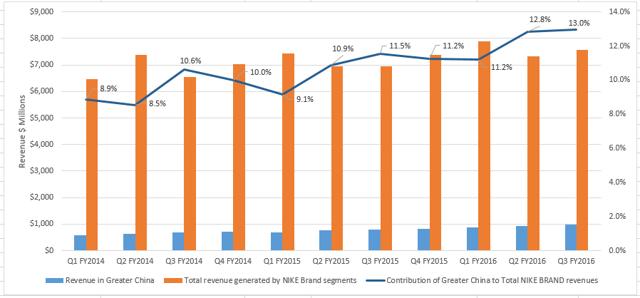 (Source: Company's 10-Q filings, author's calculations)
The growing importance of Greater China for Nike can be understood by comparing the segment's y/y revenue growth with the y/y combined revenue growth of Nike's Brand segments. Chinese revenues are increasing at an increasing rate, outpacing the growth in Total Nike Brand revenues, as shown in the following chart. I find this extremely remarkable because China's GDP growth rate has been far from stellar in recent quarters. In fact, the 6.7% increase in GDP in Q1 2016 was the weakest output growth since Q1 2009. Surely, if the Chinese are willing to buy Nike's premium footwear and apparel in difficult economic times, they will only spend more on Nike when economic growth accelerates.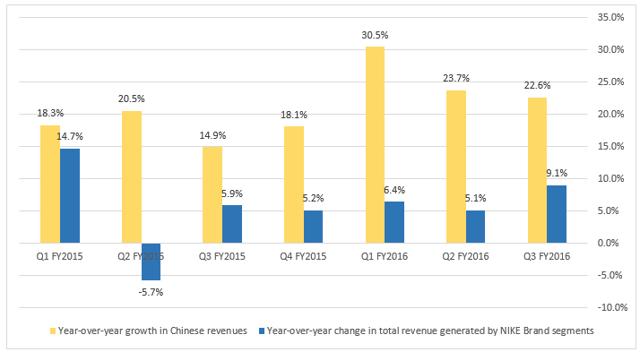 (Source: Company's 10-Q filings, author's calculations)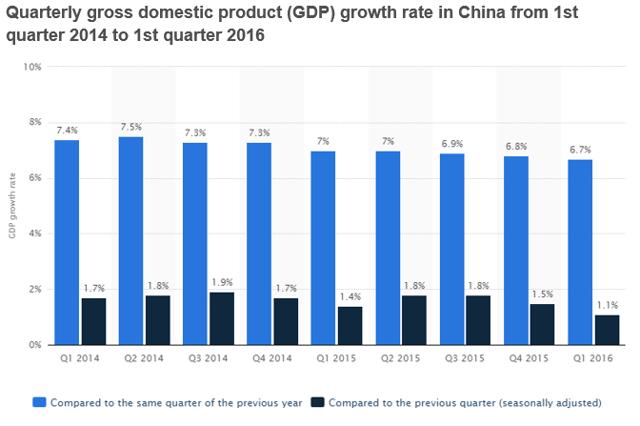 (Source: Statista)
Sportswear, basketball and Jordan have all been driving revenues for Nike in China. As it stands, footwear is Nike's leading revenue contributor in China but apparel could reduce the gap with the rise of the Chinese fitness industry. Increasing health awareness along with rising disposable incomes have increased demand for gym, health and fitness clubs. Assuming, rather conservatively, that China's fitness industry grows in line with the country's GDP, it is likely to be worth more than $200 billion by 2020. This will boost demand for Nike's athletic merchandise immensely. Thus, as the relative importance of the fitness industry for China's economy escalates, GDP growth picks up and spending power of the average Chinese intensifies, I wouldn't be surprised to see 'Greater China' generating nearly $6.5 billion of the targeted $50 billion consolidated revenue mark for Nike in 2020.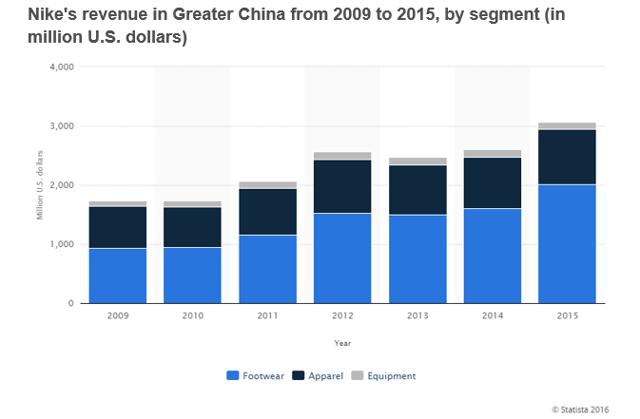 Conclusion
Nike's brand remains as strong as ever. The company has great prospects, especially in China, and looks nicely poised to achieve sustainable growth. Sporting a forward P/E multiple of 22.5x, Nike may not be the cheapest stock in the Footwear & Accessories industry at the moment, but it is nevertheless a compelling buy. I would never advise you to time the market with Nike. Don't wait for a meaningful pullback that might never come. Just jump in.
Disclosure: I am/we are long NKE.
I wrote this article myself, and it expresses my own opinions. I am not receiving compensation for it (other than from Seeking Alpha). I have no business relationship with any company whose stock is mentioned in this article.