Introduction

Click to enlarge
Brookline Bancorp, Inc. (Nasdaq:BRKL) is a bank holding company based with $6.2 billion in assets headquartered in Massachusetts. The company's main competitors are Heritage Financial (Nasdaq:HFWA), Pacific Premier Bancorp (Nasdaq:PPBI), and Salisbury Bancorp (Nasdaq:SAL), and they operate throughout Central New England. Brookline Bancorp has about 718 employees and was founded in 1871. The stock's 52-week high was 11.97 on 12/17/2015 and the 52-week low was 9.86 on 10/2/2015. The current price is around 11.24, so it is trading in the middle of the range.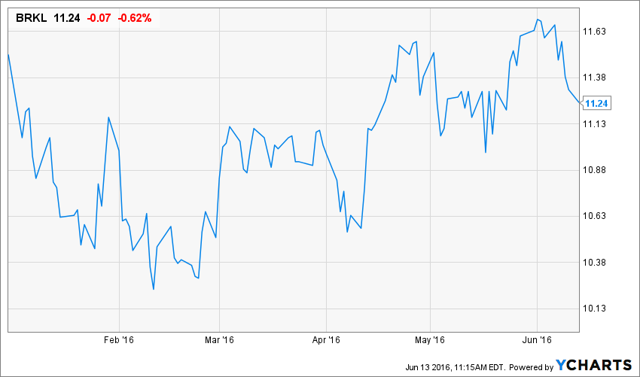 It has been a noisy year so far for Brookline Bancorp, but the stock price is back within 1% of this year's start. With the exception of Pacific Premier, Brookline's closest competitors have fared just as poorly YTD. Brookline dropped about 2.5% in trading last week.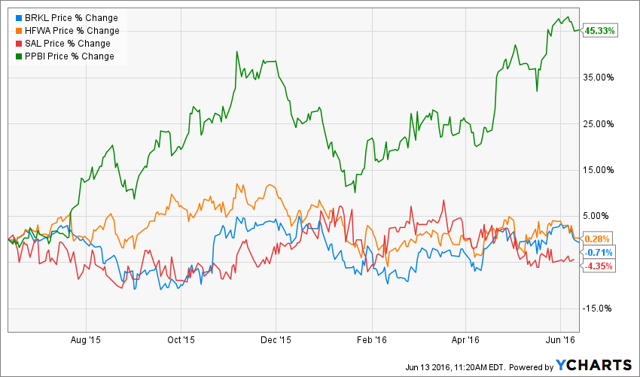 BRKL data by YCharts
Average sell-side firms have a consensus $12.08 price target, and have a 2.3 rating. If the stock reaches this level, it will be the first time Brookline has traded over $12 since August 2009. For reference, the stock has never broken $17, and has traded in the $7-13 range consistently since 2007.
Financials
Brookline Bancorp reported revenue of 217.22M for the past 12 months, which came out to be 0.7914 per share. This was 5% higher than the same quarter last year. This quarter, the company logged a net income of 50.89M.
As of right now, Brookline Bancorp's P/E ratio is 15.62, slightly higher than the industry average of 13.69, but we may see a change in share price depending on the results of the earnings announcement. The shares posted a 52-week high in December. Over the past 12 months, Brookline Bancorp has an ROE of 7.67%, an ROA of 0.86%, and an operating margin of 38.46%. Compare this to industry averages of 8.87%, 1%, and 32.13%, respectively. Companies in this sector have very similar numbers, and differentiation usually comes down to the quality of management.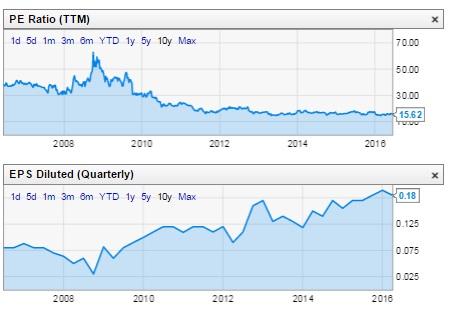 Since 2010, Brookline Bancorp has hovered closely around a PE of 15 while earnings per share varied. This leads me to believe that an increase in earnings will result in a proportional increase in price. I know this sounds like a novel idea, but stay with me. I like it whenever there is a high degree of predictability in the aftermath of an earnings announcement. We may not know what the earnings figures will be, but it is nice to know what will happen given a certain outcome. This greatly increases the accuracy of probability models and the likes.
Earnings Announcement
Brookline Bancorp is set to release earnings after market close on 7/27/2016, and is expected to have an EPS of 0.18. This will be a decrease of 75% over this past quarter's 0.7195 per share if the estimates are correct.
This is a big quarter for Brookline, as they hope to change the trend set in the last two quarters. Last year's Q4 EPS of 0.19 beat by a cent, while a 5.3% increase in net interest income Y/Y was not enough to meet expectations. I wouldn't be too worried about the 0.7% miss though. Investors didn't seem to be either, as the stock rose almost 10% upon announcement.
For Q1 this year, EPS of 0.18 also beat by a cent, while net interest income missed by a more significant amount. Despite growing 1.4% Y/Y, the $1.76 million underperformance was about 3.6% below expectations. This was due to a decrease in net interest margin of 3.45% from the prior quarter.
President and CEO Paul Perrault stated:
I am pleased to report another good quarter in all areas of the company. Most notably, we experienced solid growth in loans, deposits and revenues while holding expense levels. Our asset quality remains strong and the company continues to be well-capitalized.
Brookline's asset quality may have been too strong this past quarter, which seems to explain the decrease in net interest income margin:
According to Brookline Bancorp's first quarter announcement:
The prior quarter included the accelerated recognition of $1.0 million related to the prepayment of several acquired loans which contributed to the decline in net interest income for the quarter.
If Brookline falls victim to prepayment risk again this quarter, we may see another miss in net interest income. The stock has already received downgrades in the weeks leading up to earnings.
Brookline cut back indirect auto loans from about $23 million to just over $11 million this quarter. This was the most significant change I noticed on the balance sheet. It may be the area Brookline identified as having the worst prepayment risk to reward ratio, or it could have been decreased for a number of other reasons. Either way, such a significant change may be indicative of a solved problem; a good sign going into earnings.
Disclosure: I/we have no positions in any stocks mentioned, and no plans to initiate any positions within the next 72 hours.
I wrote this article myself, and it expresses my own opinions. I am not receiving compensation for it (other than from Seeking Alpha). I have no business relationship with any company whose stock is mentioned in this article.
Editor's Note: This article covers one or more stocks trading at less than $1 per share and/or with less than a $100 million market cap. Please be aware of the risks associated with these stocks.