Microsoft (NASDAQ:MSFT) posted an impressive 56% year-over-year increase in quarterly revenue from Surface products. Strong sales of the pricey Surface Book and the Surface Pro 4 helped the Surface product line achieve sales of $1.1 billion during 1Q 2016. Microsoft also raked in $1.35 billion in sales from Surface products in 4Q 2015, +29% year over year.
This robust growth in Surface revenue defied the 9.8% year-over-year decline in enterprise tablet shipments that Strategy Analytics reported. Investors should also take note that while the Surface is seeing surging sales, Apple (NASDAQ:AAPL) reported a -18.65% year-over-year decline in iPad revenue for the period covering 1Q 2016.
I now propose that Microsoft's new installment plans for its Surface products can further worsen the declining sales of the iPad. The Microsoft Surface Membership plan allows big and small companies to purchase Surface products under very affordable monthly plans.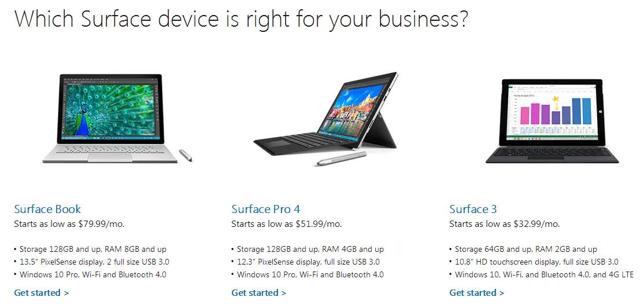 Click to enlarge
(Source: Microsoft)
Why Investors Should Care
Unless Apple can match the low monthly plans of the Surface Pro ($51.99/month) and Surface 3 ($32.99/month), I predict that many more companies will snob the iPad Pro. As far as I know, Apple has yet to implement an installment plan for its flagship 2-in-1 iPad product.
Canalys reported that the Surface Pro 4 was already notably outselling the iPad Pro in the UK's enterprise market, 275k versus only 107k for the iPad Pro. Microsoft expanding its Surface Membership installment plan to include other countries could devastate the iPad Pro's future in the enterprise. The ARM-based iOS iPad Pro is already at a disadvantage since it cannot run custom legacy x86-only enterprise software.
Expanding the Surface monthly installment program could eventually make Microsoft a top tablet vendor. As of now, Microsoft is not yet among the top global vendors of tablets. On the other hand, the surging popularity of the pricey Surface products has made Microsoft the world's No. 3 tablet vendor by value share.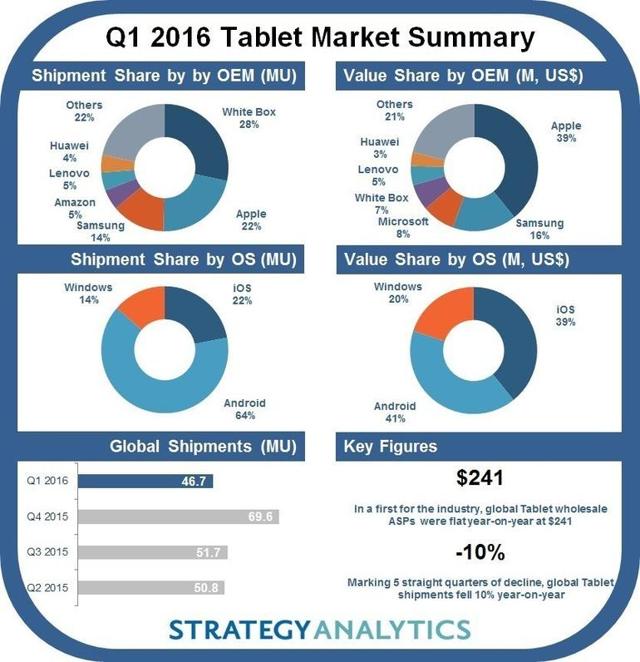 Click to enlarge
(Source: ZDNET/Strategy Analystics)
Microsoft investors should also appreciate that, unlike the 0.7% share of Windows in smartphones, Windows touts 14% share in tablet shipments. Implementing the Surface Membership installment program could further boost Windows' share in consumer and enterprise tablets.
Surface Products Also Competes With MacBooks
The Microsoft Surface Membership program will also seriously affect the appeal of Apple's MacBook products. The lack of touchscreen display and 2-in-1 functionality of MacBooks already make them less attractive than the Surface 3. The chart below from TrendForce clearly illustrates that Apple already has a MacBook problem.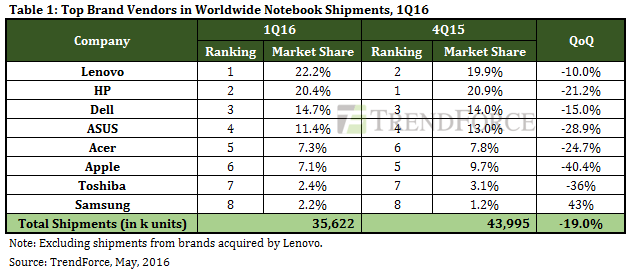 Looking at the chart above, I deduce that the iPad Pro and the Surface products had something to do with MacBook laptops posting a -40.4% year-over-year decline in 1Q 2016. My old article speculated that Apple likes differentiating its products to better monetize from its loyal customers.
Unfortunately for Apple, the dual-purpose tablet/laptop usability of the Surface Pro and Surface Book is why budget-minded business users strongly embraced them wholeheartedly. Unlike affluent individual consumers, companies have to observe budget limits when purchasing computers for their employees.
It makes economic sense for companies to just rent out a Surface Pro for $51.99/month than to immediately spend $1,150 for a MacBook Pro plus $499 for an iPad Air 2.
Final Thoughts
I will remain long on MSFT. The affordable installment program for Surface tablet/laptop computers is an important tailwind for Microsoft's plan to become a high-end PC hardware vendor. Anything that improves the chances of Surface computers beating the iPad/MacBook in the enterprise market is favorable to long-term investors of Microsoft.
The Microsoft Surface Membership installment plan is only for business entities. However, I look forward to Microsoft expanding this program to the education market. The cheapest product, the $32.99/month Surface 3, is suitable for high school and college students.
Microsoft needs a Windows 10 computer installment program to help slow down the rapid rise of Chromebooks in the education market. As per the chart below from Futuresource Consulting, Alphabet's (NASDAQ:GOOG) (NASDAQ:GOOGL) Chromebooks have already captured 50% of the K-12 computer market in America.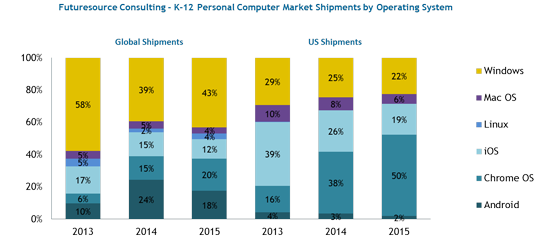 (Source: Futuresource Consulting)
The long-term danger to Microsoft is that many of the next generation of American employees are now growing up well-versed in Google Apps and Chrome OS, not on Windows and Microsoft Office. The future prosperity of Microsoft requires that school kids today must remain indoctrinated with the wonders of Windows 10 and Microsoft Word/Excel/Access/PowerPoint.
Microsoft, therefore, should not only rely on cheap Windows 10 CloudBooks to answer the threat of Chromebooks. Microsoft needs to implement a special installment program for Windows 10 computers intended for the education market.
Disclosure: I am/we are long MSFT, GOOG, AAPL.
I wrote this article myself, and it expresses my own opinions. I am not receiving compensation for it (other than from Seeking Alpha). I have no business relationship with any company whose stock is mentioned in this article.